There is no wall that separates a Sonata and the Centennial in the Hyundai showroom. But the salespeople are trained to create one. A complete disassociation of values from Hyundai's design and build is aimed at and largely achieved in the Centennial. Nowhere does it reveal its house logo and even has its own, which is at best a close imitation of none other than the silver seraph – not a trivial benchmark to even aspire to.
However, a keyword search on Google will unequivocally reveal that, while centennial suggests several suffixes – anything from hospitals to parks – it refers to the car we are reviewing today, almost always when preceded or succeeded by the name Hyundai. So much for brand disassociation!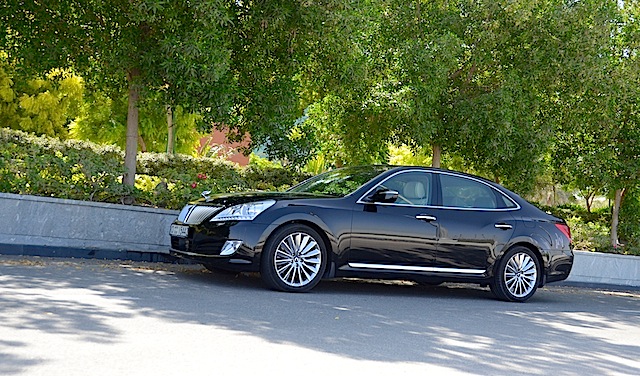 UPSIDE: Reclining executive seat, cocooned rear comfort, exceptional value, 5-year VIP after-sales benefits
FLIPSIDE: Fuel consuming in city traffic, limited touch screen functions, detached driving feel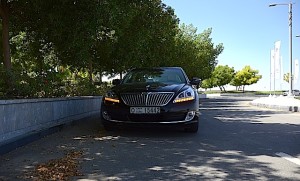 The Specs: 5.0 L V8 DOHC GDI engine, 8-speed automatic transmission, 424 hp, 510 Nm @5000 rpm, Fuel efficiency 7 km/L on cruise, Lexicon system with 17 speakers
The Dimensions: 5160 x 1890 x 1495 mm, 19" alloy wheels
The Price: AED 249,000 and AED 259,000 with 5-year warranty and maintenance package with courtesy car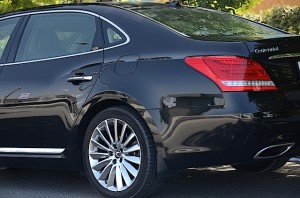 Super-premium that answers to aspiration
Luxury flagships share certain benchmark features: airplane style reclining comfort, a silent cabin with conference-style acoustics, an insulated ride and concert-quality music. Even as the Centennial ticks all those boxes it fulfills yet another quirk of super-luxury – a behemoth 5.0L engine that cares two dimes for conservative thirst for fossil fuel. A calm drive could fetch you a respectable 7 km for a high-octane litre, but once you add up an hour of crawling traffic it can drop down to five!
Inside the Centennial, it feels as though Hyundai collated a checklist of everything premium in the market and ticked all the boxes relentlessly before fixing a price tag that's generous by any standards. With warranted exaggeration, it is like buying an S-class at the price of an E-class.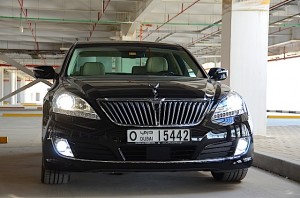 The drive
As I drove the Centennial down the business district dotted with expensive diners, where flamboyant millionaires laughed at restaurant etiquette in the glow of night, it dawned on me that nothing mattered in here, but the rear seats equipped with the VIP package. It didn't matter that the vague steering and the overwhelming gadgetry reduced the driver to a pilot on standby. The cabin remained unmoved by the road or its imperfections. The Centennial is more of a yacht on a black sea of tar.
In the context of steering this vessel around too, it is more like a yacht.  No, I have not captained a yacht but have many times watched how the steering turns with a free mind of its own for the degree of turn achieved. What I made of it was quite similar to how I felt behind the steering of the Centennial. The air suspensions only added to the feeling of floatation.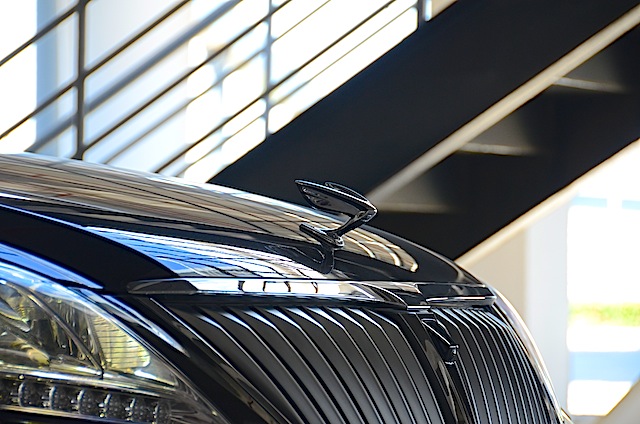 The Centennial has a blind spot monitor, adaptive cruise control and an all-round camera – traits of super-premium driving these days. Easy does it, for the repertoire of sensors is over alert. I am not really complaining about being told that a car has been spotted at the other end of the highway and is fast approaching, but if you totally rely on those beeps, you might never perform a lane change operation or an overtaking maneuver!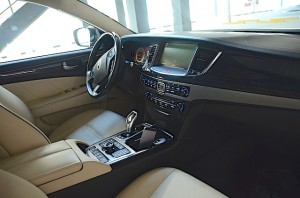 Cabin and controls
The Centennial is reassuring, right from the seatbelt squeeze at the start to the electronic hand-holding at times when cars sneak upon you or brake without warning. Hyundai seems to have thought of everything when it comes to comfort and safety. Take those soft shut doors. If they are too ajar to close automatically when you roll off, the transmission will auto-shift to Park.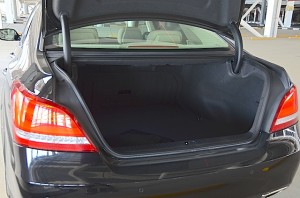 The dashboard display is almost 9-inches wide but the only time it becomes a touch screen is when you are using the onscreen keypad to enter the destination. Otherwise you move around and select using the two buttons and the rotary jog dial. Yes, there are moments when you feel the buttons are one too many. But then, think of all the features they stand for!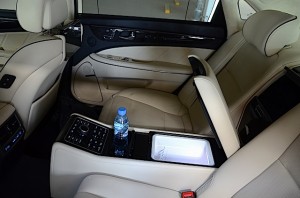 This car is generously spacious without actually looking outsized. The Centennial VIP package includes a reclining back seat module, climate control for the seats as well as a fridge and two storage niches in the rear console – all for an addition of less than AED 7000. The Centennial defines value even in the extras.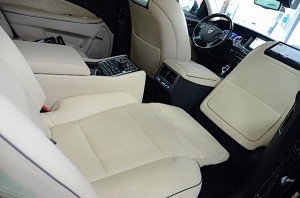 The essential Centennial
Looking good in grand piano black with its grandiose headlamps of 2015 and a glistening grille, the Centennial – or the Equus as it is known elsewhere – can make the CEO of a start-up feel like the president of a Fortune 500 company. Which begs the question, "Why pay almost half a million for the Lexus LS 460 if you can get it all for a quarter?" Sure, you can throw back questions on 'engagement', 'feedback', 'deadpan steering' and all that erudite crap. If you are worried stiff about those, stick to a BMW 750 Li or an Audi S8. The Centennial is a car that its driver will enjoy more as a passenger.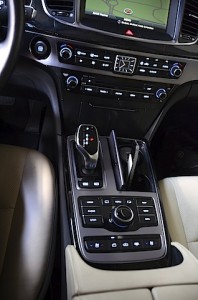 Drive courtesy: Juma Al Majid Est. Hyundai
Pictures: Sudeep Koshy
2015 Centennial Review: A billionaire by half
was last modified:
December 27th, 2016
by