From the hotel balcony, outlined in the sheer mist, I could see the Pathfinder elegantly showing off its improved lines and new V-motion grille to the photographers squatting and crouching around – poised on the hotel helipad at the circular end of a long stony ramp. Here was the first in the long line of 2018 models I would see on launch podiums in the next ten months or twelve.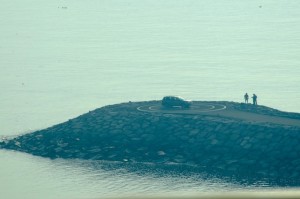 THE SPECS: 3.5-liter V6, 271 hp 350 Nm, CVT Xtronic transmission with D-Step Logic Control, Coefficient of drag 0.326, Towing capacity 1500 kg, 2WD and 4WD
THE TECH: Hill Start Assist, Hill Descent Control, 4WD lock, Intelligent Around View Monitor
STANDARD SAFETY: Nissan Advanced Air Bag System with dual-stage front supplemental air bags, 3-point seat belts with pretensioners and load limiters, Curtain and side airbags for side impact, Rollover head protection, 3-point seat belts for all rear seat occupants, LATCH (Lower Anchors and Tethers for Children) in 2nd row, Child safety rear door lock
SV and SL grades: ALL-MODE 4×4-i system, Intelligent Emergency Breaking, Intelligent Cruise Control, Blind Spot Warning, Forward Collision Warning, Rear Cross Traffic Alert, Remote engine start, 20-inch alloys,
SL: Intelligent Around View Monitor, Moving Object Detection, Tire Pressure Monitoring System (TPMS) with Easy-Fill Tire Alert, 8" DVD rear display screens, Climate controlled front seats, Bose 12 speaker audio system, Nissan Intelligent Key, 8.0-inch touch-screen monitor, Motion activated tailgate
THE PRICE: AED 119,000 – 170,000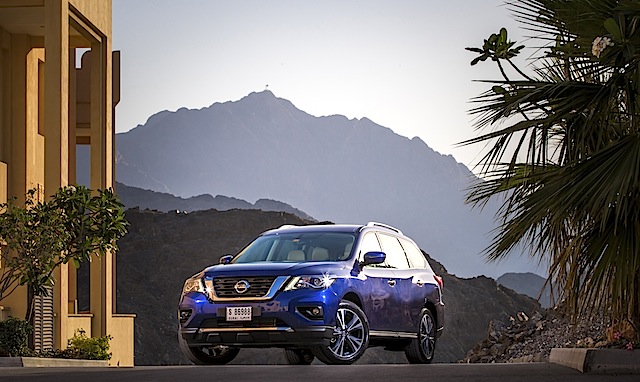 UPSIDE: Decent drive, Plenty of practicality, Off-roading spirit and support, Standard safety
FLIPSIDE: Features are top heavy, some body roll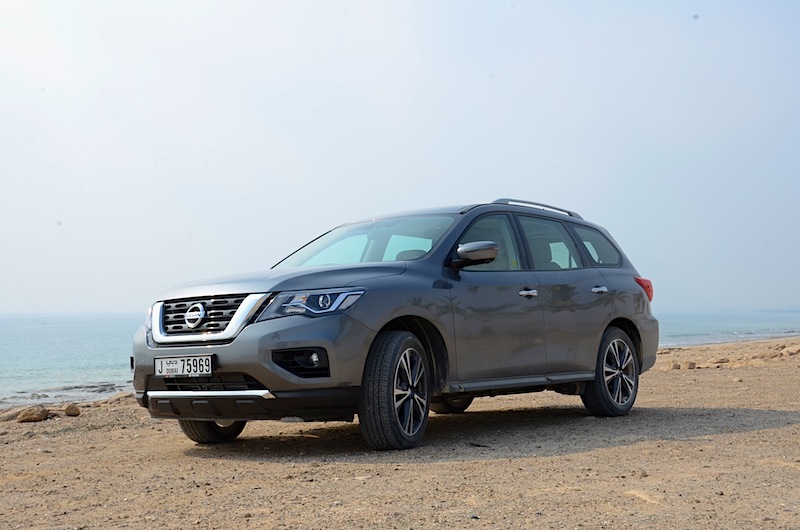 The event room was spattered with adventure – posters and wallpapers that featured the promise of a good time with Nissan Pathfinder, and lions. (!) 'The greatest adventure ever driven.' The greatest hyperbole ever crafted. But then, I couldn't wait to explore the audacity that inspired those words.
Read the comprehensive review first or watch the review video on One Minute Drive DON'T FORGET TO SUBSCRIBE TO OUR TUBE!
Soon enough, the trail came up: raising dust and dislodging red earth from the ridges. It was indeed a road little travelled, leading to maintenance stations on Mount Hamri, somewhere in the outskirts of Fujairah. Nissan had warned us it would be tricky but the 2018 Pathfinder had a 4WD lock as always. It could be locked on two-wheel drive for saving a few drops of gasoline, or on four-wheel drive, as I would do today. On a slightly less challenging terrain, Automatic would be good enough.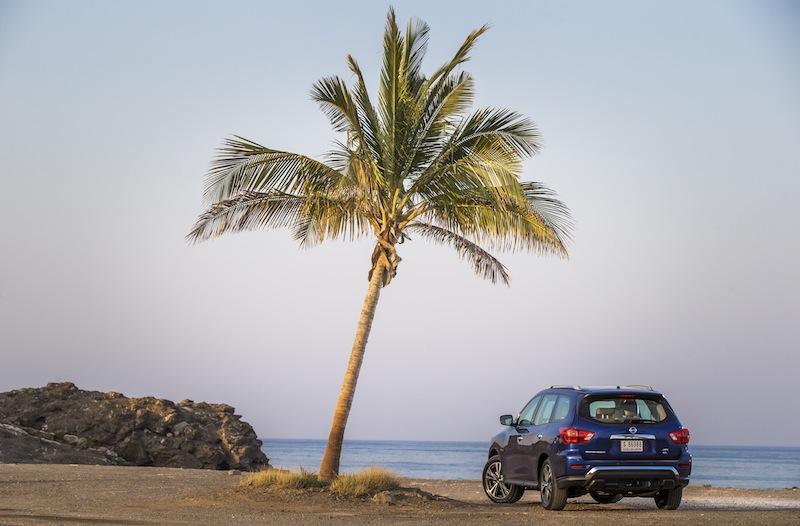 The drive
My test car rode on 20" wheels that would still drift a little if the pace weren't carefully maintained at the downward bends. But then, the Hill Descent Control didn't leave much for me to do – just as I could count on the Hill Start Assist if we were to stop and proceed. Anyway, that didn't seem to be a possibility today as Nissan marshals were allowing us up, one vehicle at a time.
I was thankful for the road, and even more for the absence of asphalt. The Nissan Pathfinder seemed geared up for adventure than it ever was. The front was lowered a bit to improve aerodynamics, a chin spoiler was added, yet the design made sure that the approach angle was largely unaffected. The new Co-efficient of Drag (Cd) stood at .326, instead of the previous .34.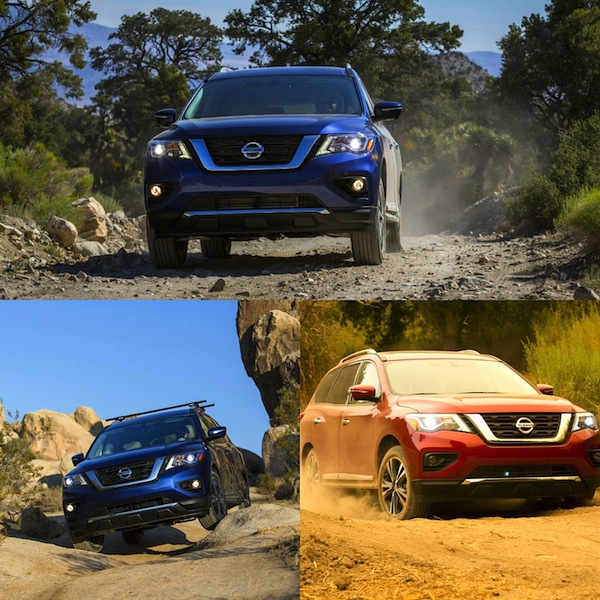 Hill Start Assist and Hill Descent Control: Starting on an incline and driving uphill used to be a nightmare in the manual days for most; even now managing the extra torque and traction could be hard. So, Hill Start Assist is standard across 2WD and 4WD versions in the Pathfinder while Hill Descent Control comes only with 4WD. It helps to stay slow and steady while coming down gravel or such challenging terrain.
The CVT
In the whole of vroom-vroom-land there is no fate more deplorable than that of the Continuously Variable Transmission. After being chosen for the efficiency it brings and the prospects of seamless maintenance, CVT is made to endure all but rejection from all sides. It is constantly 'improved' so as to avoid acting and feeling like itself. A CVT that feels like a multi-speed automatic gearbox is the order of the day with most manufacturers! And that is how Nissan's third-generation Xtronic transmission with DStep Logic Control is supposed to make you feel. The claims will keep getting better with every generation – until people get used to the CVT or till they forget what an automatic transmission felt like once upon a time.
The fact is, there was almost nothing irksome about the way the Nissan Pathfinder rode the acceleration graph on its CVT; picked up where it left off at signals or U-turns; or pulled open the throttle and held it agape.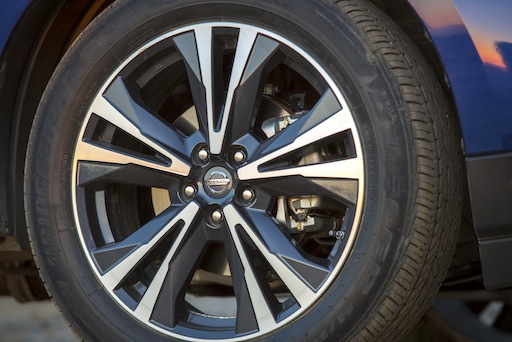 The engine is the familiar 3.5 L but almost half of it, unfamiliar components. Including combustion chamber design, pistons, intake manifold and e-VTC. (These bumps are only for the geeky ones!) The new Direct Injection Gasoline™ (DIG) system is the same we find in the Nissan Patrol, and that is one smooth operator.
This has added nearly 7% more power and 4% more torque – which amounts to an extra 14 horsepower. At 271 hp and 350 Nm, the Nissan Pathfinder passes the climbing test on paper. Yet the slippery road-less-ness of Mount Hamri was a reality to be surmounted. While the ride was stiff enough, the steering didn't convey the undulating roughness onto my hands. On road, till the point we turned off to the mountain trail, except for a little understandable understeer, the drive had been seamless and uneventful.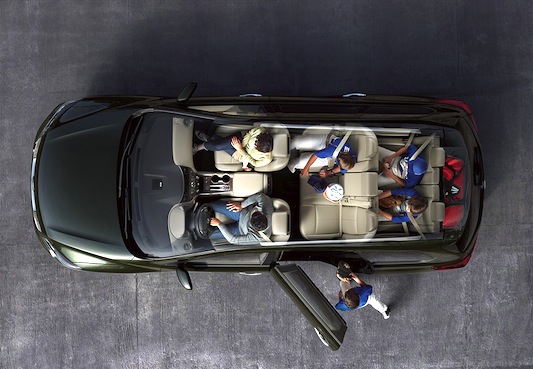 A large family adventure
When Nissan harps on adventure, it isn't all about the power to make challenges seem negligible. It is really about how easily a family of seven can get there, and what they can take along. A towing ability of 1500 kg, three comfortable rows of seating, and endlessly configurable cargo space of 2260 L make sure that you can carry a tent or a boat wherever you are going. The new Pathfinder even has a secret storage under a false floor in the rear.
The one-touch access convenience of Nissan's EZ Flex Seating System™ with LATCH AND GLIDE™ is impressive. The tilt and glide seat in the second row allows easy third row access – wait for this – with a child seat mounted in place in the second row. It is 6040 foldable too. Someone applied thought!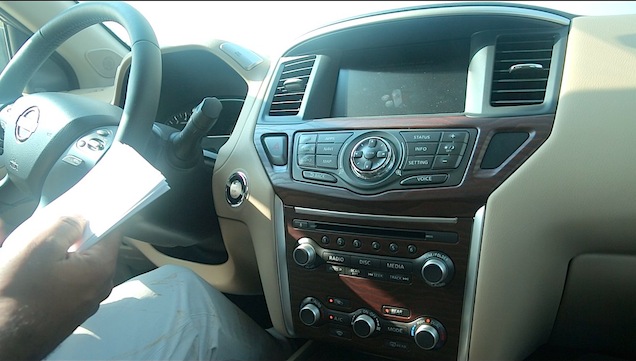 Tech-spectacle
The Pathfinder is as raw as a 7-seater image gets – until you climb onto the mid and top trims of the 2018 model and experience the array of driver assistance features. Intelligent Emergency Breaking, Intelligent Cruise Control, Blind Spot Warning, Forward Collision Warning and Rear Cross Traffic Alert are available on the SV and SL grades. The Intelligent Around View Monitor with Moving Object Detection is available as an option only on the SL grade. This piece of marvel should seriously be made standard across SUV domain!
Further investigations revealed a whimsical 'motion activated tailgate' which is supposed to open as one swings a foot under it. This is available in the top trim SL along with an 8-inch touch screen on the console that controls navigation and multimedia.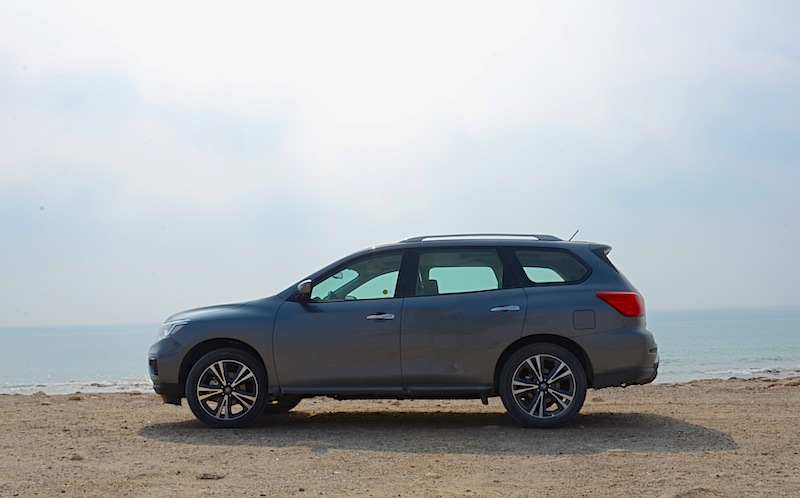 The essential 2018 Nissan Pathfinder
As an early bird to time-travel from the 2018 line up of models, the new Nissan Pathfinder will present its owners a theoretical advantage during resale. The vehicle is a bundle of practicality, which is a great trait to carry around, especially on a trip that smells of adventure!
Now watch the review video on One Minute Drive or in the site window. DON'T FORGET TO SUBSCRIBE TO OUR TUBE!
2018 Nissan Pathfinder review: Raised ground
was last modified:
July 21st, 2017
by