The next next-gen brainwave in automotive tech isn't under the hood or within the cabin. In fact it is gleaming on the sheet metal itself – the self-cleaning nano-paint technology which gets its first test run on the Nissan Note. Technically speaking, it could save you half the cost of your car in washing savings over a decade, right?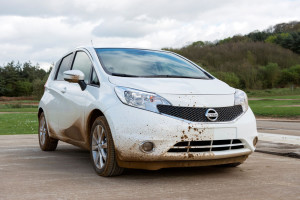 Battalions of car cleaners were sent to seek other means of livelihood or undercover jobs (of washing cars) when the Police and the Municipality cracked down on the wastage of water and dirtying of car parks, making unauthorized individual car washes illegal. Car washes had to be carried out in washing bays or by companies trained and authorized to do the job efficiently.
Now, Nissan has rendered, or is threatening to render those washing bays with a shutdown warning through the world's first 'self-cleaning' car prototype. Introduced and tested in the Nissan Note, the secret is an innovative paint technology that is super-hydrophobic and oleophobic. Which simply means, it repels water and oil. If mud, rain and everyday dirt is kept at bay, then why take your car to the washing bay, ever?
But hey undercover cleaning agents and authorized washing networks, hold your hoses! Engineers at Nissan Technical Centre Europe are still testing the self-cleaning Note to assess the real-world effectiveness of the super-hydrophobic as a potential aftermarket application in a variety of conditions.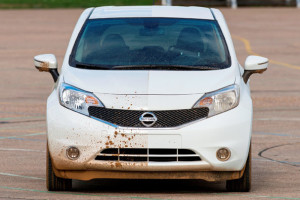 How does it work?
Click here to see it work: http://youtu.be/UwoGsCAKsxU
The coating technology called Ultra-Ever Dry® creates a protective layer of air between the paint and environment effectively stops standing water and road spray from leaving dirty marks on the car's surface. Marketed and sold by UltraTech International Inc®, Nissan is the first carmaker to apply the technology on automotive bodywork. So far, it has responded well to common dirtying agents such as rain, spray, frost, sleet and standing water.
By the way, the 'Note' already has its bit of 'self-cleaning' technology in the form of a 'wash and blow dry' function on its rear view camera, which uses water and compressed air to automatically keep the lens free of dirt and sensors working in all conditions.
While the Nissan Note is scheduled to arrive in the Middle East this year, the technology isn't going to be standard for a while – it could end up as a future aftermarket option.
A car that cleans itself: new concept from Nissan
was last modified:
February 22nd, 2016
by