There are vintage car museums all over the world. Auto World Vintage Car Museum in Ahmedabad stands apart not only with a truly venerable collection of majestic carriages, but also for the rare opportunity it gives visitors to ride in some of them.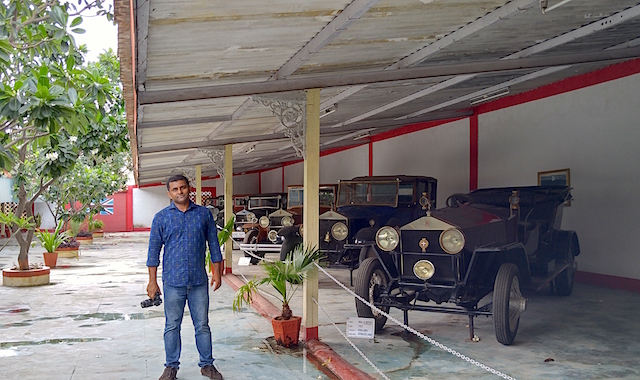 Most of the cars here have celebrated platinum jubilee, and the oldest uses three sticks to stand upright – it is '111' years old! I strolled through stalls of prestige, corridors of history, avenues of stories, and reverentially beheld the change of eras in this grand durbar of royalty, where the aura left behind by kings and queens rest and move on shining wheels. In the background, shrill cries of peacocks made it a surreal and royal backdrop.
The Dastan Auto World showcases 106 cars collected through two generations. Bhogilal Patel had so much passion for vintage cars that it could be passed on to his son Pranlal with as much intensity, and still inspires his daughter who is the current owner of the estate. They own 134 more, which are resting in the premises of their private bungalows across the country!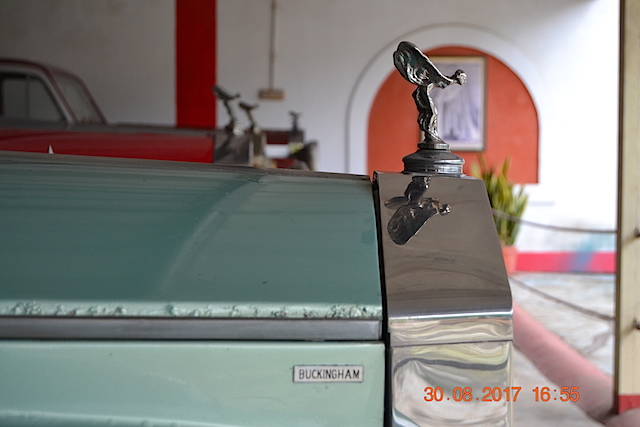 All the displayed cars have plaques in front with details such as make and model year. Some of them also had names in red, which meant they once belonged to royal families including Alwar, Baroda and Jhansi. A Rolls-Royce on display was bought over from the Buckingham palace (above) while there was an all-aluminium Rolls that belonged to the Nizam! A green seemed to be 'better equipped' than the ones next to it. On closer look, I realized guns were mounted vertically in glass cases on the running board on both sides, while search lights stood out on top. There was a bell in front of the grille – to attract animals, I learnt.
In the Vintage Auto World, most cars, if not all, have stories to tell. Sunil, our guide around the displays unboxed several. He pointed to a ' ' that was called a 'couple car' for the romantic two-seater cabin. However, the car did make space 'for visiting parents-in-law' though not very graciously. (Watch the tiny two seats rise out of the boot in the one-minute video) A Studebaker from 1932 looked impossibly elegant but what was unique about it was the single light fitted in front that could be 'steered' left or right, depending on which way the steering turned. Precursors to modern cornering lights! Right in the middle of a courtyard display stood an old truck with ChestMobil written across its façade in running font. As its superhero-ish name suggests, it has plied around villages in aid of the sick – fitted with an X-ray unit and a dark room!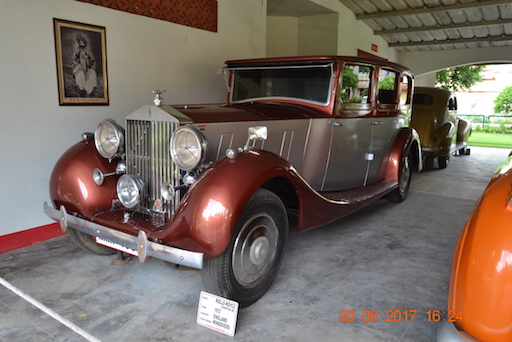 Perhaps what makes this collection unique is that almost all of them are worthy of carrying out their original purpose – viz. driving. The 1923 Rolls-Royce powered by 12 cylinders (featured above) revs to life only to greet the owner of the estate at the airport. The cars are maintained by turns, and the keepers have to be meticulous as these displays are exposed to the elements unlike those locked away behind glass or in climate-controlled environments. As I approached the final display area, I could see a yellow Fiat with its hood open wide while two mechanics fussed over its engine.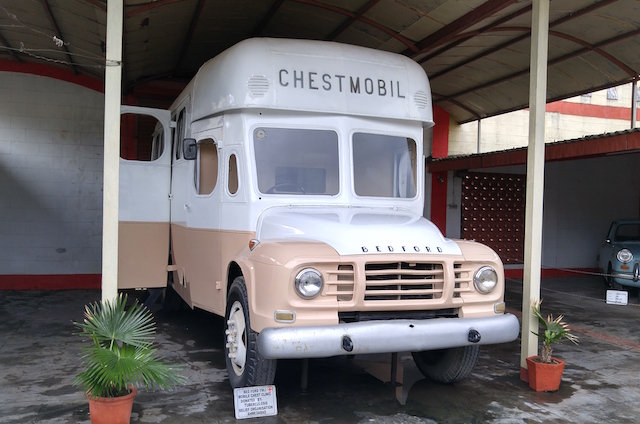 Three cars, a Chrysler 1948, A Chevrolet 1935 and a 1954 Plymouth (all three in the featured image) are available for a ride, complete with a driver wearing a turban, for a relatively small amount of 500 rupees. Sanjeev has been with the museum for over 40 years and has driven celebrities around the place in these celebrated cars. As a matter of routine, he feeds me with trivia – that the car drinks up 2 L of petrol for every kilometer and today's 3 km journey would evaporate six!
The ride fee now starts to make no sense. The Rs. 50 entrance fee (AED 3) sounds like a hugely subsidized entertainment levy! In fact I was told that the establishment runs on the fuel of passion and not profits, even though the museum gets its fair share of visitors. The premises also has a children's play area and a basic restaurant.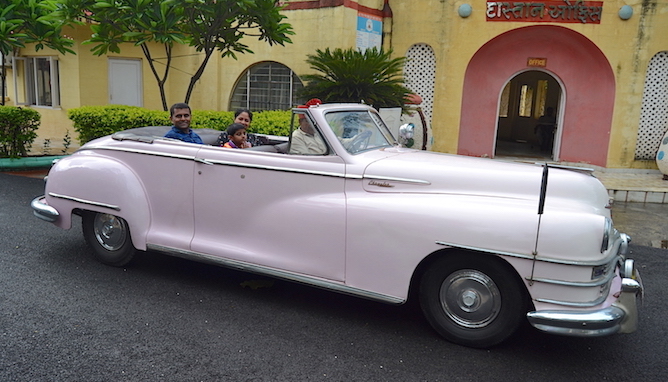 The ride was plush, comfortable and brought an ineffaceable smile to my face. Passersby and passengers in the buses on the road were peeping out to see this Maharaja and family, riding straight out from a glorious past!
A royal ride at Ahmedabad vintage car museum
was last modified:
December 6th, 2017
by