The fireworks above the Yas Marina was one of the most spectacular the Circuit had ever seen. It looked particularly brilliant, because it seemed to mark the dawn of a new era in Formula 1. The era of Valtteri's ambition and the battle for lane control between the two teammates. Smiling bright and determined, Bottas never lost sight of the unsaid target he spoke about the previous day, and Hamilton in his rear view mirror.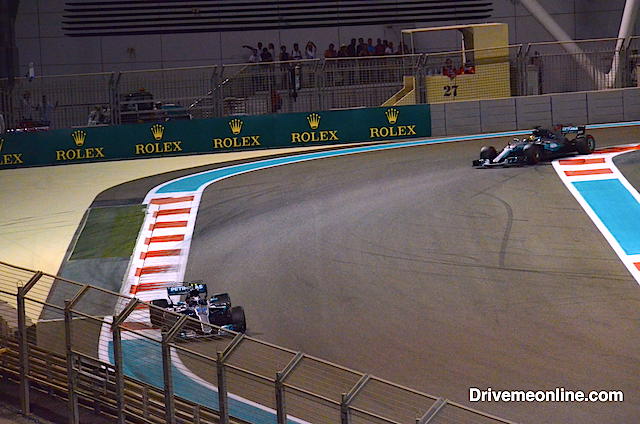 "I have a clear target for tomorrow", Valtteri had said upon driving himself to the pole position. He never lost sight of it on the race day.
What followed on Sunday was a race where the top slots never switched positions – not for once. Valtteri held on to the lead in the leaderboard all through the race. With teammate Hamilton at his hoof, the two stallions of the Mercedes stables claimed the podium with Sebastian Vettel bringing up the third.
It was charged the same way as the 2016 GP, yet with reverse polarity. For, this time, Hamilton lost the race but kept the championship title while his teammate won the Abu Dhabi Grand Prix. Sebastian Vettel of Scuderia Ferrari who finished fourth in Abu Dhabi 2016, was on the podium this time, but ironically last year's second runner up had a Did Not Finish against his name. Daniel Ricciardo of Red Bull Racing had to exit the race after a suspected tyre puncture stalled his car in the 35th lap before hydraulic issues were discovered. Ricciardo's exit allowed Vettel's teammate Kimi Raikkonen to claim the fourth place, celebrating the saga of Mercedes-Ferrari domination. Max Verstappen of Red Bull finishing fifth, hardly a second behind Raikkonen, would have done little to console a bitter Ricciardo.
Valtteri looked almost smug, and why not? He had just beaten two four-time world champions, on his way to this coveted victory.
"It is a really important win for me after having a pretty difficult start to the second half of the year, working hard on all the issues and getting better and better with everything." In Hamilton's own words, Bottas "did an amazing job to hold (Hamilton) off." His new teammate doesn't hide the proud feeling: "I was really managing the race… and that was a nice feeling. In the last five laps, I started to go a bit quicker, and managed to build a gap." As an F1 driver, it is almost like an overnight transformation for Valtteri. Only last year, he was here with Williams and now, here he was – racing with Mercedes and being the champion.
Hamilton was generous in showering praise on his teammate who had kept him at bay, despite his best efforts. "I just gave it everything; every single lap. It is very, very, hard to overtake here. So once (we got) to the last sector, I struggled but gave it everything."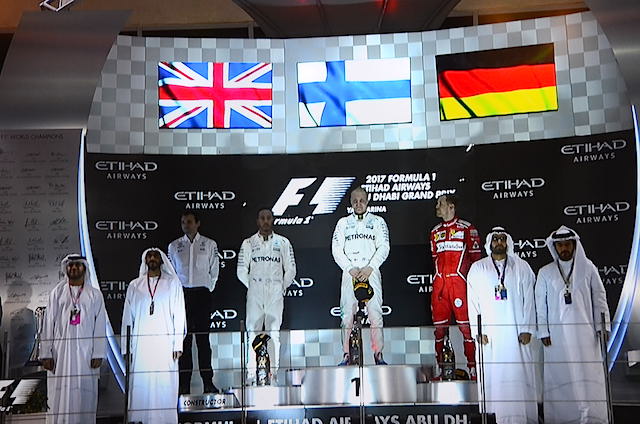 Sebastian Vettel was not kind to himself or his teammate in retrospect, but as for Hamilton, who deprived him of championship victory, the seasoned driver gracefully said, "Congratulations to Lewis on his season. He deserved to win the championship… I hate to say it, he was the better man." Vettel is looking forward to coming back next year, so are the other two.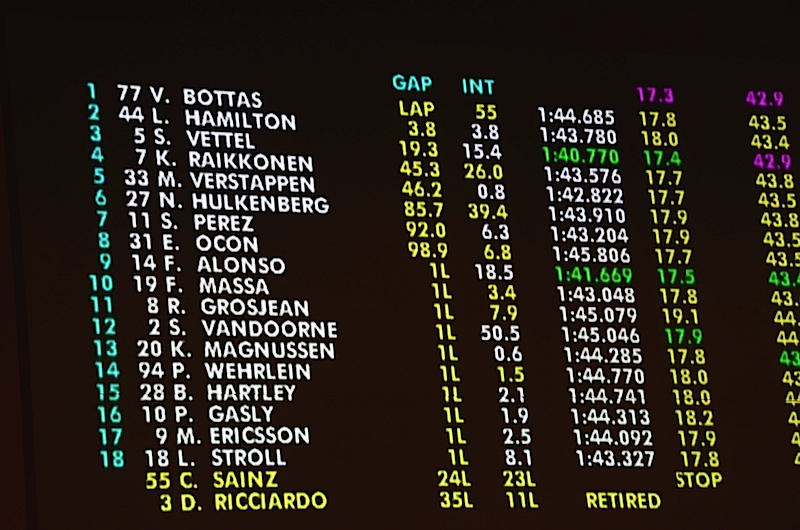 The same podium that celebrated Sunday's victory also unleashed Formula 1 2018. So, it is 17 weeks to the next championship. The championship of 21 races will kick start on 28th of March in Melbourne. The trio that ascended the podium at Abu Dhabi seems poised for another exciting finale, if not many more. What is to be seen is who gets to break the record with a fifth victory – Vettel or Hamilton – and if they ever get to! If one of them does, a new record will be born, and if Bottas does instead, a new era will.
Abu Dhabi Grand Prix: Valtteri rises
was last modified:
December 16th, 2017
by