Under the patronage of Lt. General His Highness Sheikh Saif bin Zayed Al Nahyan, Deputy Prime Minister and Minister of Interior of the UAE, Khalifa Empowerment Program for Students (Aqdar) and Nissan in collaboration with RoadSafetyUAE are starting their UAE-wide roadshow in February to raise awareness and drive student participation for the 'Aqdar Drive Safely' program and competition. The 'for students by students' program aims to instill safety and awareness in the minds of university students across the UAE, while empowering them to become the 'agents of change' in their communities.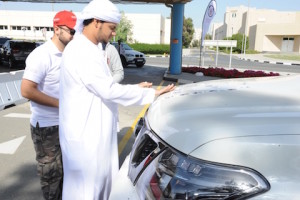 The nationwide awareness roadshow will make its first visit to the Higher Colleges of Technology (HCT), Dubai Men's College. Students will make use of an interactive digital pledge board to declare not to drive while using a mobile phone. There will also be a simulator to demonstrate the loss of road concentration while texting and driving, and another safety belt simulator that demonstrates the physical forces experienced when a vehicle overturns.
'Usage of Mobile Phones while Driving' is the theme for this year's competition and students have to develop three elements for submission: a road safety campaign, a mobile phone application and a sculpture. Three winners in each category will receive cash rewards totaling AED 180,000 and will get the chance to implement their projects in the UAE with the support of Nissan Middle East.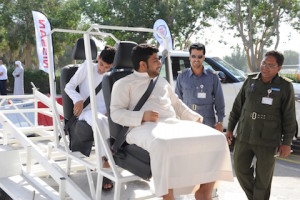 "Using mobile phones while driving is a key factor in many accidents involving youth," said Thomas Edelmann of RoadSafetyUAE. "According to the UAE's Ministry of Interior, approximately 63 percent of all traffic accidents during the first nine months of 2015 were caused by individuals aged between 18 and 35, and accounted for approximately 34 percent of all road fatalities. The use of mobile phones while driving was widely recognized as the main cause of car accidents among these young drivers."
More information on the program can be gathered at www.aqdardrivesafely.com where participating students will be able to submit their entries.
AED 180,000 to be won in Aqdar safety initiative
was last modified:
February 22nd, 2017
by