When the Range Rover was launched in its fourth avatar, Drivemeonline  was among the first fortunate reviewers to have a go in it, on UAE turf. Chatting up with a fellow editor months later, I was still beaming from the supercharged half a million drive. My good friend sagaciously, and sadistically, threw in a gem from his recent trip to attend a 'secret reveal at an undisclosed location'. "Wait till you see the new Range Rover Sport".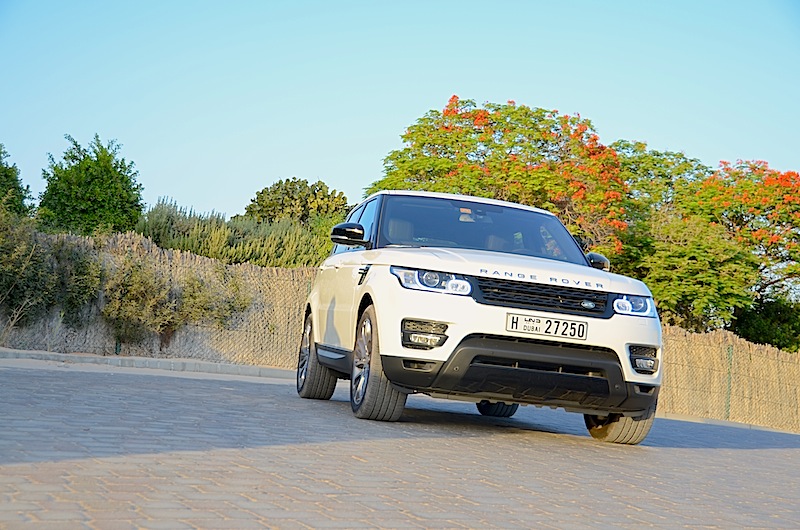 Soon, the moment came. After enjoying an eye-full of its avante-garde shape for a long brief moment, I was flattening out tarmac, sand dunes and bloating egos.
UPSIDE: Stunning presence, Enhanced offroading capability, Simple dash controls, Fast SUV
FLIPSIDE: V8 version as pricey as the big Rangie, Some cabin material
THE PRICE: 2015 Range Rover Sport 3.0 L Supercharged – AED 359,000 – 409,000 / 5.0 L Supercharged Dynamic AED 489,000 Autobiography Dynamic AED 569,000
THE SPECS: 3.0L Supercharged V6 – 340 hp @ 6500 rpm / 450 Nm @ 3500 – 5000 rpm / Top speed: 210 kmph / 0 – 100 in 7.2 sec
5.0L Supercharged V8 – 510 hp @ 6000-6500 rpm / 625 Nm @ 2500–5500 rpm / Top speed: 250 kmph / 0 – 100 in 5.3 sec
Transmission: 8-speed automatic with paddles
TEST FIGURES: 0-100 in 5.5 sec, 5.7 km / L fuel economy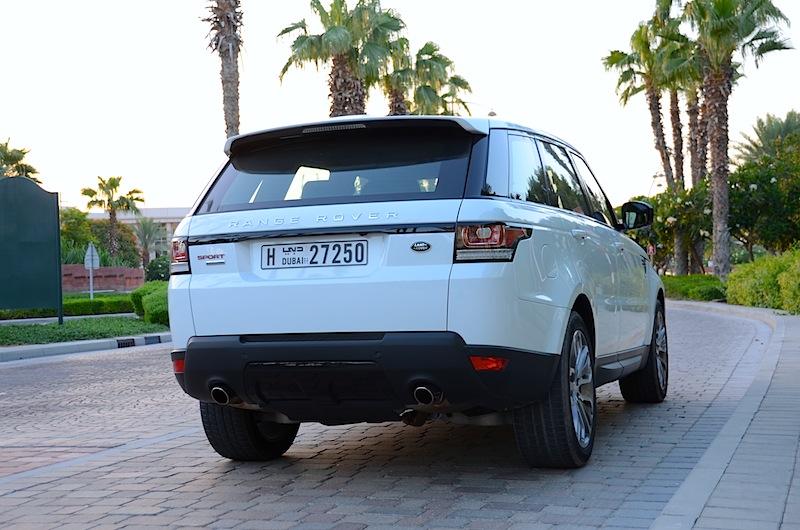 Special Features: Front and Rear parking aid with surround cameras, Premium Navigation system with TV tuner, Dual View Touch Screen, Voice input system, Meridian Surround Sound 825 W with 19 speakers, heated/cooled/massage seats, Reverse Traffic Detection
The Dimensions: L x W x H – 4850 x 2220 x 1780 mm / Weight: 2115 kg / Towing Capacity: 3500 kg / Max ground clearance 265 mm / Wading depth 850 mm / Load space 784 L / 1761 L with seats down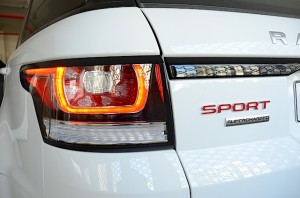 The Design
Whatever else it didn't do, the Range Rover Evoque brought in a totally new design perspective to the brand three years ago, and a glimpse of the future at JLR. Likewise, the Range Rover Sport should be one of the cleverest designs of 2014 because it not only incorporated the outlandish design of the Evoque but made an elegant statement out of it. The all-new Range Rover Sport looks muscular without even the trace of a bulge. The indented suage line that runs all the way below the shoulder line is perhaps the only sharply cut feature.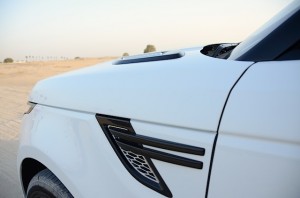 The Drive
This time around, the terrain response system seems to have even more options – rock crawl, sand, mud ruts, grass, gravel, snow and the option to switch off all special programs. The dynamic program takes it from where the traction leaves control.
The Range Rover Sport does throw in some vital extras for city or highway driving and maneouvering – like surround view cameras, reverse traffic detection and a blind spot monitor, which ironically is almost made redundant by the excellent side-view mirrors and wide rear windscreen. Despite costing almost half a million, my 5.0 SC Dynamic did not have adaptive cruise controls or lane change assistance, though the former is available in the Autobiography Dynamic.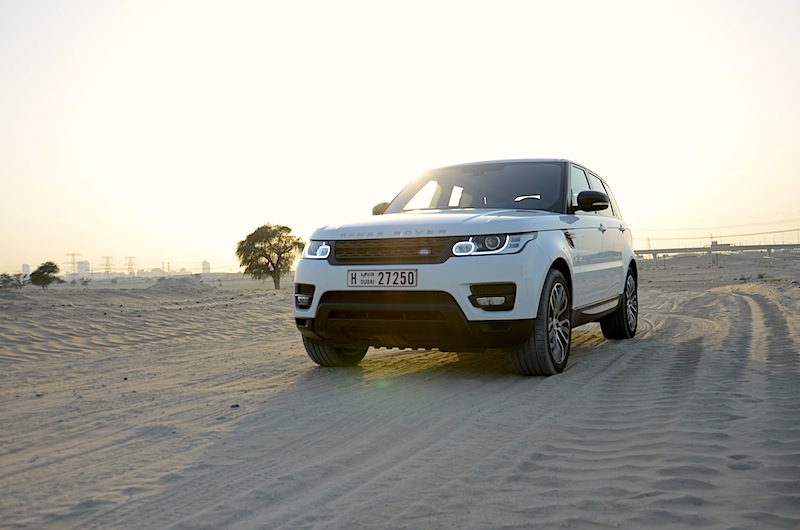 The all-new Range Rover Sport has access to its powerful 625 Nm torque early enough, and retains the edge all the way uphill. Cruising at a 100 kms per hour on the 8th gear, the rpm needle was hovering around 1,500 or 600 – superbly amazing. From this bed of power, the Range Rover Sport rises with all the torque it can muster from its supercharged V8 engine and races forward making overtaking a breeze.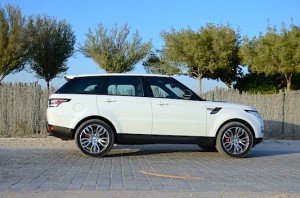 These 21 inch wheels are indomitable. They not only make you completely oblivious of surface changes but also provide exceptional stability to the car which already has a well-balanced chassis. It stays unflustered in quick lane changes or dramatic manoeuvres and accommodate an abrupt or an acute turn on its flight. There is a moment's hesitation while rushing into a curve from a comfortable straight, but never compromising on the feeling of stability. The good brakes add to the confidence. The Range Rover sports over sweeping flyovers at SUV-defying speeds, until at some point beyond some point, it shows its bulk – and about time!
The remarkable thing about a Range Rover brochure is that one really doesn't have to struggle to match up to those figures claimed. 0 – 100 came up in 5.5 seconds while I will ride with the 17.6L per 100 km on board record, which is quite credible.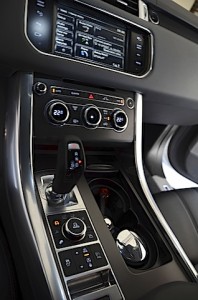 Cabin and Controls
The Range Rover family's trademark dual view continues on the touch screen where the driver can watch driving information while the passenger watches a DVD. It has always been a Range Rover Sports trait and an advantage while operating the menu on it, but the almost 30-degree slant of the touch screen comes across as unconventional when it's time to view entertainment. The Meridian speakers are top class as usual. The dial pad makes it quite easy to input radio frequencies as well as phone numbers without ambiguity.
The new Range Rover Sport cabin has a thin skin of dashboard leather, knurled finish on the console and air vents, along with a touch of irony. I'm referring to the occasional hard plastic feel that surfaces from within. But that doesn't defile the youthfulness of the new Range Rover Sport cabin and the overall, well-heeled feeling the car radiates.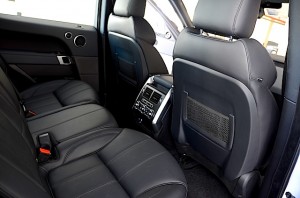 Family Drive
As much as it is a sporty SUV, what really captures your fancy is how it devours the road imperfections to keep you planted in the seat of luxury, even though the relative firmness of the ride could shake up some in the rear on longhauls.
Lane changing happens quickly, and uneventfully. Swerving hard too doesn't leading to someone swearing hard from the rear seat. I doubt if they even notice.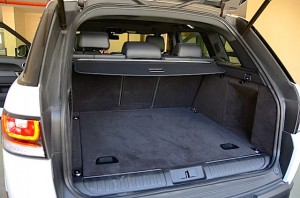 The Essential Range Rover Sports 2014
This SUV would be bought for the luxury it provides within, and the simplicity of operation within the cabin. Some thankfully would pick it up for its off-road prowess that is almost on par with the big Rangie. Like the new-found ability to wade into 850mm of water! The reassuring sharpness of the steering wheel and the responsive handling of the Range Rover Sport allow you to keep your right foot planted deep, even in the face of surprises. Nevertheless, treat it like a very capable large SUV and even though it's called Sport, reserve some stuff for your XK-R.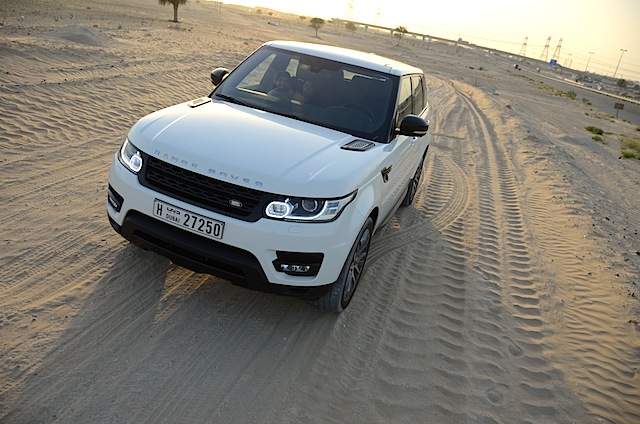 Pictures: Sudeep Koshy
All new Range Rover Sport Review: Wading deep
was last modified:
December 27th, 2016
by