Zero has no weight alone. But six zeros are too compelling and almost irrefutable. Which is why I admire the owners of the Aston Martin Rapide S even more than I admire the car. They are the embodiment of purity and restraint when it comes to driving pleasure and wanton desire, respectively.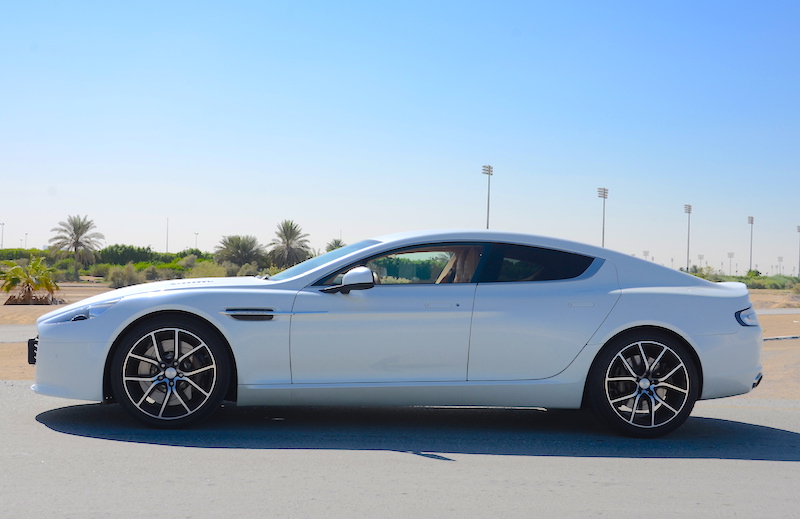 Just imagine. If these formidable millionaire patrons had demanded certain things, chances are, Gaydon would have given in. But what is present in the car – or rather what is not – is testimony to the nature of their clan.
These are drivers who happen to be millionaires, not the other way round. They aren't looking for crutches, for they are not crippled in any department of driving. In fact, they are so individualistic that the Adaptive Drive Recognition (ADR) in Rapide S senses their style of driving and adapts gearshift points to suit. Once the car is parked, it 'forgets everything' so as to match the rhythm of another driver!
There are hardly any digital valets; even the steering column is manually adjusted. When cars one-fourth its price is offering 8-way lumbar support, this cabin has just two. Swell. Recede.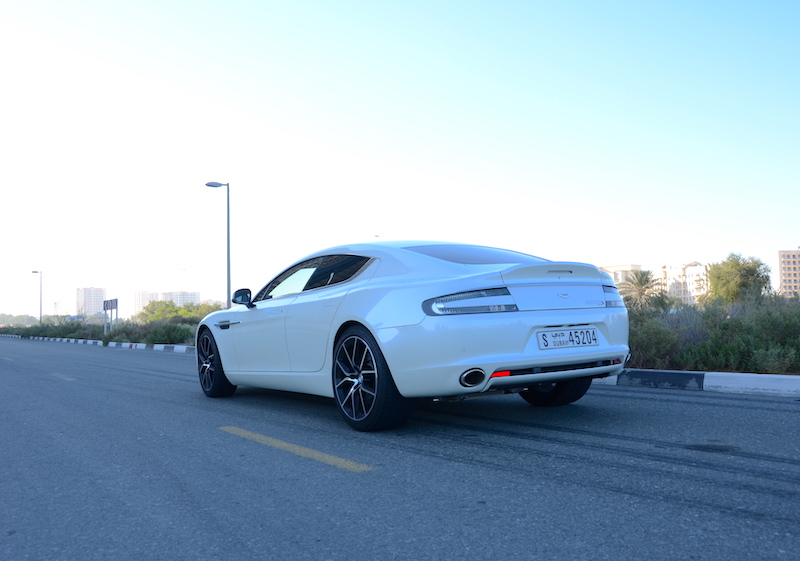 THE SPECS: 6.0L engine / 8-speed Touchtronic 3 with ZF / 20" 10 spoke gloss black Dt Wheels / Bang & Olufsen Beosound Audio
THE PERFORMANCE: 552 bhp, 630 Nm at 5500 rpm, 327 kmph top speed / 0 to 100 kmph: 4.4 sec (spec sheet), Fuel efficiency: 5.64 km/L (test)
THE PRICE: AED 825,000 onwards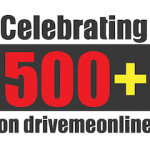 UPSIDE: Delicious cabin material, Delightful handling, New haptic console buttons
FLIPSIDE: Low rear seating, radio and camera could be improved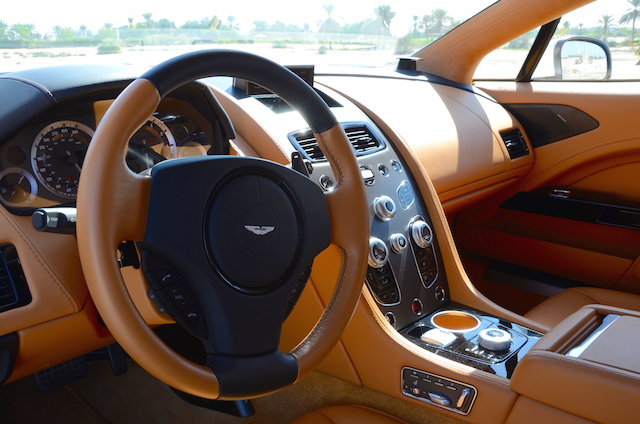 What is new for 2017?
That said, Aston Martin Rapide S has finally adapted a totally modern control console, with a screen with knobs and haptic response buttons embedded in a rich panel of carbon fibre. That is what is new for 2017.
The new controls let you access the menu or switch on radio navigation and phone directly. But they still don't have voice commands nor are SMS read out while they're driving.
Either they do have secretaries to take care of these things or they don't consider them so important as to interfere in such a feat as driving an Aston Martin.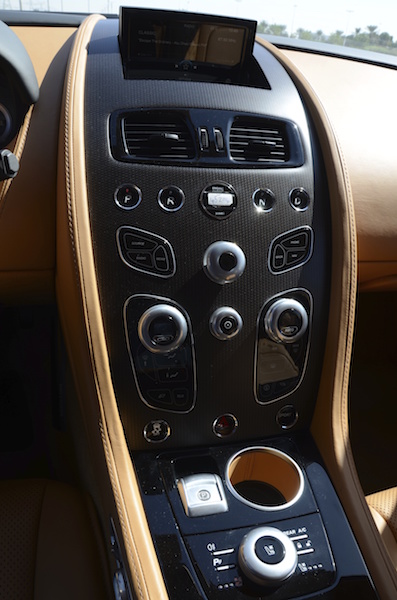 The Drive
For a model that has managed to keep our attention for seven years, boredom is yet to settle in. Since I tested the Rapide S almost three years ago, the changes to the gear and final drive ratios have boosted top speed and 'take off velocity', besides frugal factors like 11% better economy and 10% reduced average CO2 figures (300 g/km). During the last tweaking, the car received uprated, larger front brakes, a retuned brake booster and a 20% stiffer rear suspension bushes, while the 10-spoke wheels had shaved 7 kg from the standard design.
A new 8-speed transmission carried the 550 hp and 630 Nm torque to the front wheels for a 0-100 claim of 4.4 seconds. My attempts were in the early 5 point somethings! Vaporising a litre of gas for every 5.64 km could seem thirsty, but only until you realize we are talking 12 cylinders here, firing up a 6-litre engine!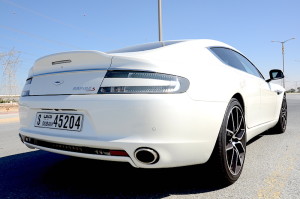 This Aston Martin steering is quick to respond to any input. The Rapide S shows some tailspin here and there, snaking its way at times, demanding your involvement altogether. It is similar to how an Aston Martin behaves on track, though, in a scaled down fashion! (I was just back from driving the GT4 on the Yas Marina Circuit.)
The Aston Martin Rapide S 2017 has a multi-view rear camera and parking sensors in front and back, which is a boon for such a low-flung car with hardly the space to look out of the rear. But there are no touch screens, no blind spot monitors and no radar cruise control to count the yards ahead to the car in front.
There is a tire pressure monitor and the tire status appears on the 6" screen, while a power meter shows the horsepower and the torque – with the express instruction that they are for track use only! So the extras in this cabin are strictly to do with better driving, rather than handholding or making up for your lack of skill.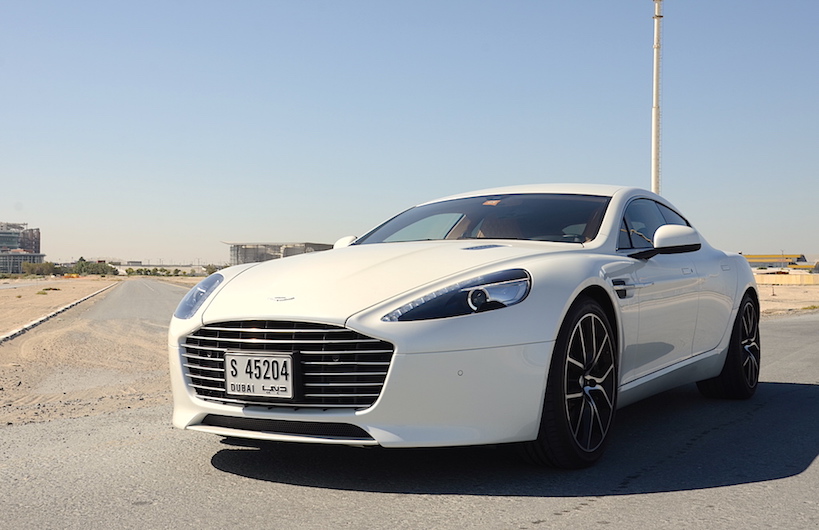 Cabin and Controls
The Aston Martin Rapide S looks and feels like a million dirhams, thanks to the richness of quilted leather, suede and even carbon fibre. The last one is made to feel like the most natural incidence in designing this cabin. The front has heated and cooled seats while the rear gets entertainment screens and a remote.
The connoisseur-class Bang and Olufsen system is simply playing up to expectations. Because, if someone has a taste for what comes out of those twin exhausts, his auditory predilections had to be really good! Incidentally, the radio reception could have been a tad more sensitive – some channels had frequent disturbances.
Something to ponder: Why is it that rear view cameras in reasonably priced cars are generally better than those in cars that cost a million bucks?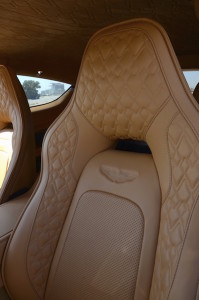 Family Drive
The four door Aston Martin is more than 5 meters long, half of which is the snout while the wheelbase is almost 3m long. It weighs 1990 kg – over three-quarters of a Range Rover! Storage is modest but there is a nice partition (nice is an adjective for how the padding feels!) to stop the coupe style boot to regurgitate stuff into the rear seat.
Yes, Rapide S is the only Aston Martin for the family and it's sumptuously appointed for the slightly built. Exceptionally low at 1360 mm, it just might leave you wanting to stretch out on a long drive.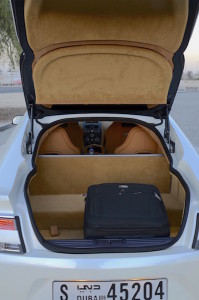 The essential Aston Martin Rapide S 2017
In 2017, the new Aston Martin Rapide S is still one of the rare examples of a V12 engine – codenamed the AM 29 – in its naturally aspirated glory. Agreed that the latest model comes with some advancement in control knobs, but if you still feel 'why pay a million for a car that offers so little in terms of gadgetry', well, just think of this: If you were really an Aston Martin owner, you wouldn't be complaining – because you would have received all that matters in driving and motoring, for all that money's worth.
Aston Martin Rapide S Rating
Looks -

8.4/10

Driving pleasure -

8.9/10

Passenger comfort -

8.5/10

Cabin luxury -

9.0/10

Sound track -

8.6/10

Practicality -

8.0/10

Fuel efficiency -

8.0/10
Aston Martin Rapide S 2017 One-liner
Family first? Nope. Aston Martin first.
Aston Martin Rapide S 2017: Added touches
was last modified:
January 18th, 2017
by