If you have ever been impressed by the way an Audi A4 looks, you will still be. If you've admired the practicality of its cabin, now you may appreciate how awesome practical can get. Starting with new engines and a brand new transmission, the Audi A4 defines its existence – and redefines much of the segment – in three words: Turbo. Quattro. Tech.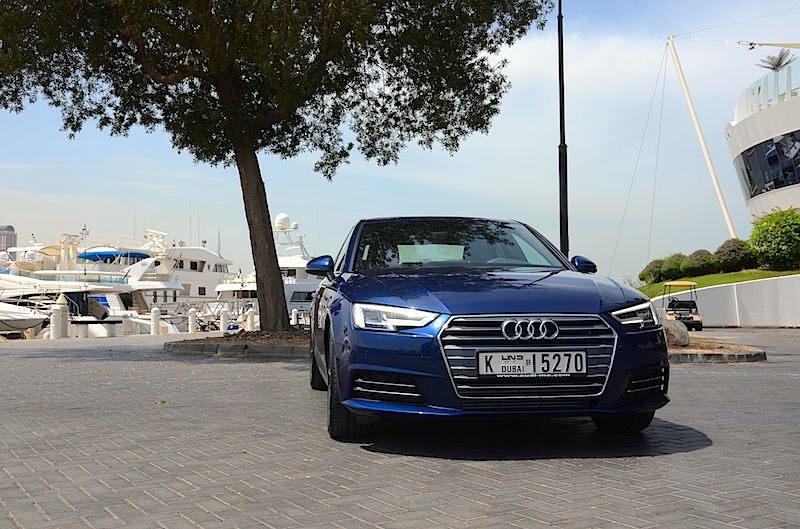 THE DIMENSIONS: 4.73 X 1.84 X 1.43 m / 2.82 meter wheelbase / Kerb weight 1.4 TFSI model 1320 kg
THE SPECS: 1.4L and 2.0L Turbocharged four-cylinder engines / 7-speed S Tronic transmission / Front wheel drive and Quattro All Wheel Drive / 18" and 19" wheels
THE PERFORMANCE:
30 TFSI engine: 150 hp and 250 Nm torque / 0 – 100 kmph in 8.9 sec / Max speed 210 kmph
40 TFSI engine: 190 hp and 320 Nm / 0 – 100 in 7.3 sec / Max speed 240 kmph
45 TFSI engine (2.0L Quattro): 252 hp and 370 Nm / 0 – 100 in 5.8 sec / Max speed 250 kmph locked
Cd 0.23 / Claimed fuel efficiency of 17 km/L for 1.4 L and over 20 km/L for the 2.0L engine / CO2 emissions 114 – 129 g/km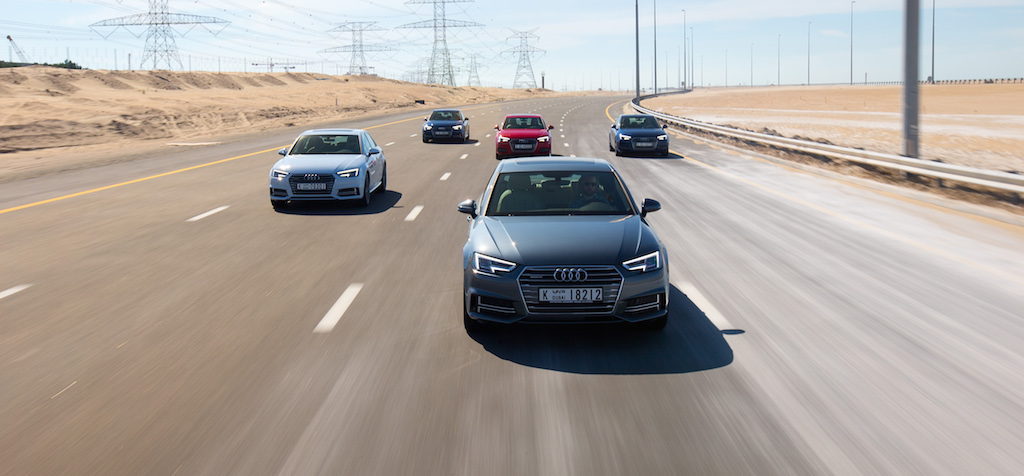 The Design
Basking in the early summer sun next to the piers at the yacht club, the A4 looked… familiar. Audi's B-segment saloon looked no less stunning in blue, but other than a squarely defined hexagon in front and sharper pinch lines, there was little that suggested a whole new generation of the model. The grille is sportily low-flung while the Matrix LED eyes stand out distinctively. Audi A4 also gets the dynamic turn indicators that were introduced in the Q7 – a flashy cabaret performance at a German opera – but you'll like it for safety even if it isn't your style.
4.73 meters long with a wheelbase of 2.82 meters, the new Audi A4 is two and a half centimeters (an inch) longer and one and a half centimeters wider than the outgoing model; yet lighter by 120 kilograms. The new A4 has introduced external design elements that mark sport and design variants, though you might need a German eye for detail to catch the nuances.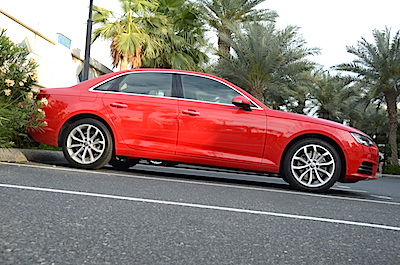 THE FEATURES:
Standard: Xenon headlights, keyless go, Bluetooth interface, Audi drive select, 7-inch MMI color display
Optional: Audi virtual cockpit with 12.3-inch LCD screen, LED headlights with dynamic turn indicators, Dual phone connectivity, Audi smartphone interface, Bang & Olufsen Sound System with 3D sound, Audi phone box with wireless charging, Head-up display
ADVANCED SAFETY: Active Lane Assist, Adaptive Cruise Control, Traffic Jam Assist, Parking assist, Rear cross-traffic assist, Exit warning, Collision avoidance assist, Turn assist, Audi pre-sense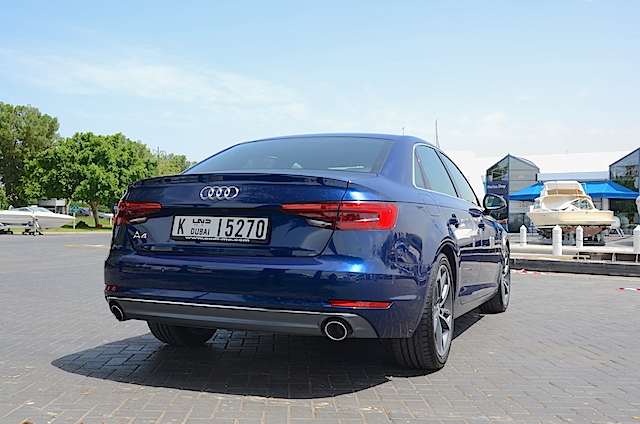 THE PRICE: AED 138,000 to AED 185,000
UPSIDE: Practical Technology, Fuel efficient, Precise Quattro Handling, Weighted towards families among rivals
FLIPSIDE: Standard tech are few, Engagement dampens in lower specs
The Drive
As I set out, it quickly became obvious that the fifth generation Audi A4 is back from the drawing board itself. It's not just about cabin gadgetry; much sweat has been spent on bringing down the drive resistance and reducing carbon dioxide emissions. The A4 sedan now boasts the best drag coefficient in its class at 0.23 even as the new engines dig up 25 percent more power, while achieving an exceptional 21% savings on fuel.
The engines are a 1.4L and a 2.0L in two states of tunes; all turbo charged and firing four cylinders. The 45 TFSI engine revs away the woes of not having a six-cylinder option. This 2.0L Quattro All Wheel Drive with 252 hp and 370 Nm torque clearly puts itself ahead of the 2.0L Front Wheel Drive with 190 hp and 320 Nm – and it's not about the one and a half second lead to the 100kmph mark. Even the 1.4 L Turbo makes 150 hp – more than its 1.8L naturally aspirated counterpart hardly a decade ago. The new gen Audi gets a redesigned 7-gear S tronic transmission, with a freewheeling function that saves fuel, and a mechanism that splits torque among wheels for optimizing power usage.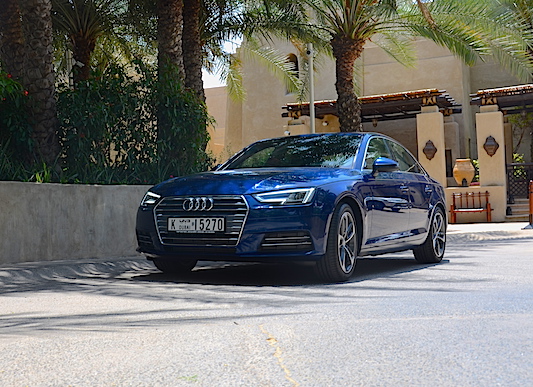 Audi Drive Select that offers you a menu of driving styles is present with the 2.0L engines. While the dynamic steering can change its ratio according to speed and steering angle, A4 suspensions now offer shock absorbers that can be fine-tuned to sport or comfort setting.
I would have returned home writing ballads on the powerful 190 hp Audi A4 and the quick response of its steering and chassis, if I were not to drive the 45 TFSI. While testing its acceleration from a standstill, the charming new 40 TFSI had behaved like an adamant horse, just refusing to get close to the figure (7.3 seconds) due to the initial holdup. But this was a different beast altogether: the 45 TFSI with the Quattro drivetrain. This model embodies both the agility and refinement of the new A4 in the inspiring handling with tons of traction, and the wild sprint to the 100 kmph mark in 6.2 seconds even on a casual test – quick enough to call it my adrenaline shot for the day. As for braking, they work alongside you rather than against your drive, making it all the more effective yet unobtrusive.
Fuel efficiency:
The claimed fuel consumption of the 2.0L engine is 4.8 liters per 100 km and CO2 emissions are 109 g/km. In comparison, the 1.4 TFSI records 4.9 liters per 100 km and 114 grams CO2 per km. This is due to a new method of finely managing combustion, based on the throttle input; not to be confused with the 'cylinder on demand' in Audi's sportier saloons, where four of the eight cylinders sleep till alerted to a higher demand of power.
Even vapid ways of fuel saving like the start-stop function gets a technological facelift in the new Audi A4. Sensing you are rolling to a stop, the engine can switch off by the end of the braking action, saving an extra drop of fuel. I don't mind that as long as I am kept unaware of that bit on my drive.
Cabin and Controls
Luxury is no more equated with impressive driver assistance gadgetry. They are fairly ubiquitous; it would have been a let down if Audi had ignored that bit in the cabin of their bestseller in one of the most richly contested automotive segments. [Incidentally, this region sells more Q7 than A4 unlike other parts of the world.]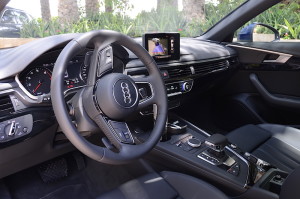 There is an available array of gizmos that helps you turn or change lanes or park safely, back up in peace or even slow down or stick to lanes. Standard in every A4 are the Xenon headlights, keyless go, Bluetooth interface, Audi drive select and 7-inch MMI color display.
Driving the 2.0L Quattro revealed the full string of desirable everyday innovations in the A4 cabin. Spread on a 12.3 inch screen the driver information is neatly gathered where once upon a time the speedo and tacho dials shone in their metal bezels. It's part of what Audi calls the virtual cockpit, and is particularly good to view the navigation, with information dotted on the map that filled the panel. It reminded me of once watching the sea of clouds ahead, seated in a flight cockpit!
The Audi cabin dynamics is controlled using a multi-layer command system. The top trim features the MMI Navigation plus with MMI touch and an 8.3-inch monitor, and also has a touch pad and rotary control. As earlier, it's rather convenient to write the name out on the touch pad, instead of fumbling on the keyboard. The dashboard now features a line of capacitive buttons that can sense your touch and adjust to preset values – even before you prescribe them! If it sounds conceited in one of the most sensibly equipped cabins, think how very convenient it would be during the drive!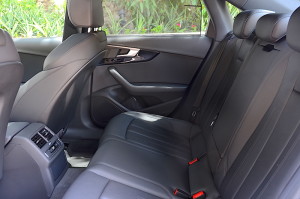 Smart. Phones.
The new A4 cabin is built around smart phones – what else – an example of timely and inevitable thinking. For the first time, you can connect two devices, and charge a mobile wire-free by placing it in what Audi calls the Phone Box. This space is also said to keep the radiation of the phone to itself.
The logic of the Multimedia Interface (MMI) is similar to that of a smartphone with an intelligent text-search function that uses the touchpad to zoom in and out and enter characters. A more naturalized voice command is in place similar to the android/siri style – "I want to call my service engineer".
The family sedan
The seemingly small increase in dimensions has helped to push legroom from reasonable to 'almost generous', and offer wider shoulder space. A hardliner for quality Napa leather, Audi keeps things plush and being the masters of lighting, has introduced optional contour lighting along the doors and the central console, adding to the soothing and elegant interior.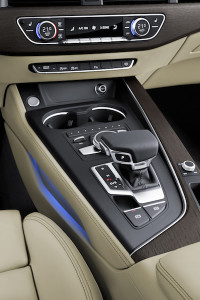 The rigid chassis not only influences the handling precision but also the added quietness – aided by acoustic windscreens and the aero-acoustic design as they call it. On a related note, the Bang & Olufsen system in the A4 introduces 3D sound, with height as a new dimension! (Try it for yourself while testing; I missed that bit.)
Cabin safety has also been advanced with the ability of the front airbags and the seat-belt force limiter to adjust to the sitting position and the type of frontal collision. Added convenience includes a new tow-bar and the option to kick open the boot.
The essential fourth-generation Audi A4
One suggestion. Don't drive the 252 hp, S-tronic and Quattro all wheel drive at the start. It can leave the otherwise significant others, unfairly stripped of their awesomeness. However, the good news is that at 15000 dirhams less than 200K, it's totally worth the upgrade, especially when you compare it to top specs of fellow Germans. Talk about being spoilt by superfluous comforts that adapt to being the essentials of a vainglorious existence. What would we have done without the A4 2.0L Quattro?
2016 Audi A4 Rating
Looks -

8.2/10

Drive -

8.6/10

Ride Comfort -

8.6/10

Safety -

8.5/10

Fuel Efficiency -

9.0/10

Practicality -

8.4/10

Value per Dirham -

8.2/10
Audi A4 2016 ONE LINER
Three engines mated to a brand new transmission places the new Audi A4 in a vantage spot at the crossroads of power and efficiency; while an innovative interpretation of modern practicality makes it a highly recommended car for families.
Audi A4 2016 review: Technically new
was last modified:
December 27th, 2016
by