The 900 kilometre stretch between Silicon Valley, California and Las Vegas, Nevada was the metaphoric distance between the church door and the altar to Audi last week. It held the promise of the future of piloted driving for the German automaker, and perhaps the automotive world.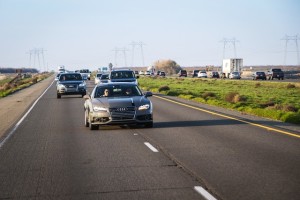 Jack is a natural when it comes to driving. At the end of the 900-kilometer drive, that's what the Audi A7 piloted concept proved itself to be. Using existing as well as production-ready sensor technology, the concept vehicle scans 360-degrees of its surroundings. Quite like already available features like Adaptive cruise control (ACC) and Audi side assist (ASA). Laser scanners in front and back differentiate between static or dynamic objects. Four smaller cameras at the front and rear provide short-range information while the hi-resolution, wide-angle 3D video camera observes the surrounding traffic.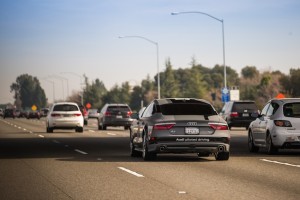 The new sensor data system enables a continuous plausibility check during piloted driving to ensure the correct decisions are being made by the vehicle and the driver. (Wait, I have a question: if the driver is to ratify decisions, does it mean I can't just dose off in the passenger seat like I hear pilots do at times?)
The concept allows the car to run on auto-pilot from 0 to just over 110 km/h. During this time, the car can change lanes, overtake, accelerate and brake on its own. When changing lanes, the vehicle adapts its speed to surrounding vehicles and if speed and distance is evaluated to be safe, "the vehicle initiates the lane change with precision and in a timely manner". (Reading this sounds like a machine does it, right? Well, it's what we naturally do when we drive!) When the "autopilotability" reaches its limits, like moving into city roads, the car sets off multiple alarms (lights and sound) asking the driver to take control.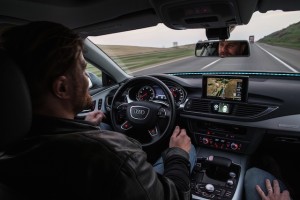 On its way to the International Consumer Electronics Show 2015, Jack (yeah, that's the name) held a few brave (or nervous!) journalists witness to the experience in everyday driving situations. As required by State laws in California, an experienced Audi test driver accompanied the drive from the passenger seat. The test drive resulted in actionable data to help further development of Audi piloted driving.
Audi A7 concept achieves 900 km piloted drive
was last modified:
February 23rd, 2016
by