As the new generation of Range Rover is scheduled to greet us before the year-end, DriveME marks the advent of the Range Rover prototype through month-long reviews of the entire Range during this special month in the brand's history.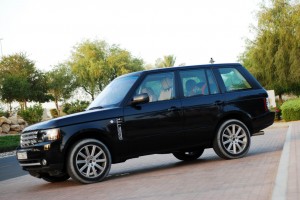 If you are driving the "Range", and don't hail from the Buckingham palace, chances are you are either a native or a settler in the UAE, KSA or other parts of the Middle East that are prolific and profligate when it comes to luxury car marques.
The Range Rover is not only the Queen's official transporter; it is UAE's darling as well. And so it is of KSA and Kuwait – the Middle East's other top two destinations for luxury car marques. It is perhaps one reason the expatriate from the UK or other parts of Europe find UAE better than home turf when it comes to enjoying life's finer luxuries – otherwise kept at bay by an exacting tax or duty system.
Moving on to the history of perhaps the most famous mainstream luxury marque in the world, 17th June 1970 is not a date that many recollect. It happens to be the day the Range Rover was announced to the world's motoring press. But we will go a step beyond, and begin at the very beginning, when the first ever prototype of the Range Rover was created – what was to be an August presence in the world of SUV was launched appropriately in the August of 1969. Codenamed 'Velar' to misguide the inquisitive, these went through several iterations before conquering the world with its inimitable ability to impress with luxurious comfort and an unparalleled prowess to conquer road-less terrain.
This August, appropriately enough, DriveME pays a tribute to the Range Rover, not only by reminiscing its journey to legend-hood, but also through unrelenting reviews of the entire Range Rover collection – the large Range Rover SUV, the mid-sized Range Rover Sport and the latest Range Rover Evoque. Stay buckled up! Range Rover is indeed the August presence on DriveME!
August presence: The Range Rover family
was last modified:
February 22nd, 2016
by