As the Beijing Auto Show 2012 opens doors to the trade and the public, here is a look at market insights gathered from reports of the show that will conclude on the 2nd of May. Many new models throng the market and several concepts are being unveiled at Auto China, throwing light on how important the emerging Chinese market is to the world's automakers.
Fuel-injection to the auto business: Early settlers like Ford and Volkswagen have dug their backs comfortably into the till-side seats while newcomers like Seat are stepping in, refusing to be left behind in the gold rush. In the first quarter of 2012, China paid for 29% of Volkswagen group sales worldwide. Highest number of Sciroccos are sold here. GM sold more than 2.5 million cars last year. What came as a blow to American auto manufacturers is the up to 22% tariffs China levies on them on top of the 25% import duty on incoming cars in general! 
Thirty party: Chinese moneyed auto-lovers are really young – 28 is the average age of a Lambo owner while half of potential car buyers are yet to hit thirty or in their early thirties. No wonder many classic carmakers like Jaguar or Bentley are loosening a screw or two in their tight-fisted design approach to create loud and jarring designs.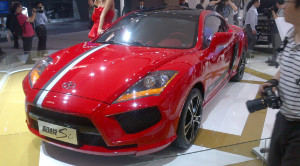 China is the new S. Korea: Designs inspired by the west – preposterous imposters that make originals rumble in rage and aficionados cringe with shame – are plenty at show, going by reports. The JAC Heyue SC it seems is a pathetic spoof of a Mustang and a Ferrari California! On the other hand, the new Roewe 950 – based on the Buick LaCrosse – has received rave reviews at the show. While Geely, Chery and SAIC have their bits of parodies lined up, the South Korean Ssangyong's Chairman too is a beguiling tribute to the C-class.
Saloons sell; Spacious saloons rule: SUVs and Crossvers are yet to catch on while the day couldn't be that far away. The saloons are still preferred by far and rear space is one of the most favoured factors in purchase decisions. If Audi A6L, BMW 5-series LWB and Skoda Superb as quite popular in China, little surprise there!
Go car spotting! China believes in variety and a walk on the road is sheer entertainment for those on the lookout for badges and brands. With international alliances gathering momentum, there are 476 different models showcased in China's car market. Wonder how many will one test drive before zeroing in on one!
Growing market, booming enthusiasm: Imagine a car market of more than 1.3 billion people, with only 50 vehicles per 1000 people. Compare this with the 500 per 1000 figure of Europe. You will realize the growing potential of the market and frightening congestion and appalling pollution that will plague the Chinese roads and skies, respectively.
Anyway, that isn't stopping the newfound enthusiasm of Chinese car buyers. Right now, the fascination is for western luxury brands but there are some takers for supercars as well, despite the prohibitive import duty that is almost two-and-half-times the price! The cheapest Ferrari would easily cost more than a million dirhams in China! Still, Lamborghini managed to sell 342 cars here last year.
It's an enthusiastic and evolving market after all – and one that world has set its eyes on!
Beijing Auto Show: A peek into China
was last modified:
February 22nd, 2016
by