Spitting fire from its oval exhausts and spinning 1100 Nm, the king of torque is an obvious title for the Bentley Mulsanne Speed. What made Bentley create a leviathan with such formidable power is the first question that pops up. Does the fastest Bentley make for an enjoyable drive is the next.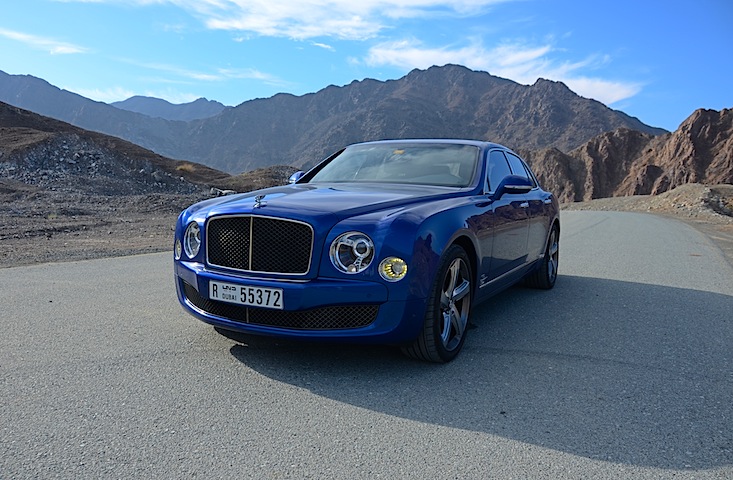 UPSIDE: Enormous power, Comparatively good fuel economy, Grand scheme of things, Enjoyable drive, S mode for immediate power
FLIPSIDE: Power doesn't make it a sports car, recliner seats recommended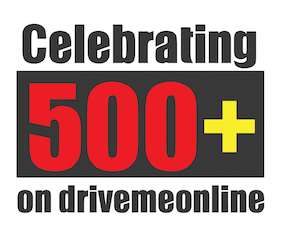 THE SPECS: 6¾-litre twin-turbo V8, 530 hp, 1100 Nm torque, New sports suspension and steering, 21" wheels (Updated Mulsanne has 505 hp and 1020 Nm torque)
THE PERFORMANCE: 0‑100 km/h in 4.9 seconds, Top speed 305 kmph, Fuel economy (test): 5.6 kmpl, 342 g/km of CO2 (13% better than previous)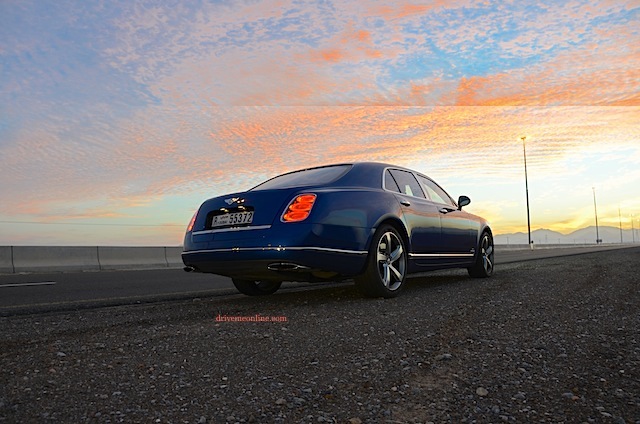 The Drive
First things first. As the story goes, the patrons of Bentley were asked how would they like their next Bentley baked – with more cream at the core, or crisper on the outside and so on. The current Bentley owners surprised the wizards of Crewe with a demand for more engagement and power. Strange request for a car they would be mostly chauffeured in! Anyway, Bentley entertained their request and revved up its generosity.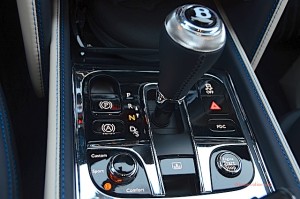 The Bentley Mulsanne Speed weighs over 300 kg more than the Range Rover and almost 200 above the Rolls-Royce Ghost Series II. The 2685 kg beast is 18 ¼ feet long. As I drove it around the meandering roads of Meluha, its agility belied the extra long and heavy frame. As for body roll, the laws of Physics would be shamed if it hadn't shown any!
The Bentley Mulsanne Speed is powered by a 6 ¾-litre eight-cylinder engine. Agreed, 530 horse power is reasonably big. But 1100 Newton-metres is a quantum of power so overwhelming, that even the mammoth engine doesn't seem big enough till I tell you that it is reinforced by twin turbochargers. The four figure torque has been achieved from the previous engine by making changes and improvements in its variable valve timing, combustion speed and twin turbo regulation controls.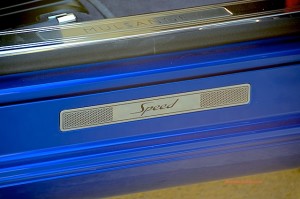 Here is the best part: this humungous torque is available from 1750 rpm onwards, while Sport mode begins at 2000 rpm. In other words, the Sport mode is an instant gateway to limitless power in a Bentley Mulsanne Speed. The effortless and powerful glide is befitting the king of torque.
What would be dreadful figures of fuel economy for any other car still seems pleasing not because the owners couldn't care less, but considering the size of the engine. Anyway, Crewe is serious about earth-friendly efficiency and they have squeezed out a 13% better performance, taking 80 extra kilometers from its not-so-tiny fuel tank – adds up to 5.5 km per litre.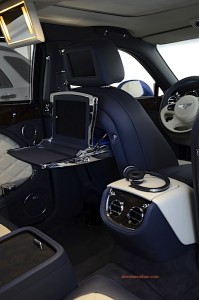 Cabin and Controls
Eighteen feet of coachwork determines many of the Mulsanne's traits, including the indulgent generosity of legroom, headroom and 443 L of boot space. Not surprisingly, this Bentley too offers one touch boot closure and automatic soft shut of the doors.
You can feel at home (or office, depending on context) in the spacious 'aisle' in the rear. From the looking glass folded onto the tufted headliner to the laptop shelf that folds out from the front seatback, it's a thoughtfully appointed cabin. Strangely enough, the shelf unfolds at the touch of a button but has to be pushed back into place. (The new Mulsanne takes care of this bit, I hear.) There is no laptop fitted but a 60GB hard disk is available for your storage.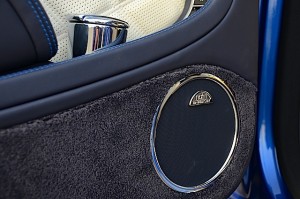 Any figure that describes this car seems to be surrealistic! Like 2200W of pure concert quality music that streams from the Naim for Bentley system with Bluetooth speakers and an 8" entertainment screen. The heated and massage seats and the air-conditioning in the rear can be controlled by a separate remote. However, as you lean back and enjoy, you realize that there is a limit to it. Because, first-class style rear recliners are missing from the Mulsanne cabin; it's a gap left for the new model to fill. For once, Bentley seems to have prioritized power over luxury. Then again, isn't power the ultimate luxury?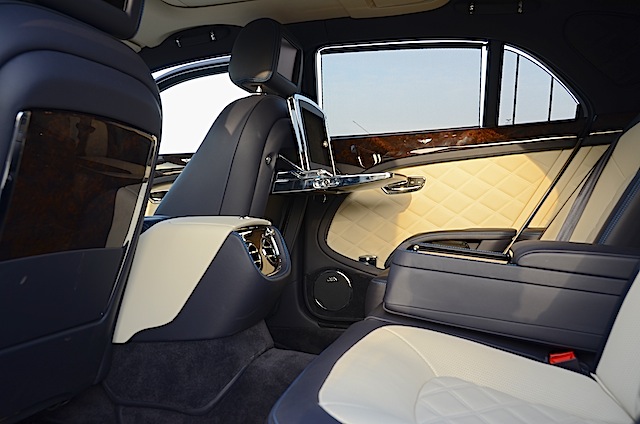 As exclusive as a Bentley gets
Marlin blue is a stunner, just as the flagship Bentley, while a dark magnificence is added to the lamps and metal grilles through a specialized blackening process. The interiors can be specified in 24 shades.
The scent of a Bentley cabin reminds one of the elevated decadence that shapes and tones the leather that wraps this salon. Creature comforts include a bottle cooler and crystal champagne glasses that you may separately order.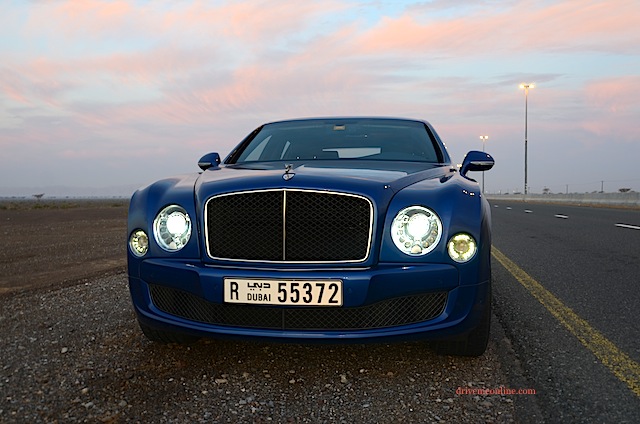 As we already know, 1100 is an important number for this car. That is also the number of Bentley Mulsannes created every year; of which only one-third get the badge of Speed. The Mulsanne Speed is the most expensive Bentley model. At 1.6 million dirhams, it is only behind Rolls-Royce Phantom and Ghost among luxury saloons.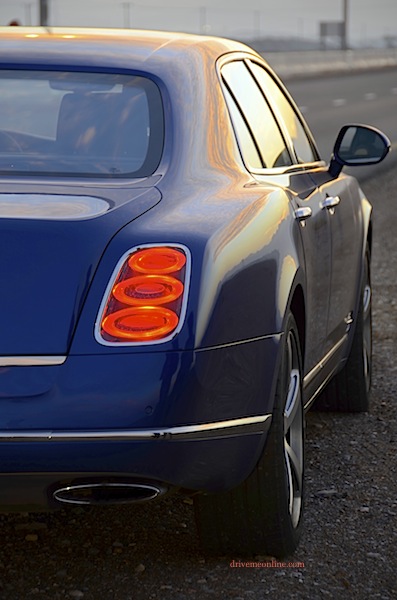 The essential Bentley Mulsanne Speed
The formidable presence and overbearing power of the Bentley Mulsanne Speed prompts me to compare it with no other car. Instead, the experience brings to mind a modern locomotive – long, heavy, powerful and unflinching. The fact that it takes just 4.9 seconds to fly by the 100 mark could be amazing, but not as much as the agile maneuverability of this massive car.
After enjoying the unwavering straights and the sprightly swerves, when you settle down to browsing your tablet from the lap of luxury, you might ask your chauffeur to be a gentleman and slow down at the bends. For, power that doesn't prompt you to gauge your steps and weigh your attitude could lead to anarchy.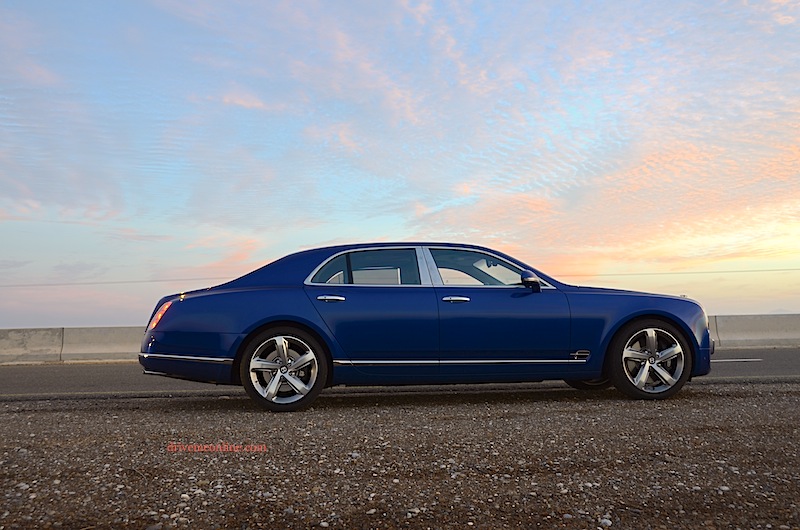 Pictures: Sudeep Koshy
Bentley Mulsanne Speed Rating
Handling -

8.0/10

Driving pleasure -

9.0/10

Passenger comfort -

9.0/10

Appearance -

9.0/10

Sound Track -

8.5/10

Cabin luxury -

8.5/10

Fuel efficiency -

9.0/10
Bentley Mulsanne Speed One Liner
You won't mind it if the chauffeur doesn't turn up, Mulsanne Speed is enjoyable behind the wheel as well; but weekend adventures will still be reserved for the Continental GT.
Bentley Mulsanne Speed review: 18 feet, 8 heads and it roars…
was last modified:
December 27th, 2016
by