The World Finals 2014 of F1 in Schools™ was held at Ferrari World Abu Dhabi and the first place was won by team 'Colossus F1' consisted of 6 students from Robert May's School of England. The second runner up in the competition was 'Gamma Raycing' team from Australia and third 'Boreas' from Germany. These F1 fanatics triumphed among 38 teams that worked on their passion for speed from 24 countries.
Commenting on the awards ceremony, Victoria Lynn, Park Manager at Ferrari World Abu Dhabi said: "The level of sophisticated designs we saw this year was impeccable and year after year the student's competitiveness increases. We foresee a bright future for these brilliant minds…"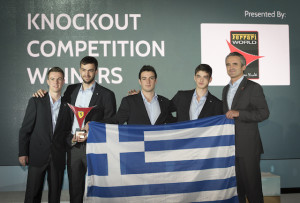 Ferrari World Abu Dhabi sponsored the knock-out competition, in which teams would race their cars and are judged on the reaction timing speed and pure speed as part of the World Finals. The winners for this year's knock out competition were 'Pole Position' from the American College of Greece.
Colossus F1 from England Crowned F1 in Schools™ Champions
was last modified:
February 22nd, 2016
by