Continental has become the first tire manufacturer to launch tyres designed and developed for the unique road conditions found in the Middle East market. Named Generation 6, the range has three distinct product lines.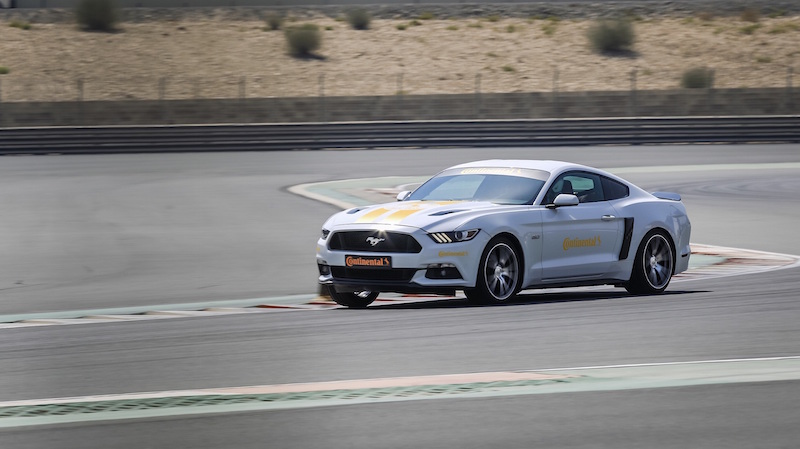 ComfortContact 6 has been developed for smaller cars and city driving; UltraContact 6 for larger sedans and MaxContact 6 for high performance vehicles. Available in early 2018, these tyres matches their German automotive know-how with local expertise to feature the latest technological advances for enhanced grip, handling and braking, and quieter and more comfortable rides. They are in line with the brand's Vision Zero goal of eliminating fatalities, injuries and accidents on the roads, and are designed for high resistance to damage from hazards such as potholes, debris and kerb impacts thus making them more durable. Tested and developed over two years, 60 different tyre sizes have been identified and produced across the three lines.
The new Generation 6 tyre range was rigorously tested in the Middle East, as well as Continental's fully automated in-house tyre testing facility in Hannover. Testing and evaluating over quarter million tyres every year, under all conditions, the company covers more than 160,000,000 km in endurance and high speed tests and evaluates more than 250,000 materials. Continental's tyre division generated sales of €10.7 billion in 2016 and has over 24 production and development locations worldwide.
Tyres and just as much about managing friction as it is about acoustics. Read on to see it for yourself.
ComfortContact 6 Good mileage and a quiet, safe ride for smaller cars. Designed to be exceptional in dry handling and ride comfort. Low noise levels, optimised rolling resistance and higher mileage.
Two new features reduce the impact of road noise. 'Harmonic comfort chambers' located on the inner shoulder of the tyre pattern direct noise emissions away from the occupants, while specially designed round-shaped groove elements further break up the noise waves to reduce sound levels. The polymers of the tyre compound are combined with a strong, durable sulfur network and feature special softeners that adapt better to the roughness of the road surface.
UltraContact 6: Designed to deliver driving comfort, safety and performance especially on highways, you could find this in the Nissan Altima, the BMW 5 or the Jaguar XF. Reduces braking distances in dry and wet conditions; good mileage and low noise. The chamfered angle of the UltraContact 6's Diamond Edge tread pattern helps reduce tread flex and maximise road contact when braking. An advanced Diamond Blend Compound features a combination of short-chained grip-polymers for advanced braking and handling, and long-chained mileage-polymers for reduced wear. The 2.0 version of the existing Noise Breaker concept cuts noise waves within the tyre grooves for a quieter trip.
MaxContact 6: Experts at Continenntal have designed these with Ford Mustang, BMW 5 series and Mercedes-Benz C-Class and E-Class in mind. Performance-driven, these tyres excels in braking and handling in dry and wet conditions with strong grip and direct feedback from the road. The extreme high grip requirements are met by a specifically designed Adaptive Grip Compound, which incorporates special adhesive polymers within the tyre's compound, while six functional elements in the Multifunctional Tread optimise braking distances, handling and grip. A newly designed, adaptive Xtreme-Force ply material is made of polyester and woven into a solid fabric structure that reduces flexing during hard cornering and at high speeds to provide maximum control and better handling, while at lower speeds it retains its flexibility for a comfortable ride.
And you thought tyres are just rolling blobs of rubber, eh?
Continental launches custom tyres for Middle East
was last modified:
December 20th, 2017
by