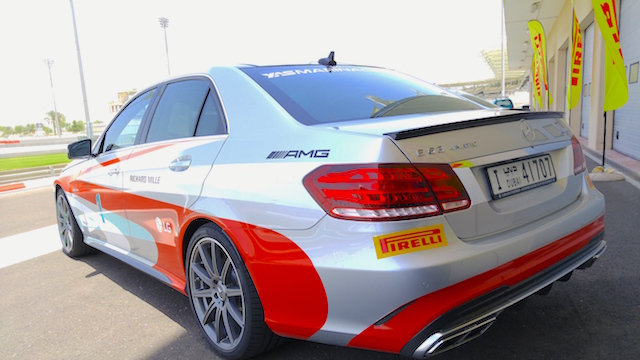 Pirelli to keep the Yas experience rolling
Yas Marina Circuit is the home of the 2016 FORMULA 1 ETIHAD AIRWAYS ABU DHABI GRAND PRIX. Pirelli is the official Formula 1® tyre partner till 2019. As they decide to come together in a multi-year sponsorship agreement, all Yas Racing School and Abu Dhabi Motorsport Management's vehicles, numbering more than 75, will now roll on high-performance Pirelli tyres.
Pirelli is now the Official Tyre Supplier to Yas Racing School at Yas Marina Circuit, and will equip the 49 cars that make up the popular DriveYAS programme. They include Aston Martins, Mercedes AMG cars, Radicals and Camaros. Pirelli will make public contact too, as DriveYAS is open to all on Saturday, Tuesday and Thursday (Thursday and Saturday evenings only during Ramadan). Over the year, around 1,500 tyres will be needed to equip these as well as the venue shuttles, water tankers and pick-up trucks.
In return, the Pirelli logo will greet the world from top notch locations around Yas Marina Circuit. Al Tareq Al Ameri, CEO of Yas Marina Circuit, said: "We are aligned as regards the value we both place on safety, reliability and performance, these are elements that underpin both the Pirelli as well as the Yas Marina Circuit brand. The fit really couldn't be better".
Nissan buys into Mitsubishi to form one of biggest four companies
Following a share issue, Nissan will take a 34% equity stake in Mitsubishi Motor Company (MMC) for 237 billion yen to become the largest shareholder of MMC. The two companies have been jointly collaborating for the past five years. The strategic alliance will extend this to include purchasing, common vehicle platforms, technology-sharing, joint plant utilization and growth markets.
This is the latest expansion in Nissan's Alliance model, built around a 17-year cross shareholding arrangement with Renault. Nissan also has stakes or signed partnerships with other automotive groups including Daimler, and AvtoVaz. On closing, MMC will propose Nissan nominees as board directors in proportion to Nissan's voting rights, including a Nissan nominee to become Chairman of the Board.
At ¥487 a share, Mitsubishi comes cheap, considering the fact that it was worth twice that just a month ago, before it got embroiled in an efficiency testing scandal similar to that of Volkswagen. Ironically, the affected vehicles are the results of a collaboration between the two OEMs. Anyway, the alliance is hoped to bring in better days for the ailing Mistubishi while Nissan could be eyeing on the strong South East Asian presence their compatriot enjoys.
With this, Renault-Nissan Alliance would be one of the biggest global carmakers with a combined output (including Mitsubishi) of 9.6 million vehicles in 2015, edging close to Toyota, General Motors, and Volkswagen.
Porsche forms digitization company
The new subsidiary will be headquartered in Ludwigsburg and have sites in Silicon Valley and China.  Porsche is furthering fuelling its drive on the future lane with a Digitization Competence Centre. Porsche Digital GmbH will combine the traditional Porsche spirit with the power of new technologies to become the leading provider of digital mobility solutions. The new company will be able to quicken their ascend in the areas of connectivity, smart mobility and autonomous vehicles.
"We will create digital customer experiences typical of Porsche which are fascinating and intelligent – both inside and outside the vehicle," says the subsidiary's new Managing Director Thilo Koslowski.
Ajman promotes eco-friendly driving with Prius
Ajman Municipality and Planning Department received five Toyota Prius Hybrid vehicles, keeping with Ajman Municipality's environmental efforts and the Ministry of Climate Change and Environment's sustainability agenda. The handover was in the presence of His Highness Sheikh Ammar Bin Humaid Al Nuaimi, Crown Prince of Ajman, His Highness Sheikh Rashid Bin Humaid Al Nuaimi, Chairman of Ajman Municipality and Planning Department, and His Excellency Dr. Thani Ahmed Alzeyoudi, Minister of Climate Change and Environment for the United Arab Emirates. Earlier this year, the Ajman Municipality waived off parking fees for eco-friendly cars within the Emirate, a momentous step forward in the effort to welcome hybrid vehicles into the country.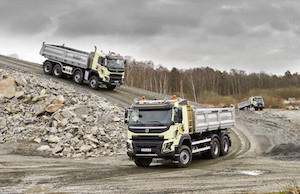 Volvo Trucks deliver cutting edge features for Middle East
Swedish truck manufacturer Volvo Trucks has revealed five new industry-leading features across their FH, FMX and FM ranges that will benefit those fighting the challenges of Middle East climate and topographies.
The automated gearbox, I-Shift, is now available with a crawler gear option, making it possible to start from a standstill with load, in extreme situations. Volvo's Automated Traction Control is now standard on the Volvo FMX front-wheel-drive trucks; 4×4, 6×6, 8×6, 10×6, offering lower fuel consumption and decreased wear and tear. New Volvo Dynamic Steering combines conventional hydraulic power steering with an electronically regulated electric motor fitted to the steering gear for precise and effortless steering.
The new severe duty version of the I-Shift automated manual transmission is engineered to withstand frequent shifting in rugged operational environments like oil fields and construction sites. Volvo Trucks' heavy-duty models with dual front axles increase the maximum technical capacity from 18 to 20 tonnes, which translates directly into increased income-earning potential. These world class technology solutions are aimed at improving uptime at lower fleet management costs.
DriveME NewsTrack Early June 2016
was last modified:
June 3rd, 2016
by