Fuel prices to rise in May
Prepare to hand over a little more for your next refuel. The Ministry for Energy announced a 10% hike in fuel prices from today. The new prices are AED 1.78 for Super, AED 1.67 for Special and AED 1.60 for E-Plus. Diesel prices will go up to AED 1.60, up by 2.5%.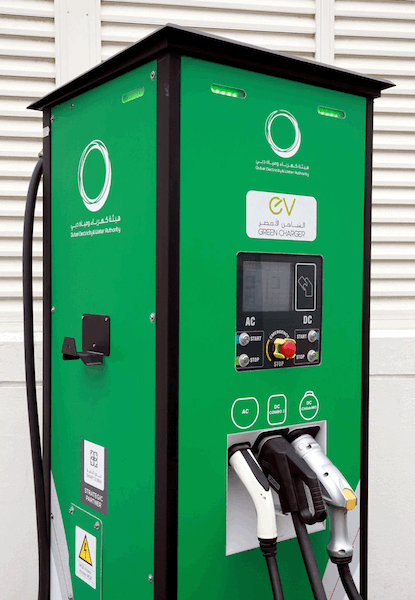 Hello hybrids: Electric charging stations growing in Dubai
Talking about fuel prices… are you planning to go green and take the leap into electric cars? Here is good news: ENOC and EPPCO are adding two more locations to the already available 7 equipped with charging stations. These are in addition to 100 electric charging stations installed in parking lots across the city. While these require about 2 hours to charge a car, the ones at the petrol stations need just 10-20 minutes. But hey – just plug your car in and go watch a movie. At least you can beat those petrol-station queues!
Sit back – let the car drive you into the Twenty Thirties!
A car without a steering wheel that drives itself in a preset virtual route? No this isn't the setting of a futuristic sci-fi movie. It's closer to Dubai's vision for 2030, when the emirate hopes to have 25% of its transportation driverless.
Dubai has started a test run of the EZ10, a driverless shuttle programmed to run short distances on preset routes. It is powered by a battery that keeps it going for up to 4 hours on a single charge.
But what's in it for us?
Driverless transport is projected to save a whopping AED 22 billion annually and cuts down in a big way on carbon emissions and car accidents. All in all, sounds like great news. If nothing else, it's the perfect way to stay sane in crazy traffic!
Young drivers – play it safe on Dubai roads and win a car!
Young and reckless? You might want to reconsider. Dubai Police is now giving away a prize for safe drivers between 18 and 21. The prize is a car worth AED 80,000.
Dubai already has a scheme in place to reward safe drivers. 1800 motorists who earn 24 white points will be rewarded this year. White points get cancelled if you're involved in an accident or get fined for a traffic rule violation.
Old or young – remember, safe road habits always pay off!

Sand Racer: Get this show on the road – and off
They are coming. Crossing the desert and taking the adventure on to the tarmac. Produced and assembled in the UAE, the Sand Racer by Zarooq Motors will be the first desert racer that's also road legal.
Built to thrive in the harshest sand and desert conditions, 'Zarooq', which is Emirati for sand-racer, is aptly named after the fastest snake in the desert.
The company is also building a desert racing track and planning championships in the region. So if desert racing is your thing, it's time to rev up for some exciting times ahead. The 2-seater has a hand-built racing chassis with a rear-mid mounted V6 engine good for 300 hp. Driven by the rear wheels, the Zarooq allows 45 cm of suspension travel and weights 1100 kg.
The Sand Racer goes on sale next month and is reported to cost around AED 300,000 for starters.
DriveME NewsTrack Early May 2016
was last modified:
May 1st, 2016
by