Volkswagen XL1 reaches first owner in Middle East
It was only a few months ago that the Volswagen XL1 undertook the challenge of crossing seven Emirates on one litre of petrol. No wonder Volkswagen claims for it the title of the world's most efficient and technologically advanced car. A couple of days ago, the first Volkswagen XL1 in the region was handed over to Ali Murad Behbehani in an official ceremony with Mr Jens Mueller from Volkswagen Middle East. Originally envisaged in 2002, the concept now has taken shape in metal with just 250 examples being manufactured.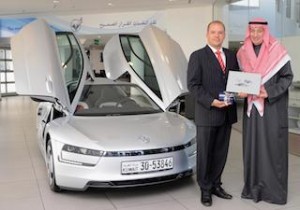 The two-seater XL1 can also be driven for up to 50 kilometres locally in pure electric mode, meaning zero emissions during that course. The plug-in hybrid system is made up of a two-cylinder TDI engine, e-motor, 7-speed dual clutch gearbox (DSG) and lithium-ion battery.
Following pure sports car design principles, the XL1 weighs a meagre 795 kg, has perfect aerodynamics (Cd 0.189) and a low centre of gravity (1,153 mm high). The XL1 holds 10 litres of fuel and a battery capacity of 5.5 kWh enabling 500 km of total range. The XL1 can touch 100 kmph from start in 12.7 seconds, and go on to an electronically limited top speed of 160 kmph.
Behbehani said he was pleased to receive the vehicle that would "offer complete driving pleasure and yet, remain kind to the environment." The commitment of his likes to the future would be worth well over half a million dirhams. Out of the 250 examples, many more are expected to arrive in the region, several of them to the UAE.
Radar tech to reduce lane-changing accidents
A new generation of rear end radar sensors developed by Robert Bosch LLC claims to be much more effective in alerting motorists of adjacent vehicles and lessening the threat of accidents caused by lane changing. Dubai Police, the RTA and other authorities have rated lane-changing errors among serious causes of accidents. According to a recent study by Zurich Insurance and RoadSafetyUAE.com, frequent lane changing was one of the top causes of accidents in the UAE in 2014.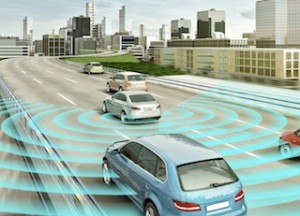 So how are these different from other available Blind Spot monitors?
"A motorist's blind spot is big enough for a minivan to disappear from view, and not be picked up by a glance over the shoulder." says Andreas Bodemer, Vice President for Bosch Automotive Aftermarket, Middle East and Africa. "Compared to other 24-gigahertz solutions currently on the market, this sensor is much more precise, with up to three times the ability to distinguish between objects and up to five times more accurate measurement of speed and distances".
The Multi Mode Radar technology behind a car's rear bumper goes beyond lane-changing assistance, and forms a part of Bosch's cross-traffic alert system that warns drivers who can't see what is behind when reversing out of perpendicular parking spaces. The system can recognise cars, cyclists, and pedestrians crossing behind the reversing vehicle from both sides up to 50 metres, and warns using audible or visible signals. A leading European manufacturer is already going to use the technology in all new models.
Solar Cars live up to power challenge
They look a bit weird and too eager to get to the future, but the solar powered cars proved themselves to be fun machines as well as feasible alternatives for the real world. Abu Dhabi Solar Challenge, the first ever International Solarcar Federation (ISF) sanctioned event to be held in the UAE, was sponsored by Abu Dhabi National Oil Company (ADNOC) and hosted by Masdar in the mid-Jan weekend.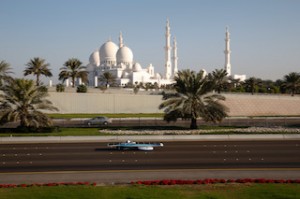 Michigan University team from USA beat 13 others as UAE team finished second as the solar cars streamed back across the Shams solar power station finish line. Competing for the first time in a solar challenge, the Petroleum Institute (PI) team was just 4 minutes behind.
The last day of the cross-country route was mostly across the Western Region. The cars snaked through 418km from Shams Solar Power Plant through the Abu Dhabi sand dunes to Liwa Desert and back. All the 14 cars made it back in the real world test of solar car power across varied road and traffic conditions.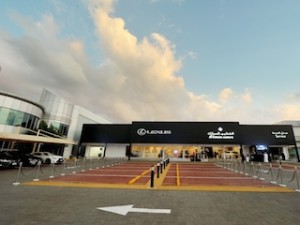 Lexus opens 3S centre in RAK
Ras Al Khaimah seems to be growing in importance to the Al Futtaim Motors Lexus. Their first 3S Centre (sales, service and spare parts) in the UAE is now open on Sheikh Mohammad Bin Salem road, Ras Al Khaimah. The 53,981 square feet 3S Centre can take care of 18-20 cars every day. In the workshop, LED lamps will produce less heat than the usual high intensity sodium lamps while a water recycling plant will reuse water from two dedicated washing bays.
DriveME NewsTrack end January: Energy saving cars and a new blind spot gadget
was last modified:
February 22nd, 2016
by