AMR stands for Aston Martin Racing as announced at the Geneva Motor Show, hardly three months ago. Now, Aston Martin has revealed the Vantage AMR as the first model in the series to go into production.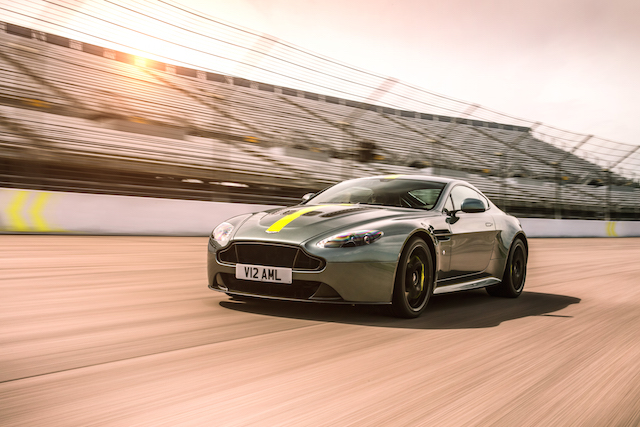 AMR to Aston Martin is what AMG is to Mercedes or what M means to BMW. Perhaps even more, because even the AMR line is supposed to come with upgraded driving specifications and not just cosmetic kits as in the case of AMG or M body packages.
Vantage was always supposed to be the variant with an advantage. Hence it is only befitting the scheme of things that the first AMR model is a Vantage – the marque's most successful spots badge ever. Further, the victory at FIA World Endurance Championship last season with factory drivers Nicki Thiim and Marco Sørensen inspired the production choice. There will only be 300 made – 100 with a V12 and the rest with a V8.
The AMR brand is designed with two clearly differentiated tiers. Limited edition models like the new Vantage AMR at one end, and extensively modified AMR Pro models created by Q by Aston Martin Advanced Operations, at the other.
The Vantage AMRs come with both V8 and V12 powertrains. The former makes 430 bhp and the latter 580 bhp, which is 15 more than their current V12. Lucky guys in the UK and EU get another fifteen! Gear systems available include an automated sequential manual paddle-shift or a 6-speed manual for the V8 and 7-speed manual for the V12.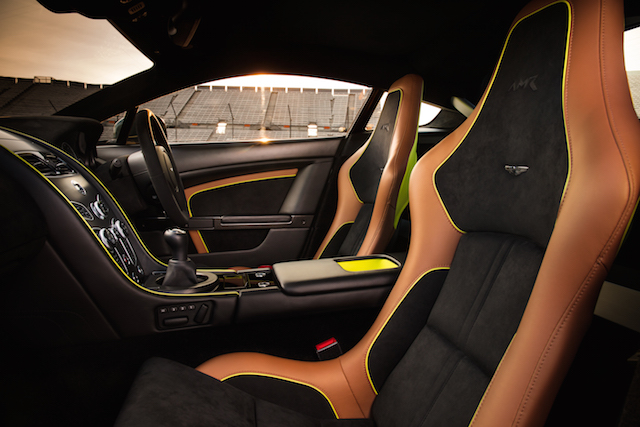 Vantage AMR is available in four striking AMR exterior schemes: Stratus White with an Orange graphic; Ultramarine Black with Blue graphic; Zaffre Blue with Red graphic and Scintilla Silver with Grey graphic.
The AMR 'Halo Pack' is designed after Aston Martin Racing's 2016 World Endurance Championship-winning #95 Vantage GTE, resplendent in Stirling Green paint and vivid Lime Green accents, along with a special Union Jack-enameled AML wings badge. Vantage AMR interiors feature a combination of leather and Alcantara for the Coupes and all-leather for the Roadsters, while the Halo Pack matches its exterior syling with boldly contrasting colours, including Lime Green welts and accents. (The green car in the pictures.)
Lightweight carbon fibre seats are offered as part of the extensive range of interior and exterior options. These include a suite of other carbon fibre features, including a lightweight front grille, side strakes, lamp infills and mirror caps on the outside, instrument surround, door tops and door grabs on the inside. There is also a choice of three different finishes for the V8 Vantage AMR's 5-spoke alloy wheels and the V12 Vantage AMR's lightweight 10-spoke alloy wheels.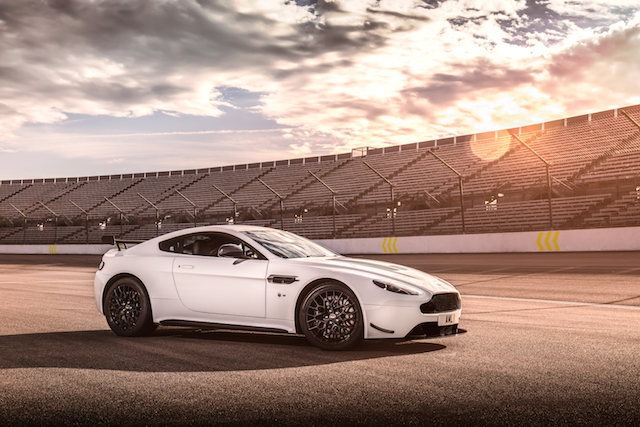 New AMR Accessories range includes the dramatic AMR Aero Kit (white car above) for coupe models, made from carbon fibre and featuring front splitter and dive planes, plus side sills and a fixed rear spoiler. Or the forged aluminium AMR Vantage wheel or again, the lightweight AMR titanium exhaust, which saves 14kg over the standard V12 Vantage system, sounds sensational and helps to sharpen engine response.
Aston Martin President and CEO, Dr Andy Palmer, said of the Vantage AMR: "Limited production numbers will undoubtedly make them extremely collectible, but they're so good to drive I'm confident we'll see many of them being enjoyed both on the road and at track events around the world."
Vantage AMR models are available from £97,995 in the UK and €126,995 in Germany. Deliveries should begin in Q4 2017.
First Aston Martin with AMR Badge Announced
was last modified:
July 21st, 2017
by