If you wish to be the ultimate Explorer, you can join the search through askexplorer.com. You must be over 21 years of age and hold a valid UAE residents visa.
As Explorer launches its 2013 search for the Ultimate Explorer with prizes worth AED 500,000, Al-Futtaim Motors, exclusive distributors of Toyota in the UAE, partners with the Explorer for the second consecutive year.
Al-Futtaim Motors will offer a brand new Toyota FJ Cruiser for free to the winner of the contest for a period of 12 months. The fun and adventure icon will be put to its ultimate test by the winner while travelling throughout the UAE to explore hidden wadis, experience adrenaline-driving activities such as hot-air ballooning, shark diving and microlight flying while staying at the most stylish hotels, and enjoying the hottest events in town.
In addition to shopping vouchers worth AED 50,000 to be spent at a local adventure and outdoor-specialized outlet in the UAE, the winner will get to top the fun by flying to London and New York.
To enter the contest, candidates can apply through askexplorer.com for a chance to be among the first 100 winners. After submitting their reviews about various experiences, 20 will be chosen to submit a video that explains why they should be selected as the Ultimate Explorer.
10 of the best videos plus 2 wildcard entries will be voted by the public to choose five finalists. The Ultimate Explorer Challenge Weekend in March will crown the final winner as the Ultimate Explorer, who will enjoy a life worth AED 500,000 for the next 12 months!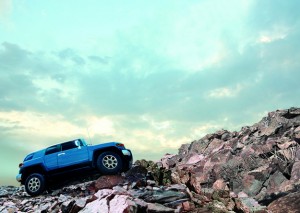 The seats inside the FJ are water-repellent and the cabin materials ensure that dirt, dust and water can be easily cleaned away, following adventures in the desert or at the beach. I hope the participants make good use of the car!
Free Toyota FJ Cruiser for the UAE Ultimate Explorer 2013
was last modified:
February 22nd, 2016
by