An elegant Maserati styling that celebrates its sporty character and increased performances will mark the new Maserati GranTurismo Sport that will greet the world for the first time, at the Geneva Auto Show early next month.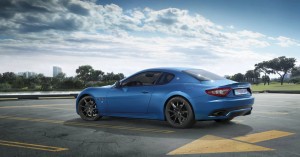 An innovative functionally redesigned new front bumper optimizes the front airflows for both engine and brakes cooling. The stylish profile as well as the front and tail lights have gone through transformation of their own. The new headlights feature DRL LED technology while the new taillights mark the rear with an elegant, more aggressive, darker tone. 


The new design has changed the way the GT looks inside as well. Completely redesigned front and rear seats and a new steering wheel with a more sporty and muscular look matches the uplifted exterior styling. True to its name, the new GranTurismo Sport will see a further improvement in performances thank to its new 4.7 liters V8 engine now capable of delivering 460 Hp.
Geneva Premiere: New Maserati GranTurismo Sport
was last modified:
February 23rd, 2016
by