A convertible version of the Range Rover Evoque could soon be plying the region's roads, just as the stylish compact SUV from Land Rover is increasing its share of the city roads. When? We will know for sure in six months if it's going to be produced at all. But for now, some pleasing glimpses of the very welcome concept will taunt visitors at the Geneva Motor Show in leather and steel, and the rest of the world through pictures like these.
The Evoque convertible concept has a powered soft-top roof with a glass rear screen, which stows in a recess below the rear deck. The boot is re-engineered to fold down like the original Mini's tailgate, while pop up rollover protection would be packaged behind the rear seats.
"Land Rover has a history of creating new segments; with the convertible, we believe we have an opportunity to do it again," Design director Gerry McGovern said as he unveiled the 'fresh out of the workshop' Evoque convertible. "It's another twist on the Evoque story.
"The Evoque lends itself beautifully to the notion of a convertible." The Evoque coupe's waistline, which rises to the rear of the vehicle, helped McGovern and his team neatly package the roof. The convertible gets a bespoke alloy-wheel design, and a pimento red leather interior to offset the causeway grey exterior paint.
Land Rover will gauge the Evoque convertible's appeal at Geneva first and the New York Show next. US market is critical for convertible sales. Internally, the company would look for the soft-top to take 10 to 15% of production, benchmarking BMW's 3-series drop-top.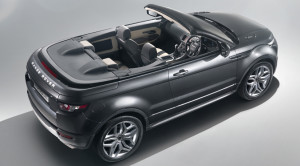 After a positive call is taken in six months, it would take two to two and a half years for it to reach the showrooms. So we are hopefully looking at early 2015 to see the Evoque go topless on the road.
Geneva Premiere: Range Rover Evoque Convertible
was last modified:
February 23rd, 2016
by