The second edition of the Nissan PlayStation® GT Academy Middle East has chosen its champion. The International Race Camp at the UK's Silverstone circuit turned out to be the launch pad for a racing career for Ahmed Khaled from Saudi Arabia, as the 25 year old was crowned the Middle East champion of the racing challenge.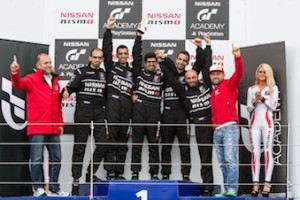 After Salman Khater from Qatar, Ahmed from Saudi Arabia becomes only the second racer from the Middle East to prove that real racing dreams can blossom on the living room couch. While Salman is a Mechanical Engineer, the new winner Ahmed happens to be a Civil Engineer who always saw him as a budding racer.
Ahmed Khaled finished fourth in the overall competition among the 27 finalists representing six countries and five regional clusters – Australia, India, Mexico, the Middle East and Thailand. Hundreds of thousands of Gran Turismo® gamers had entered the competition across the world and five were chosen from this region to take part in the Silverstone race camp.
The grueling good times lasted six days and the competitors were put through their paces both on and off track. They enjoyed world-class racing instruction and mentoring in a range of Nissan cars, including the mighty GT-R, the 370Z Nismo and 370Z race cars. Each group formed a close bond with their territory judge, who played mentor at first and selector at each stage, eliminating all but two from each group, who finally took the wheel of the 370Z race cars for an eight-lap race of Silverstone's National circuit. On their course of getting there, they were evaluated in the Mud Mayhem assault course, Nissan Micra Stock Car racing, the Traffic Challenge in the Nissan GT-R, the Dirt Track Time Trial in the Nissan Juke, the head-to-head Gymkhana, Buggy Racing, and a head-to-head Dogfight pursuit race in Nissan 370Zs.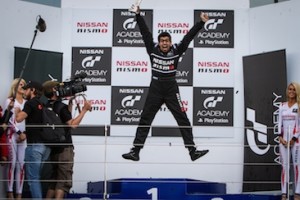 "For as long as I can remember I have wanted to be a racing driver, this was why I spent so much time playing Gran Turismo. The Nissan PlayStation® GT Academy Challenge has made this dream come true," said Ahmed Khaled.
The judges included ex-F1 test driver Dani Clos, V8 Supercar legend Rick Kelly, ex-F1 racer Karun Chandhok, Rally Driver and Drift King Abdo Feghali and renowned Thai Formula racer Tor Graves. More than 500 million miles of virtual racing later, Nissan GT Academy has some prestigious real racing wins in its bag, including class wins at 24 Hours of Dubai. Gamers have even raced their way to the podium of the world's toughest and most famous race, Le Mans.
For more about GT Academy, read my previous post. You can follow the news and views on GT Academy Middle East and its drivers can be on facebook.com/NissanME and twitter.com/NissanME
GT Academy Middle East second edition announces winner
was last modified:
February 22nd, 2016
by