Watches get me ticking if they are innovative, compelling and very, very good looking. So, when I got an invitation from Roger Dubuis, it initially came across as one of the perks of being an Editor who has something to do with wheels, whether they came with a chassis or within a case.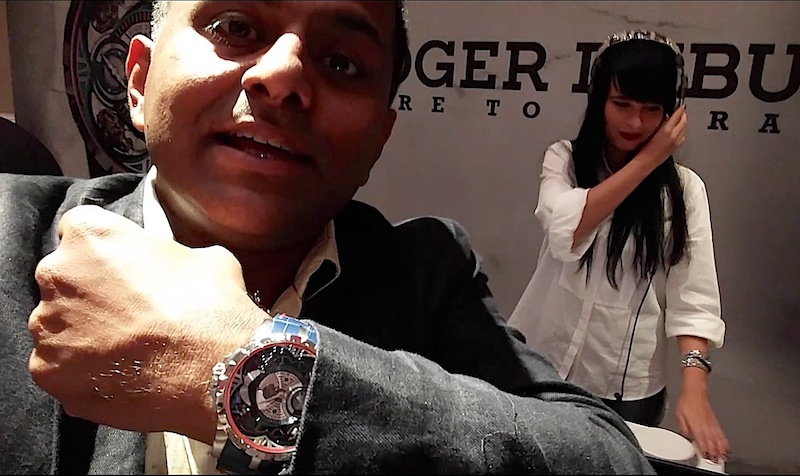 However, as it turned out, there is more than just a thin strip of automotive rubber attached to Roger Dubuis these days. Pirelli is providing a lot of traction for the brand to race ahead with an automotive connection. There is already a murmur about the possible partnership with an Italian super car brand later this year.
In the meanwhile, Roger Dubuis has launched an intriguing collection that was being previewed at the Address Boulevard Hotel, having kept away from all horological expos this year. The watches on display were excellent examples of the brand's distinctive philosophy of 'disruptive materials and progressive complications'. Titled romantically (in the sense that the name bore in yore) as Excalibur, there was one made of molten Cobalt while another's strap was made of sport tyre material by none other than Pirelli. An exclusive edition featured Carbon, another unconventional material used in very high end racing cars.
Roger Dubuis and Pirelli takes the race ahead, driving side by side, with a new iteration of the recently launched Excalibur Spider Pirelli – Automatic skeleton.
From the 23rd to the 29th of May 2017, Roger Dubuis and car tyre legend Pirelli will move alongside the Run to Monaco as "perfect fit" partners. With the destination's charm, and the race's stunning performance from start to finish, the Run to Monaco undoubtedly qualifies as one of life's extraordinary experiences.
Totally in sync with the bold colours of the watches, the Pirelli Color Edition tyres made their debut at the 2017 Geneva International Motor Show. As in racing competitions – where the colouring of the tyres identifies the different compounds –colour will describe and differentiate certain road tyres, too.
A black and blue, red or yellow skeletonised flange marks the colour coding of these vibrant new Excalibur Spider Pirelli models. Ultimately, the straps of these timepieces are manufactured from winning Pirelli motorsport tyre rubber with their tread profile. The watch model is limited with just 88-pieces and costs AED 276,000. Also on display was the carbon model as well as the remarkably expensive Excalibur Quatuor Cobalt Micro-melt that scorched my wrist at AED 1,470,000.
I wore a tyre around my wrist and it looked good!
was last modified:
July 21st, 2017
by