If you are a blogger or a freelance designer, this is how Nissan thinks you will probably be working a few years from now. That is, if you aren't doing something similar already!
In 2015 alone, co-working and hot-desking spaces around the world grew by 36% as more and more small businesses and professionals sought increased mobility and flexibility. SOHO (small office home office) is now giving way to mobile offices. Just like you switch from the café to the park with a laptop, imagine moving right out of the bustling city centre and parking by the seaside or on the hills to write your new story in the serene solitude of your van? The only condition would be to have electric portals to keep your mobility charged, according to Nissan's new initiative.
Nissan has made all this cost-effective and pragmatic through its workstation on wheels concept. Nissan describes it as the world's first all-electric mobile office and collaborated with UK-based design workshop Studio Hardie to transform its zero emission e-NV200 van into the the e-NV200 WORKSPACe. The van itself is the union of their zero-emission Nissan Leaf and Nissan NV200 light commercial vehicle. This means your running costs are hardly anything and you can transport yourself up to 170 km on a single charge.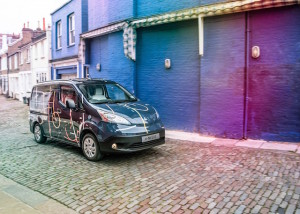 With an integrated foldout desk, touchscreen computer, wireless internet, smartphone-controlled LED lights, wireless phone charging, Bluetooth® audio system, mini fridge and barista-quality coffee machine, Nissan seems to have left no device unplugged! Nissan says the e-NV200 WORKSPACe can be rapid charged from empty to 80 percent power in just 30 minutes. They have even thought of an internal mount for a folding Brompton Bike for times when you need to weave through the rush hour streets or take a break for your daily carb-burning err… cycle!
In this mobile office, you are all charged up!
was last modified:
November 21st, 2016
by