Making an entry with a drum roll wasn't good enough for Jaguar's compact performance SUV. So, the Jaguar E-Pace chose a barrel roll instead. F-Pace's little bro is here, and has made a landing in the Guinness Book of World Records with its first leap!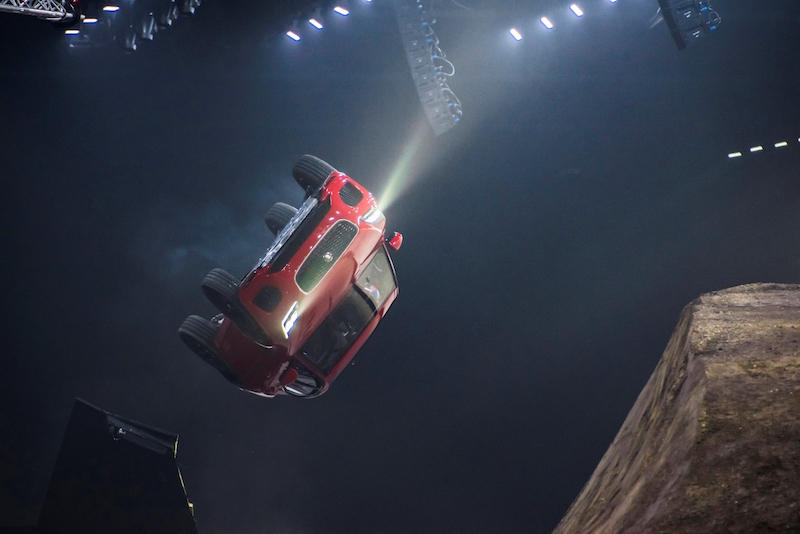 Jaguar E-Pace leapt into the record books with a 15.3 metre long jump complete with a 270-degree corkscrew-like 'barrel roll', with stunt driver Terry Grant at its wheel. Just as big bro F-Pace caused some drama and din with its spectacular GUINNESS WORLD RECORDS™ setting loop-the-loop in 2015.
Watch the Barrel Roll leap by Jaguar E-Pace below
Months of testing and analysis led to fine-tuning the absolutely-don't-try-it-at-home stunt to a precise speed of run-up. At ExCeL in London – one of a handful of venues in the UK big enough for the 160-metre run-up and run-off needed for the 15-metre leap – ramps were modelled extensively using CAD. Terry Grant is an old hand at film stunts and holds an impressive 21 GUINNESS WORLD RECORDS™ titles himself. This is his first barrel roll with a production car; and he experienced a G-Force of 5.5 during the 270-degree twist! As for the new SUV from Jaguar, it was the final test of agility and precision after 25 arduous months of testing across four continents.
Take another look at the loop-the-loop by the F-Pace below, also performed by Terry Grant.
Read all about the new Jaguar E-Pace
The Jaguar E-PACE is a five-seat, compact SUV created to meld the core design and performance elements of a Jaguar sports car with a spacious, practical and connected all-wheel-drive vehicle. It is the third in the family of SUVs that includes the F-Pace and the all-electric I-PACE Concept.
From the outside, it looks unmistakably like a resized photocopy of the F-PACE – just the way it should look. The Jaguar grille, muscular haunches and short overhangs speak a familiar design language while the Jaguar F-TYPE inspiration shows up in the fast sweep of the roofline and the distinctive side window graphic. Looking shorter and therefore stockier than its big bro, the E-PACE shares the family's bold and purposeful stance – and reading from the dramatic entry, it has got the agile dynamics, too! Ian Callum, Director of Design, Jaguar: "Established Jaguar design principles ensure the E-PACE is immediately recognisable as the sports car of its class. Our new compact SUV combines the interior space, connectivity and security that families expect with the kind of proportions, purity of design and performance not usually associated with such a practical vehicle."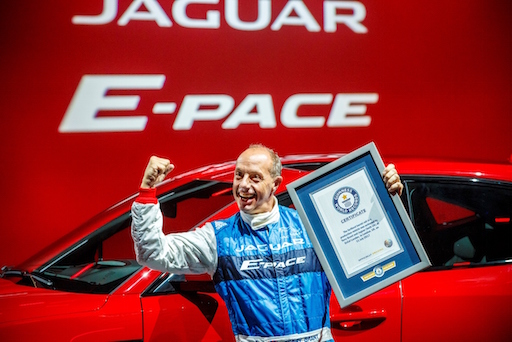 Inside the connected world of Jaguar E-Pace
There is a lot you can do with the E-Pace with remote access. Start it or set the climate; check fuel levels or mileage using a smart watch or phone or track the car itself; and connect to your favourite apps, including Spotify, on the 10 inch screen that comes as standard. E-Pace recognizes every passenger is a digital island and provides up to four 12-volt charging points, five USB connections as well as a 4G Wi-Fi hotspot for up to eight devices!
As for what you lug along, the E-Pace can tow up to 1,800kg (braked), and the rear has place for a pushchair, a set of golf clubs and a large suitcase thanks to the vehicle's sophisticated Integral Link rear suspension architecture.
Driving dynamics
Among the petrol and diesel options available, the 300PS Ingenium petrol turbo engine powers the E-Pace from 0-100 kmph in just 6.4 seconds while the front-wheel drive 150PS Ingenium diesel delivers CO2 emissions of 124g/km only.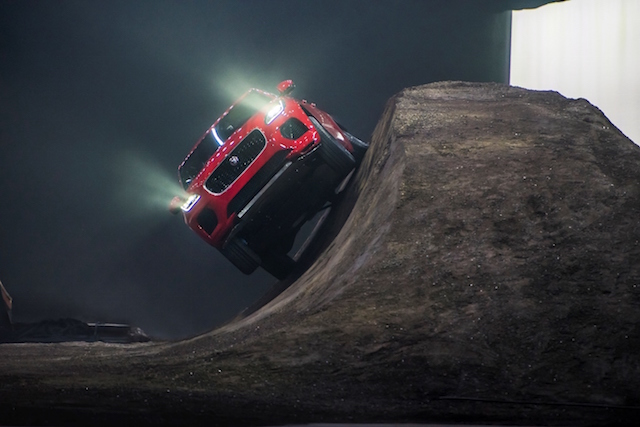 The throttle, automatic transmission, steering, and the Adaptive Dynamics suspension system (where fitted) can be tuned individually. One of those modern pre-emptive electronic functions, Adaptive Dynamics senses driver input, body and wheel movements and accordingly adjusts suspension, damping and the chassis for improved roll control and agility. Jaguar has introduced an intelligent all-wheel-drive system called Active Driveline that adds exceptional traction to the rear-wheel-drive using torque biasing. This results in optimal stability, dynamics and fuel efficiency for E-Pace in all conditions, promises JLR.
Digital age safety and convenience
Jaguar's foray into Autonomous Mobility is paying dividends in individual models. The E-PACE features a stereo camera that works hand in glove with the electric power assisted steering system and rear radars. This equips E-Pace with an advanced Autonomous Emergency Braking system, Lane Keep Assist, Blind Spot Assist and Traffic Sign Recognition. It also has Intelligent Speed Limiter and Driver Condition Monitor systems. Parking assistance, front and rear, is standard. A Forward Traffic Detection system warns of approaching vehicles at junctions when visibility is compromised. Besides pedestrian detection, the E-Pace has a pedestrian airbag, which deploys from beneath the trailing edge of the bonnet in the event of a collision.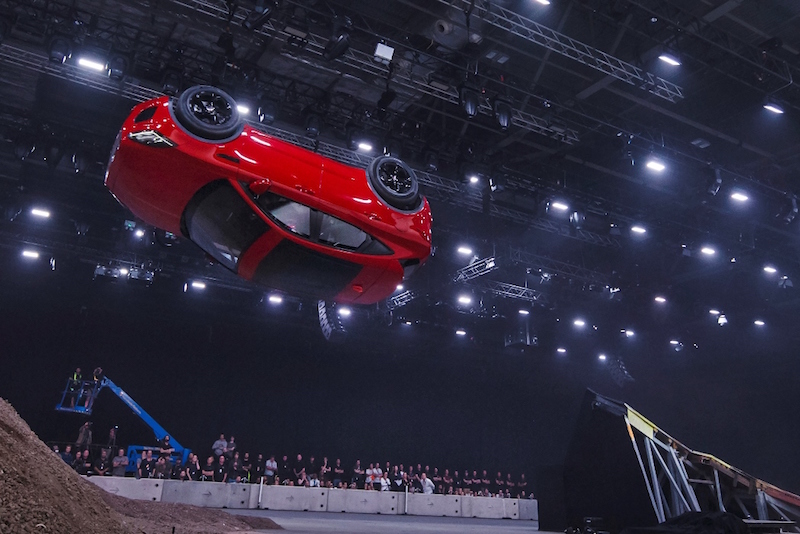 Jaguar E-Type introduces its next-generation Head-Up Display to help the driver not to look away from the road. Using large, full-colour graphics, this can project alerts and updates for the infotainment, safety and convenience features on top of the regular vehicle speed info and navigation directions. A 12.3-inch full colour digital instrument panel and two premium Meridian audio systems are also available.
With the E-PACE, Jaguar has introduced a wearable Activity Key that doesn't require the driver to carry the key fob while going jogging, swimming or cycling. The waterproof and shockproof wristband has an integrated transponder, which allows temporary deactivation of the key fobs left inside the vehicle. Now, that's a useful innovation for those as active as Jaguar's new compact performance SUV!
Jaguar E-Pace rolls in with a record
was last modified:
July 19th, 2017
by