Both of them are similar in the way they attract selfies. Both have association with sport. Both happen to boast a heritage, closely followed by enthusiasts in the region. And both of them are downright quick. Well, both have wings but only one does fly. I'm talking about the Peregrine falcon and theGTI Clubsport, the GTI born to celebrate the birth of the Golf GTI, and life of forty years!
Volkswagen might not have squeezed its juice enough – Clubsport is such an impressive car inside out. So, they decided to turn floodlights on it, in the company of one of the fastest winged creatures on earth – the Peregrine Falcon. So on a sand-washed tarmac stretching through the middle of the desert, with an expanse of majestic dunes on both sides, the GTI Clubsport surges forth at a speed that is remarkable yet not challenging enough for the falcon, if it weren't for the uncanny manoeuvrability of the perky Volkswagen.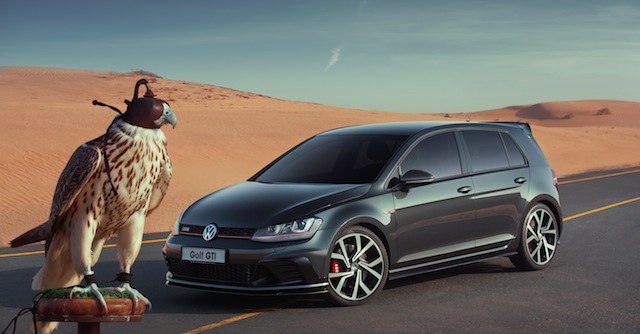 Accelerating from 0 to 100km/h in just 6.3 seconds, the Golf GTI Clubsport's turbocharged 265 hp direct-injection engine dares to speed away from the falcon as its keeper shouts out "Yalla!" What follows is recorded as a watchable short titled 'The Chase'. The front wheel drive and Dynamic Chassis Control conspire to hoodwink the falcon – which has been set free and soaring close on the heels of the GTI – by taking corners and squarely turning at right angles while sticking to breakneck speeds. Aided by the short-lived boost function that allows the power to shoot over 290 hp, the GTI Clubsport does have the final trick up its sleeve. But is that really a match for the peregrine falcon that can scale a speed of 320 kmph?
Well, watch it as it happens by clicking any of these links . Volkswagen Middle East Facebook page and YouTube channel
Look who is chasing the Golf GTI Clubsport!
was last modified:
July 25th, 2017
by