Familiar muscle in a fresh finish snarled out of the Maserati garage – looking like a cloudy, ominous day. The looks that spent a decade being loved still celebrate the aggressive best of a gentleman. The exterior change was namesake and immediately visible in the bold vertical bars on the Alfieri-concept-inspired grille, the bumpers and the integrated air splitters. There were more to come inside; however, I was most interested in what was unchanged about it.
[Read about the Alfieri Concept Car]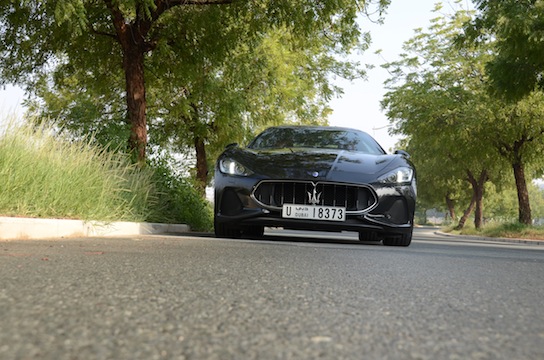 THE SPECS: 4.7 L V8 engine/ 6-speed ZF auto gearbox / 454 hp / 520 Nm at 4750 rpm / Aerodynamic co-efficient of Drag 0.32 / Rear Wheel Drive with Limited Slip Differential / Double Wishbone Dampers
THE DIMENSIONS: LXWXH: 4,910 x 1,915 x1,353 mm (MC is 10 mm longer) / Wheelbase: 2942 mm / 20" wheels / 260 L boot
THE PERFORMANCE: Top speed: 299 kmph, Test acceleration 0 – 100 in 4.8 sec (MC takes 4.7 sec), Test economy: 5.8 km/L
THE FEATURES: Maserati Trofeo design shift paddles, Harman Kardon sound system, Maserati Touch Control Plus with 8.4" screen, Car play and Android auto, Bi-Xenon headlights with integrated Daytime Running Lights LED, 16 colours
THE PRICE: Available as GrandTurismo Sport and MC. AED 485,000 onwards with 3 years warranty and service.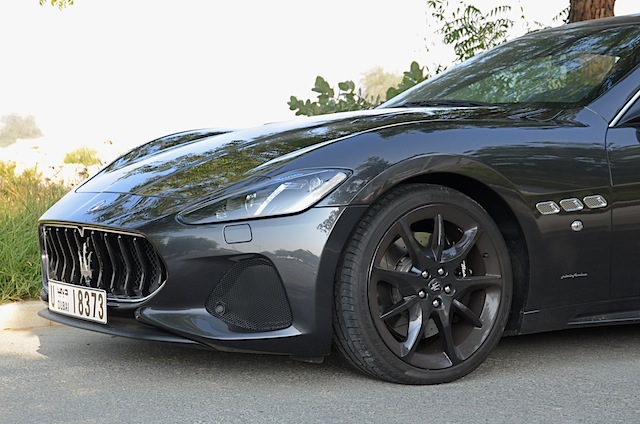 UPSIDE: all-natural, Ferrari-built engine, enthusiast steering, space for four, easy multimedia functions, good rear view camera
FLIPSIDE: dated driver info panel, tire eats up boot space, heavy drive feel is not for everyone
Don't miss the instant video review of 60 sec in the video window.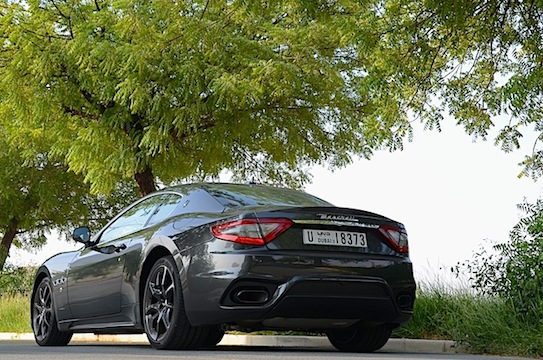 The Drive
I am an admirer of great turbo engines that save fuel while keeping one happy with surging power even without getting the engine to spin like crazy! Right from the Bentley's 6 ¾ L twin turbo torque-monster and the current Ferrari 488 GTB to my own Cadillac BLS which happens to be a Saab 93 at heart with its once-ahead-of-its-times turbo technology. Nevertheless, it's always a pleasure to drive a naturally aspirated motor, which doesn't have to wake up and 'remember' to be powerful!
The GranTurismo is the thoroughbred at the Modena stables. More than the Quattroporte or the Ghibli; this is the essential Maserati. I am in no way attempting to say it is 'handcrafted to perfection' – far from it, to a delightful extent. And in the 2018 edition, it has retained those imperfections that make it real and a pleasure to engage with. This model has remained with us for a decade and Modena has tweaked it just enough to make the drive feel better and move with the times while leaving much of it just as it were. Because, there wasn't much broken, really, and whatever is broken is what makes this car a motoring fix.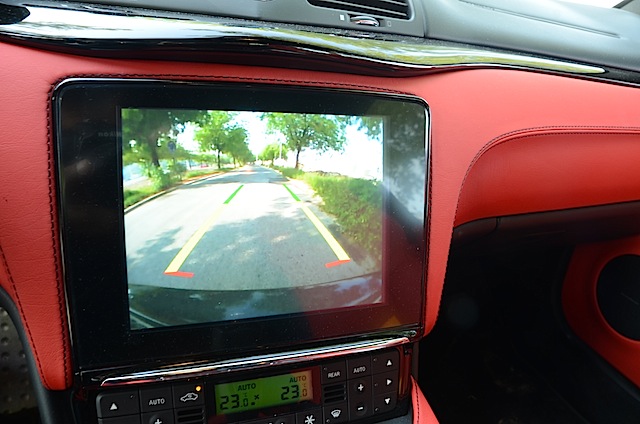 On the wings of 454 hp and 520 Nm of torque, the GranTurismo rises steadily and sonorously to 7500 revolutions to return 0 – 100 figures of 4.8 sec – just as the book promises. When you turn into corners, the well-weighted and measured steering presses against you, so that your pressure can lean on it to achieve a precise turn. The Pirelli P Zero™ tyres are designed to improve braking by up to 5% and last for up to 30% longer!
The Sport mode whips the beast to life, the crackling lashing out across tunnels and culverts. You could engage the ICE (increased control and efficiency) mode, but it could be considered 'nerdish' because it smothers the sounds and dulls the response just to save a couple of gallons on a full tank!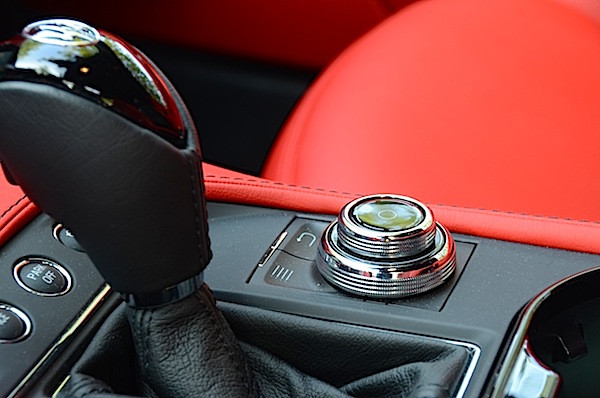 Everything that is rightly placed in this car and context – including the 4.7L naturally aspirated V8 engine (the 4.2 L GranTurismo has been discontinued) – sets apart the Maserati GranTurismo Sport as an example of a dwindling and disappearing tribe in motordom – there are just a few left, and fewer in their driving seats! This steering – and the handling in turn – is good enough to make this car worth its ransom for those mavericks!
If rumours and forecasts are right, this is the last frontier. Blame the turbo engine on regulations but everyone is inevitably drifting in that direction, including kinsman Ferrari. It isn't long before the GranTurismo is reincarnated in its turbo-charged avatar. For a moment, I sensed a shudder down my spine, before I realized that it was the exhaust blowout – the inimitable sound of the Maserati sportster.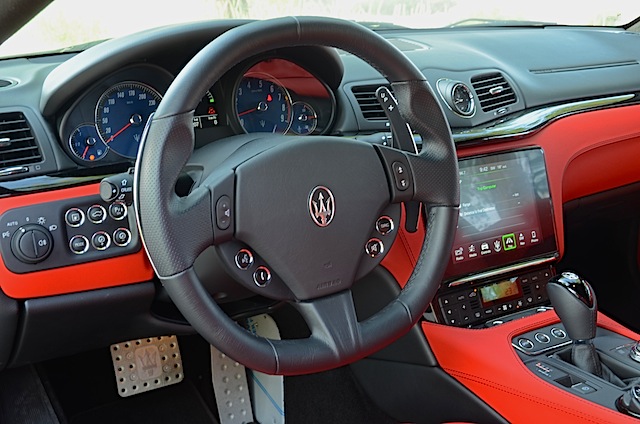 Cabin and controls
The beautiful red Italian leather spread over the cabin and the lacquered shell-like material on the door trims, the refreshed yet classic design of the dashboard clock, the badge that says 'Granturismo sport' in shiny script on the dashboard leather, the perpetually dated button configuration… all that remains in this cabin but what is different is the new 8.4" multimedia screen that is complete with responsive touch functions and voice control – except for destination input as with most cars. The air-conditioning controls have been kept out of the touch functions, and it's actually convenient this way, though it retains some of the old-school character.
If I said that this is the first Maserati with an admirably clear rear camera, it wouldn't be an exaggeration and I'm truly happy for it. Likewise, Maserati has introduced a double-decked aluminium rotary control knob on the console – the lower accurately navigates the multimedia functions while the top one is for volume control.
Amidst all this newfound halo of modernity, the screens and dashboard controls still shine in an almost fluorescent green. Squeezed between the dials, the driver instrument panel with its size and styling look like it belongs to a subcompact car from the seventies!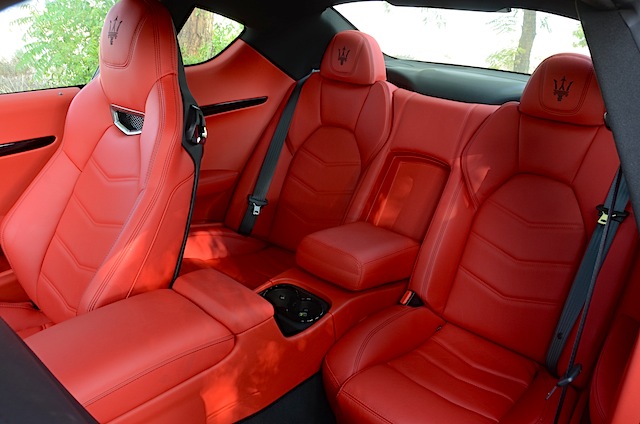 Family drive
The very fact that a few such cars would allow me to feature a family drive in their review makes Maserati GranTurismo special in a practicable way, despite the fact that the boot is only 260 L and largely consumed by the 20" spare tire! It wasn't just my small family fitting into the rear but on one ride, full-grown men occupied the Poltrona Frau® seats in the front and rear – two full cm have been freed up in the rear and asking for more stretch would be avarice!
[Read the Maserati GranTurismo 2018 launch note in brief]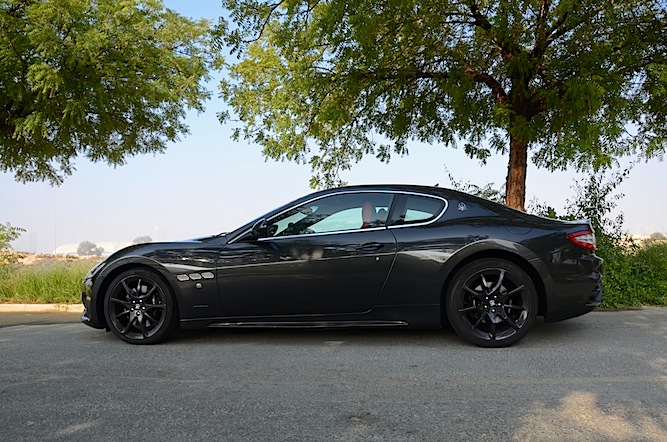 The essential Maserati GranTurismo Sport 2018
Here is a car that turns any tarmac into track – an honest car that makes no claim of atrociously frugal economy figures. The power that clutches your limbs and electrifies every neuron, the sound that fills your ears and heart, and runs as a rumble across the neighborhood – it all comes at a price and under-6 km per litre is a small price to pay! As for the price tag, the range costs upwards of AED 485,000 and for once, I consider it a small price too, coz this verily is a collector's piece!
Maserati GranTurismo 2018 Review: Natural Aspiration
was last modified:
January 8th, 2018
by