Gathered ahead of me was a human wall with several layers to barge through, if I were to get to those rails shielding the viewing balcony of the Zeta Restaurant at the Address Downtown Hotel. They kept rising like a Mexican wave, complete with expressions of "Ooh!" and "Aww!" turning their heads this way and that. One turned, and the others followed. Above me helicopters fluttered their fans, sirens wailed, and at some point Spiderman descended on the wall of the Dubai Mall. In between all the action, the Dubai Fountains mesmerically rose and fell.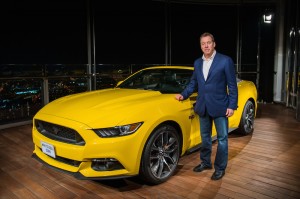 It all began with a projection on one of the Downtown walls, of an adventure story featuring an unknown protagonist. He takes a mysterious call atop a cliff in Arizona and the plot races to Dubai via horseback, airliner, car, helicopter and jet ski. The mission: deliver the iconic pony badge. The final scene set on the 112th floor of the Burj Khalifa – 399 meters (1,300 feet) above the ground – reveals the protagonist with a wink and a nod as Bill Ford, the great-grandson of Henry Ford. The Executive Chairman of Ford capped the live-action event by delivering the badge to the 2015 yellow Mustang.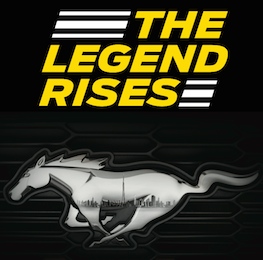 The new Middle East & Africa business unit of Ford was established this year to cater to 67 markets in North Africa, Sub-Saharan Africa, South Africa and Middle East regions. Middle East & Africa are expected to witness a 40 per cent growth to 5.5 million vehicles by 2020. Ford plans to launch 25 vehicles in region by 2016. Besides the new Mustang next year, Ford will bring the new models of Ford Focus, Ford Fusion and Lincoln MKC to the Middle East and Africa. The accelerated rollout will include many pathbreaking technologies, including EcoBoost engines, SYNC in-car connectivity, inflatable rear seat belts, MyKey and other driver assist technologies.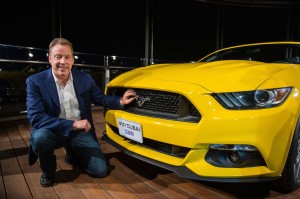 "Almost 50 years ago Ford captured the world's attention by placing a 1965 Mustang Convertible atop what was then the world's tallest building, the Empire State Building in New York City," Bill Ford said during the event that placed the new Mustang on the top of the world's current tallest building. "Today we planted the Ford flag in the Middle East & Africa, an exciting, vibrant region that represents the final frontier for growth in the auto industry," Bill Ford said. "We also sent a message to the world that Mustang is going global after 50 years as America's greatest motoring icon."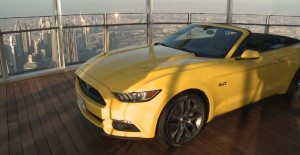 2015 Mustang fastback and convertible will be available with a new turbocharged EcoBoost® 2.3-liter with 310 hp and an upgraded 5.0-liter V8 with more than 420 horsepower. In addition to state-of-the-art connectivity systems, Mustang features available track apps, launch control and more.
Mustang 2015 launched atop Burj Khalifa
was last modified:
February 22nd, 2016
by