The next generation of the viciously elegantly aggressively graceful Aventador has been revealed with a naturally aspirated V12 engine now giving out 40 horsepower more. The new model has a top speed of 350 kmph and can stretch out to 100 kmph speeds in 2.9 seconds from standstill. The Aventador S has incorporated a new four-wheel steering system, significantly enhanced suspension and even more precise and expansive electronics and a new driving mode named EGO. No surprises there I guess!

The design developments
The Aventador S features a number of developments in the front and rear, while its profile maintains the Aventador spread and stoop, accentuating the Lambo's complex, muscular dynamism. The Lamborghini Centro Stile has a throwback at past icons, with features like the lines of the rear wheel arches that are reminiscent of the original Countach.
The Aventador S design results in significantly enhanced aerodynamic performance. Front downforce has been improved by more than 130% over the previous Aventador coupé. When the wing is in its optimum position the overall efficiency at high downforce is improved by over 50%, and in low drag by more than 400%. The Aventador S chassis retains the Aventador's unique and extremely rigid lightweight carbon fiber monocoque with attached aluminum frames accounting for a low dry weight of 1,575 kg.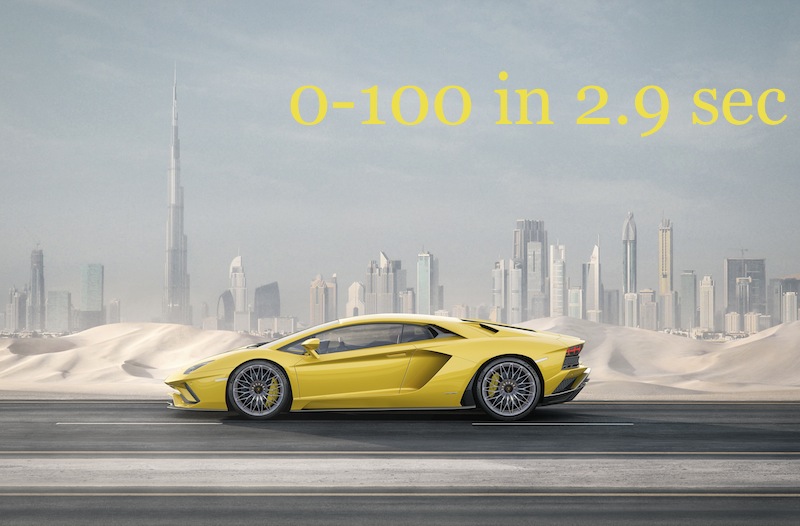 Drive with more control
The new Lamborghini Aventador S boasts of better control from every side, at low speeds and high speeds.
Enhanced lateral control comes from the new four-wheel steering, adopted for the first time on a series production Lamborghini: two separate actuators react in five milliseconds to the driver's steering movements, allowing a real-time angle and cornering stiffness adjustment.
At low speeds, rear wheels look away from the steering angle, thereby virtually reducing the wheelbase. With less steering wheel angle required, the Aventador S is more agile with a reduced turning radius, ensuring higher performance in curves and making it easy to maneuver in town and at low speeds. While at higher speeds, both front and rear wheels share the same steering angle, thus extending the wheelbase in effect to provide increased stability and optimized responsiveness of the car.
Vertical control comes from the updated pushrod and magneto-rheological suspensions; the longitudinal control is the result of an improved electronic stability control (ESC) strategy that allows faster and more precise control of traction control and vehicle dynamics according to selected driving mode.
The Lamborghini Dinamica Veicolo Attiva (LDVA) or the active vehicle dynamics control unit is the new brain of the car which instantly defines the best set-up of all active systems depending on the feedback of all sensors.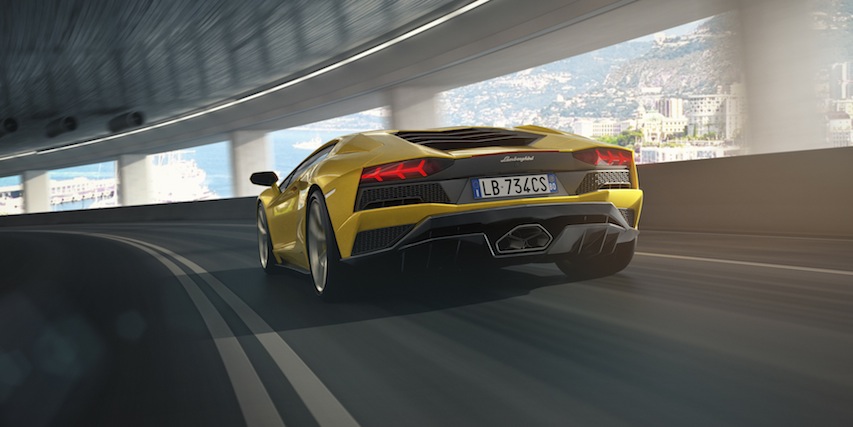 Four driving modes – including the 'individual'
The Aventador S allows the driver to select between four different driving modes: STRADA, SPORT, CORSA and the new EGO mode, which influence the behavior of traction (engine, gearbox, 4WD), steering (LRS, LDS, Servotronic) and suspension (LMS).
STRADA stands for maximum comfort and daily use. SPORT provides a sporty, rear-wheel drive feel and CORSA is suitable for maximum track performance. The new mode, EGO, provides several additional and individual set-up profiles, customizable by the driver, selecting his preferred criteria for traction, steering and suspension from the available three.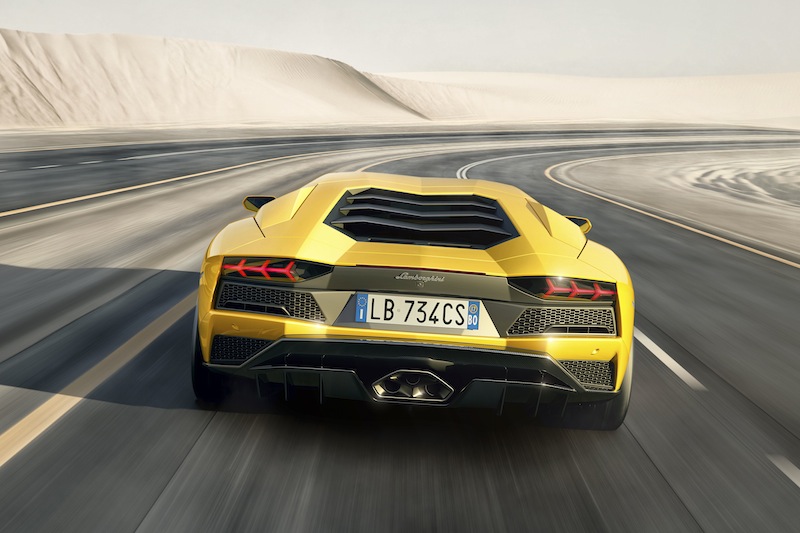 Drive Train and Performance
The 6.5 litre 12 cylinder monster now spits out 40 hp more and spins 150 times to justify its S badge, traditionally reserved for Lamborghini models with boosted performance.
The Lamborghini Aventador's naturally aspirated twelve cylinder, 6.5 liter engine outputs a maximum 740 hp, with a 690 Nm of torque at 5,500 rpm. To achieve the power increase, both VVT (Variable Valve Timing) and VIS (Variable Intake System) have been optimized in order to obtain an enriched torque curve. Additionally, the maximum engine revs have been increased from 8,350 to 8,500 rpm. A dry weight of just 1,575 kg provides a weight-to-power ratio of just 2.13 kg/hp. Acceleration from 0-100 km/h is reached in 2.9 seconds, with a top speed of 350 km/h. Transmission is provided by Lamborghini's lightweight Independent Shifting Rod (ISR) 7-speed shifting system, providing robotized gear shifts in up to 50 milliseconds.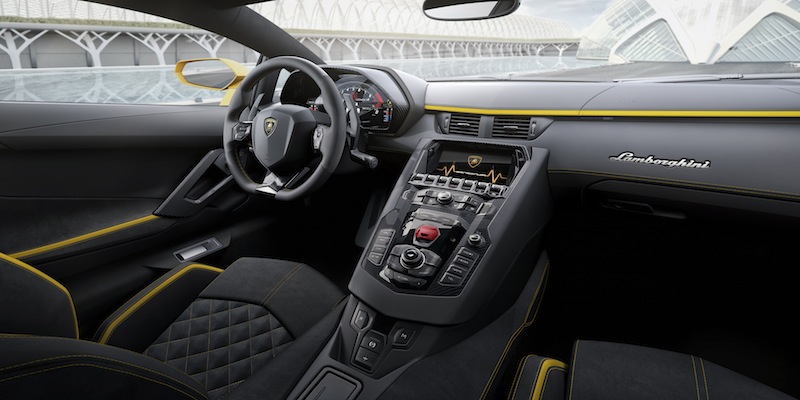 The Lamborghini Aventador S costs most in the US – what is equivalent to 1.57 million dirhams, while in the Europe it costs around three hundred thousand less!
---
Performance
Top speed 350 kmph
Acceleration 0-100 km/h [0-62 mph] in 2,9 sec
Acceleration 0-200 km/h [0-124 mph] in 8.8 sec
Acceleration 0-300 km/h [0-186 mph] in 24.2 sec
Braking 100-0 km/h [62-0 mph] in 31 m
4WD with Haldex generation IV
7 speed ISR, shifting characteristic depending on drive select mode
New Lamborghini Aventador S: Firing from four corners
was last modified:
January 6th, 2017
by