Gulf Oil launches engine oil to maintain SUV performance
Gulf Oil Middle East has officially launched its new specially formulated engine oil for SUVs – Gulf Formula ULE 5W-40. It is an advanced performance, synthetic engine oil meeting mid/low SAPS (Sulphated Ash, Phosphorous & Sulphur) requirements. The aim is keep engines performing at peak power for longer periods, by protecting them from wear and sludge as also by minimising deposits in engine and turbocharger.
"Gulf Formula ULE 5W-40 will help in keeping (their) performance at peak power even under extreme conditions, thanks to its tailored molecules 'Power Max' that help cool faster, protect longer and reduce friction quickly," said K.R. Venkataraman, CEO of Gulf Oil Middle East Ltd.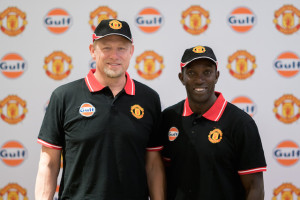 The new product was unveiled in the presence of Manchester United stars Dwight Yorke and Peter Schmeichel.
Automechanika Riyadh to be held in 2018
KSA will now get its own edition of Automechanika every two years, Messe Frankfurt Middle East has revealed. The first edition of Automechanika Riyadh will take place from 5-7 February 2018 at the Riyadh Exhibition Centre. Jeddah and Riyadh will take turns in hosting the event, a year apart from each other. Automechanika Jeddah will next be held in 2019.
According to analysts Frost & Sullivan (F&S), the total revenues in the Kingdom's automotive aftermarket will grow 5.1 per cent annually over the next five years to a sizeable SAR 33.62 billion (US$8.9 billion) in 2021. This is largely from regular maintenance parts like tyres (SAR 10.5 billion), batteries (SAR1.56 billion) and lubricants (SAR 6.01 billion), while brake pads are expected to account for almost 25 per cent of 'other parts' category (SAR15.550 billion).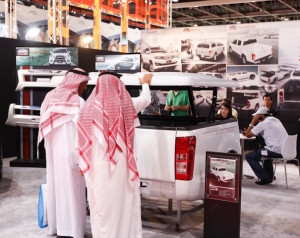 Automechanika Riyadh will focus on the six main product groups of Parts & Components, Electronics & Systems, Accessories & Customizing, Repair & Maintenance, Tyres & Batteries, and Car Wash, Care & Reconditioning.
INFINITI sets up largest Video Billboard in the region
Arabian Automobiles and Infiniti are on a creativity spree thinking up stuff that will guarantee eyeballs and cocked up ears. Just a few weeks ago, it was the orchestration of a Q50 Red Sport driving experience for the choreographed sway of the Dubai Fountains. And shortly afterwards, it was a show set up on the banks of Sheikh Zayed Road, with its incessant traffic flowing fast by.
The entire white wall of the Infiniti Centre was converted into a projection screen and promotion videos kept filling that space in a larger than life display of talent and the car that inspired it all. Once again created to highlight the Red Sport 400, the conversion employs three-dimensional technology and localized video mapping, a world first. The video displays innovation and inspirational stories shared by individuals that have experienced their potential to the fullest.
People inspired by INFINITI's initiative may take to social media and add to the vibrant 'Unleash Your Potential' campaign by uploading fun and engaging videos to express their individuality through the means of the concept.
NEWSTRACK Early Feb: New SUV Engine Oil, A moving wall of inspiration and Saudi auto trade show
was last modified:
February 8th, 2017
by