If someone was legally declared insane, dangerously insane, preventing him from all social contact, he could still have one consolation – he could still drive the Nissan GT-R. Because it takes insane people to drive this car. And this is not simply because of its legendary launch control that takes it from 0 – 100 in 2.8 seconds; everything about the car goes hand in hand with that legend.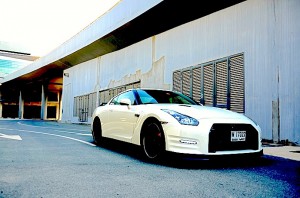 UPSIDE: Incredibly powerful, exciting to drive, Four-seater version available, Family sedan-class boot space, Cult respect
FLIPSIDE: Noisy, Raw, Refinement belies the high price
The Specs: 3.8L Twin Turbo V6 engine, 550 hp, 628 Nm torque, 6-speed double clutch transmission, 6 piston front and 4 piston rear Brembo brakes, 20" forged RAYS alloys, BILSTEIN electronically controlled shock absorber
The Price: AED 440,000 for the black edition with warranty and maintenance package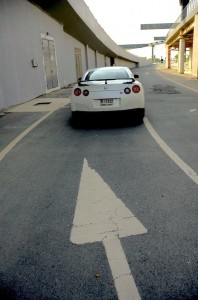 The Drive
While the GT-R appears as a proper sports car, it looks too large to give enough weightage to its sports credentials. Furthermore, the GT-R makes no sound; I mean all that it makes is noise, pure noise. It is a rattle-pot with clings and clanks emanating from all possible sides of the car. It sounds like a shoddy job put together by a hammer-smith and a mechanic in their basement.
Surprisingly, the exhaust notes in the GT-R are not fine tuned like in many of the roadworthy sports cars to complement their imposing presence. All you can hear is a metallic blowout, consistently monotonous, rising with the acceleration yet never achieving the fine tuned motoring growl or scream like even the Nissan 370Z does.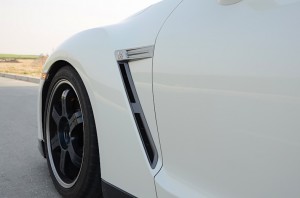 550 hp of power and 628 Nm torque with its wide availability makes the car as fast on take off as it is in overtaking. You could choke on the power but the six speed transmission shifts quickly and settles down pretty fast, unless you don't want it to. While there is a downshift shunt if you let alone the acceleration on slower speeds, the transmission is extremely smooth on the up-shift or the downshift. The Brembo brakes complements the crazy acceleration and on its 20" wheels; Nissan GT-R claims a 100 to 0 stop in 99 feet, even on wet roads!
The 1700 kg of the GT-R is so well-balanced that any reduction of weight would actually affect the traction, in fact dropping down the 0-100 figures from 2.8 to probably 3.3 seconds. The noisy GT-R even lets out a hoot when you brake and trundle along slowly in a traffic jam.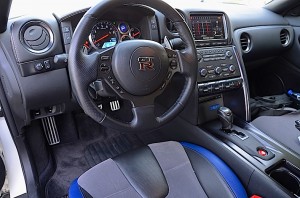 This crazy car ironically is for the most responsible driver on the road, because it takes much more than average capability to actually hold on to this car with your head up, while it blows through like a thunderstorm. Fear or fun, extremely large doses of either could unsettle your drive if you're not composed enough to keep this untamed horse under its reigns.
Yes, the 0 to 100 feeling in the GT-R is incomparable and has become stuff of legends on YouTube. But what I found equally exciting, and also a reference to your sense of control, is the cornering G that urges you to challenge the limits of what you experienced just a moment ago. Sweeping through a 360 degree turn, a 1.1 g force kept me locked to my seat yet opened the pores of my sensory cells.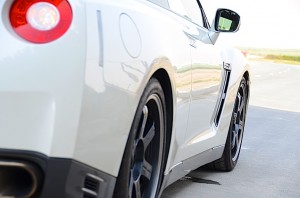 The six speed transmission is quick, responsive and adaptive, changing according to your driving pace. GT-R has the three essentials you need for a brilliant sporting experience – the acceleration power, the handling and the braking. The free moving steering has not much to offer in terms of feedback but this car is so accurate in its handling and so stable that tackling corners at speed limits has an impact only on its G-force meter!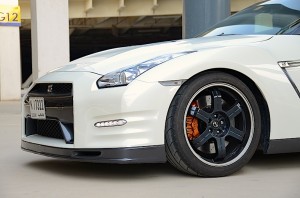 The Design
The whole car is a bundle of aerodynamics, steeply falling back on its arch and stopping short and high to meet the spoiler that rises way above most other spoilers do – wide and solid. It is, in fact, the wing of this aerodynamic machine. Unusually large exhausts on either side, with those unmistakable circular lights purposefully adorning the rear, shrapnel like headlamps and the wide yet narrow mouth of the grille that drops sharply into the air dam below give the car its menacing front and rear faces. Both in the front and the rear, carbon fibre wrapped air dams complete the picture.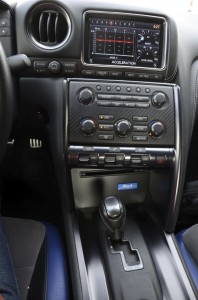 The GT-R has two cooling vents on the bonnet and diagonal side vents as well. The six spoke glazing alloy wheels holding the 20-inch run flat tyres in place complete the sporty architecture of the GT-R.
GT-R is a name that rings out loud in the hall of aspiration for Middle Eastern buyers that it is decorated with the badge in half a dozen places, all big, bold and shiny. Actually Nissan could afford to take off the house logo from this car because the GT-R has become so much of a cult, with none to challenge its supremacy.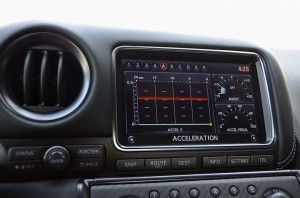 The GT-R architecture rises with an elevated carriage but keeps a low profile; something to do with its weird air flow that allows the car to slice through the air and also tackle corners briskly. The GT-R can put an American muscle car to shame when it comes to its six-packs, with prominent haunches and flared arches in front, bulging rear fenders and a sharp character line under the side view mirror. The mirror has actually moved closer to the driver from the A pillar, affording an excellent view without blind spot issues at all, with a remarkable view quotient from the large and raking rear windscreen.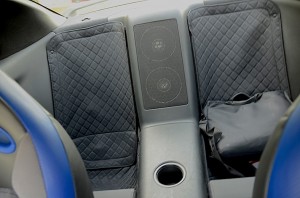 Cabin and Controls
In the first two miles of its journey, the GT-R prompted me to call in the help of a pilot who is familiar with a myriad of dials in a cockpit. The touch screen projects various combinations of oil pressure, oil pressure boost, cornering G, acceleration G, braking and acceleration distribution, torque split and so on. Whoever would have the time to glance at it on a drive that carries you with it, I wonder.
For a car worth almost half a million dirhams, the cabin was rather straightforward and simple. Even though there was a generous dose of carbon fibre on the driver oriented dash as well as a combination of suede and well-used leather in my test car, which had already done 16 months of tiresome driving yet clocking only 13,500 kilometres so far. None of it actually exuded any air of luxury but I guess the intensely focused GT-R driver wouldn't care much for those material frills. He would be too busy studying the graphs, if he bothered to, or simply driving the car to another frontier of insanity.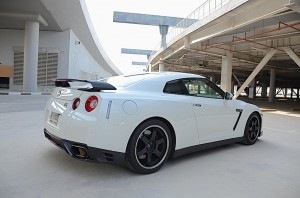 The GT-R is equipped with navigation, telephone and a passable music system for half a million dirhams worth of automotive build. But seriously, in the GT-R, you don't care for noise nor melody. It's only the emotional surge within this cabin that seeps into every molecule of your constitution that would matter to a GT-R driver!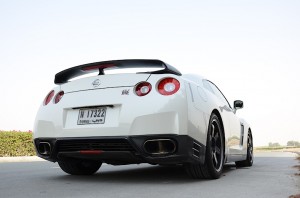 Family Drive
While GT-R gives you a two plus two option, mine was a minus two. There were just seat wells behind the two front seats, making space for additional storage at best. By sports car standards, this car has plenty of storage, right behind if the seats are off, but also in the surprisingly large and deep boot, which allows you to use it as a proper sedan.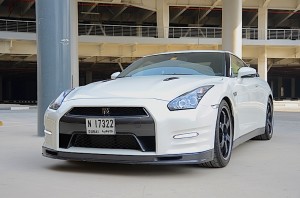 The essential Nissan GT-R
The GT-R has a very high excitement quotient, which is sustained all through the drive. Whether accelerating on a straight road or challenging the limits in cornering; you always want to outdo the way you took a corner last. The car also supports the lap timing test with a stop watch among its graphic paraphernalia.
I do get eyeballs whenever I go testing a supercar but with the GT-R things were different. While most others elicit excitement or respect, with the GT-R it was more often than not, a sort of, incredulous reverence bordering on fear. The incredible power would've all been in vain if people were actually scared to use it but the current GT-R, with its assured handling, wider distribution of power and unparalleled traction encourages you to make use of that power, responsibly.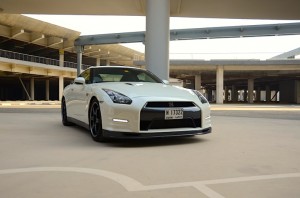 Drive Courtesy: Nissan Middle East
Pictures: Sudeep Koshy
Nissan GT-R 2013 review: Taming the wild horse
was last modified:
December 27th, 2016
by