Nine months after its launch during the Brazil Olympics, Nissan Kicks is in the GCC to champion the urban crossover concept. It has landed the prime space so far occupied by two key models in the Nissan array – the Juke and the Tiida. Agreed, the funky hunchback crossover will be missed by some; the practical hatchback will be mourned by many. Hopefully, only until either of them grabs the wheel or sprawls out in rear of the new Kicks.
[COMPARE the Tiida, Juke and new Kicks below]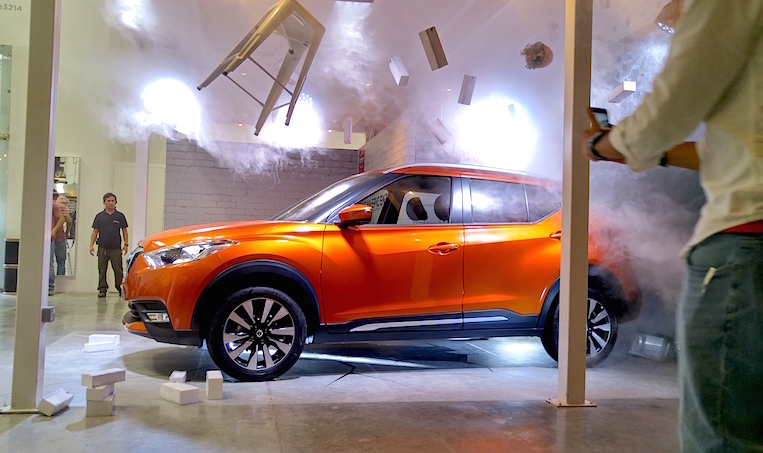 Specifications: 1.6 L engine XTronic CVT, 118 hp and 149 Nm torque, 16.4 kmpl fuel efficiency (supplied figures)
Standard features: Rear spoiler, roof rails, Bluetooth hands-free, Steering mounted controls, Front driver and passenger airbags, ABS + EBD + BA, Vehicle Dynamic Control with Hill Start Assist, Tyre Pressure Monitor System, Front Disc / Rear Drum brakes, Active Chassis Control
Top Trims: Leather seats, 17" alloy wheels, Navigation with 7" touch screen, Audio system with 6 speakers and USB port, Side and Curtain airbags, Around-view monitor with Moving Object Detection, 6 airbags
UPSIDE: Agile handling, practical space, around view camera with top angle, advanced driving assistance as standard, reasonable pricing
FLIPSIDE: Flimsy plastic trims, Drive feels aloof
THE PRICE: AED 56,200 – 68,300 (excl. optional packages)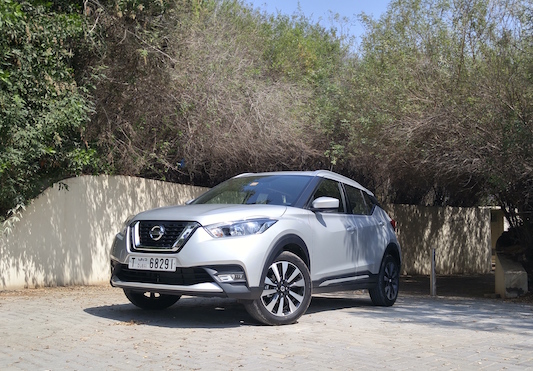 Staying ahead of the graph
In a market that is showing a growing preference for stilts rather than skates, the smaller SUVs of Nissan together tripled their presence in just four years, during which Tiida showed clear signs of slowing down in the crossover traffic. So, Nissan decided to keep their fans in the fold with a model that offered all that Tiida did, and then some! Kicks, the new urban crossover, speaks the modern design language that Nissan calls emotional geometry, while retaining the basic beanbag comfort of the Tiida and a few catchy strokes from the Juke styling. Nissan is counting on Kicks to capture 30% of the segment share in the next 3 years.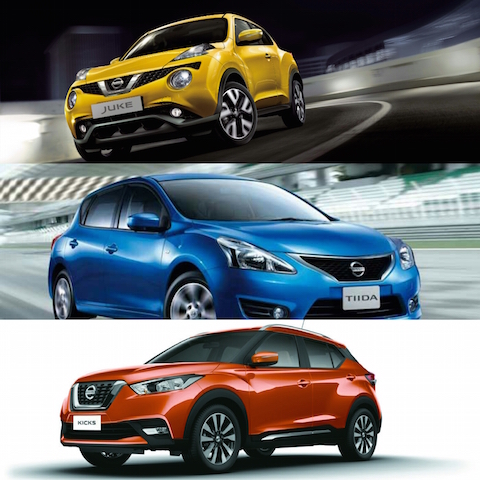 Tiida, Juke and Kicks – quick comparison
Nissan Kicks claims segment-leading rear passenger space and boot space. Despite the coupe like roofline, it is almost an inch taller than the Juke, which should do away with the bunker roof feeling!
Size and Space
Kicks: 4295 mm long, 1760 mm wide and 1590 mm tall with a wheelbase of 2610mm
Juke: 4135 mm long, 1765 mm wide and 1565 mm tall with a 2530mm wheelbase!
Tiida: 4305 mm long, 1760 mm wide and 1520 mm tall with a 2700 mm wheelbase
Boot space: Tiida 272 L, Juke 354 L and the new Kicks 432 L
Drivetrain and Performance
While the Juke offered a Turbo variant with 188 angry horses and the Tiida added a 1.8 L variant with 131 hp to their standard 1.6L models, the Kicks will be sticking to a standard third generation 1.6L mated to the new generation X-Tronic CVT. However, going by the test drive, the 118 hp and 150 Nm bundle seems to make the new Kicks game for anything!
Price comparison:
Tiida – AED 54,000 to 74,000
Juke – AED 61,500 to 82,000
Kicks – AED 56,200 to 68,310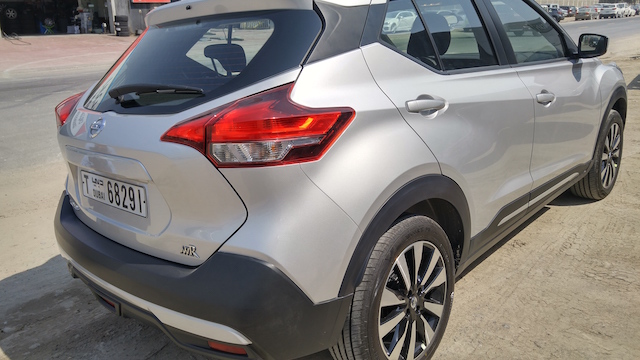 The Drive
The way the Kicks drives is a statement on how adequate a 1.6 L engine delivering 118 hp can be. Equipped with a generous 200mm ground clearance and a segment leading 5.2 m turning radius, the Kicks seems to be fit enough for quick escapes, whether at a U-turn or on a weekend jaunt to Al Qudra lake.
Nissan Kicks is enthusiastic and responds with agility – in fact the new crossover has a class-leading Co-efficient of Drag of .345 (.35 for Juke). But the drive has a peculiarly smooth character, like moving steadily on a tarmac lightly sprinkled with windswept sand. It could be Nissan's interpretation of an easygoing driving style and a youthful attitude. The front wheels get disc brakes and the rear get drums but the braking is rather efficient.
The quickness of response and smoothness of ride may be attributed to three Active Chassis Control features built into every Nissan Kicks, irrespective of trim level – Active Trace Control, Active Ride Control and Active Engine Braking.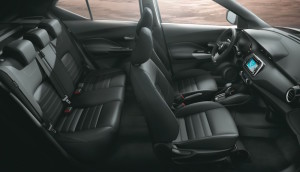 Active Trace Control helps during high-speed cornering as brakes act on the individual wheels improving grip and reducing incorrect steering.
Active Ride Control is the input of brakes for a split-second just when the vehicle hits a large bump or dip, to reduce the bounce effect on the suspension. This effective trick is way more economical when compared with complex damping systems.
Active Engine Braking improves the vehicle handling in corners. Just like in a manual car, Nissan Kicks is programmed to downshift gears while tackling corners, helping the car to slow down and stay in course.
In the Kicks, the claim of having a CVT that does not feel like one is ever closer to truth as the XTronic transmission features what Nissan calls 'D-Step function'. It is a make-believe software intervention that gives the driver the 'familiar feeling of shifting gears' as in a 6-speed automatic transmission. With better gear ratios, Nissan Kicks also claims a more silent drive and the best in class fuel efficiency @16.4 km for every litre of petrol.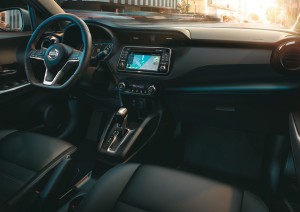 Segment-first driver assistance features
 Two key features from what makes up Nissan Intelligent Mobility – Moving Object Detection (alerts the driver of rear vehicles approaching from the side) and the Surround camera with top view – will be available in this segment for the first time. These and the navigation with touch screen are available as an optional package, which is understandable at the moderate pricing strategy.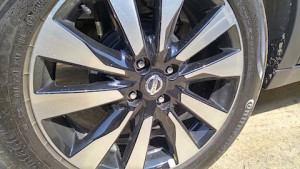 Cabin and Controls
Nissan's new cabin is appealing for most part, with its gliding wing dash design and flat-bottomed steering. But plastic echoes on the dash and door sides and Nissan has toyed with a bulk of it, giving it a chiseled finish and a faux carbon fibre appearance. I am not a great fan of it but hey, it's here because many have liked it already; and I like the fact that it keeps the weight low!
The console is left clean as the 7-inch touch screen takes over the task of multimedia controls. The cabin could do with more storage and a rear air-conditioning vent, though cooling is as expected in a Nissan. Some drivers might miss the console armrest. 432L of boot space with a 60:40 seat folding option ticks a big family box.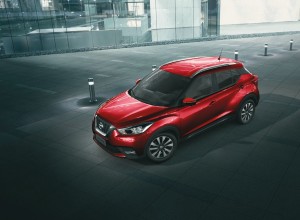 The essential Nissan Kicks
The new not-so-compact crossover from Nissan might not be spotted kicking up dust outside the urban jungle. However, with ample support in hasty take offs, quick cornering, tight U-turns and, most importantly, parking spots, Nissan Kicks ticks the right boxes!
Nissan Kicks Rating
Looks -

8.2/10

Ride Comfort -

8.5/10

Handling -

8.2/10

Driving Assistance -

9.0/10

Cabin Features -

8.2/10

Urban Practicality -

8.6/10
Nissan Kicks One-liner
Nissan Kicks seems to be fit enough for quick escapes, whether at a U-turn or on a weekend jaunt to Al Qudra.
Nissan Kicks Review: Urban crossroads
was last modified:
May 10th, 2017
by