Last week, AUDI AG confirmed the news about two hot wheels from Bologna rolling into its stables. The acquisition of the tradition-steeped Italian sports motorcycle manufacturer Ducati Motor Holding S.p.A. With Ducati, the German brand will now be flanked by three traditional Italians – the other two being Lamborghini and Italdesign. So why did Audi place its stakes in Ducati? Hear it in the words of Rupert Stadler, Chairman of the Board of Management of AUDI AG: "Ducati is known worldwide as a premium brand among motorcycle manufacturers and has a long tradition of building sporty motorcycles. It has great expertise in high-performance engines and lightweight construction, and is one of the world's most profitable motorcycle manufacturers. That makes Ducati an excellent fit for Audi."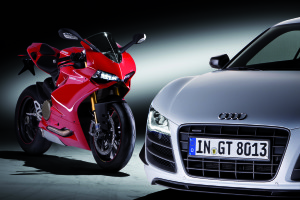 The progressive control systems and special combustion chamber process of Ducati engines, their resulting sporty character, and Ducati's extensive know-how in lightweight construction could be great draws for the AUDI AG and the Volkswagen Group. The motorcycle market is expected to grow in leaps over the next few years, especially in Asia. Ducati makes its bikes in Bologna and in Thailand. They sold 42000 bikes in 2011, and generated revenue of some €480 million, employing around 1,100 people.
Innovation and enterprise have always been in the Ducati spirit. Founded by Adriano and Marcello Ducati in Bologna in 1926, it was originally called Società Scientifica Radiobrevetti Ducati and built parts for radios. It started making motorcycles in 1949 and has ridden on ever since.
Now, Ducati rides on Audi
was last modified:
February 22nd, 2016
by