At what point do bigger brake discs become unsafe? How enthusiastic can you get about reboring? How far can your tyres be tracked out? How loud can your exhaust notes be without waking up the police, if you aren't worried about neighbours?
You might know where to get these modifications done but could have wondered who to ask these questions, or verify their results. Well, now Abu Dhabi Motorsport Management (ADMM) at Yas Marina Circuit has taken the guesswork out. UAE capital's first vehicle inspection center for modified vehicles has been launched at Yas Marina Circuit. This follows the implementation of UAE Cabinet decision No. 45 of 2016, regarding the safety requirements of modified vehicles, passed by Emirates Authority for Standardization and Metrology (ESMA), Conformity Affairs Department and in cooperation with the Automobile and Touring Club of the UAE (ATCUAE).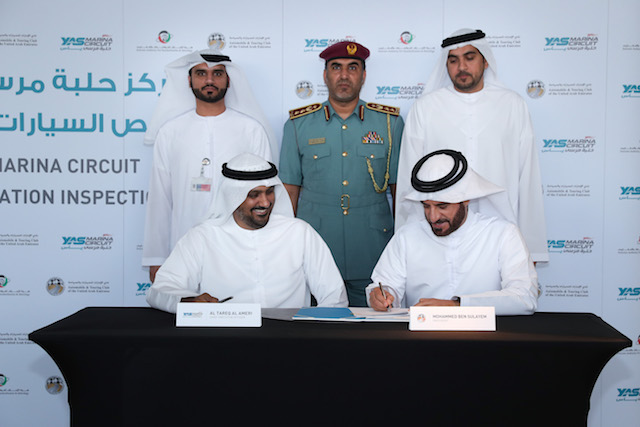 The new inspection centre extends its services to all road users and not only motorsport enthusiasts. Without proper implementation or verification, modified vehicles have been potentially endangering not only the drivers but everyone sharing the roads, too. The inspection center will ensure that all safety regulations are met under the new decision, by allowing vehicle owners to comply with a unified set of regulations. As there has never been a government body or authority to verify the compliance, the new inspection center will be handling not only new modifications, but also those vehicles modified in the past without verification.
Beyond performance or aesthetic enhancements, there are practical reasons for modifications as well. For example, certain functional enhancements can make a vehicle more adept for desert conditions and terrains. The scope of new regulations covers all modified, new or used vehicles, which have added and/or replaced parts or systems in vehicles. These include automobiles, motorcycles, trailers, caravans and tractors. The centre also helps people take note of the financial and environmental implications of non -compliant vehicles.
We welcome a wide range of modified vehicles to our popular Yas Super Street Challenge and Freestyle Drifting events, and now drivers of these specialist vehicles can enhance safety even further thanks to the new inspection centre." said Al Tareq Al Ameri, CEO, Yas Marina Circuit. "It gives a chance to legalize modified vehicles and ensure compliance across the board." Observed Mohammed Ben Sulayem, President, ATCUAE.
Now, you can modify your vehicle legally
was last modified:
December 6th, 2017
by