Eco Power and The Bull batteries will now be available in the UAE, thanks to a collaboration between Omeir Bin Youssef & Sons LLC, Abu Dhabi's leading automobile dealer and Discover Energy Corp – Canada, a longstanding manufacturer of battery and power related products, and a leading OEM in innovative Clean & Green® products. The product reveal that marked Eco Power's entry into the Middle East, took place last Thursday in the presence of Chargé d' Affaires ad interim of the German Embassy, Ralf Schroeer, at the Rose Wood Hotel.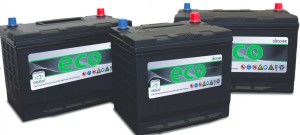 Benefits of Eco Power
Eco Power Batteries are designed for better performance in Start-Stop driving applications that are increasingly present in the premium automobile market in the UAE. They are made from recycled materials and their MIXTECH technology from Germany promises up to three times longer battery life, which is totally maintenance-free and amounts to a lower cost per cycle than conventional batteries. While Eco Power Batteries are for Light Motor Vehicles, The Bull is a performance designed commercial battery for Heavy Duty Vehicles. They are equipped for Extreme Cold Cranking and Vibration Resistance. Their Flat Top design comes with convenient handles too.
"We are very excited to have signed up exclusively with Discover Energy Corp. and to be the first to bring this major advancement into the automotive industry in the UAE." commented Khalifa Bin Omeir, CEO, Omeir Bin Youssef & Sons LLC while Ashwani Shiv, General Manager – Automotive, added that, with the impressive power and an incredible life span of Eco batteries, they are looking forward to creating a green revolution in the automotive industry in the Middle East.
How Eco Power works
The patented technology of Eco Power Batteries for 'clean and green power' had won the Innovation award at the Automechanika. It automatically mixes the electrolyte inside the battery, to ensure uniform acid density for higher and sustained performance throughout the life of the battery. The issues that ordinary batteries face, like acid stratification and thermal gradients, are eliminated in the Eco Power battery which prolongs plate life. This explains the confidence behind the unique 2 Year unconditional replacement warranty in UAE.
Now you can opt for Eco-friendly power
was last modified:
February 23rd, 2016
by