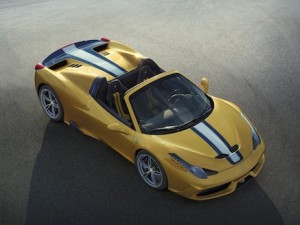 Ferrari 458 Speciale A: The most powerful 458 ever at the Paris Show
The Paris Motor Show will see the world debut of the 458 Speciale A (A as in Aperta). The new limited edition special series celebrates the dazzling success of the various versions of the 458, a model that has collected a double WEC title and category wins in classic endurance races, such as the 24 Hours of Le Mans, the 24 Hours of Daytona and the 12 Hours of Sebring.
Dedicated to just 499 Ferrari collectors, the 458 Speciale A is the most powerful spider in Prancing Horse history. Its aluminium retractable hard top, which takes a mere 14 seconds to deploy or retract, helps reduce the weight difference with the Speciale coupé to just 50 kg.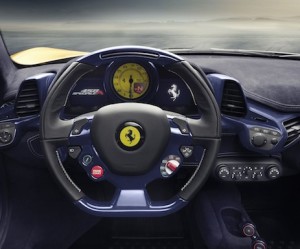 The 458 Speciale A sports the most powerful naturally-aspirated road-going V8 engine ever built by Ferrari (it's 4.5 L by the way and the car weighs just 1340 kg), packing the punch of 596 hp (133 hp/l specific power output) and 540 Nm of torque at 6000 rpm yet only generates 275 g/km of CO2 emissions. The three international Best Performance Engine awards the V8 has won are acknowledged on a special plaque in the cockpit.   The new car sprints from 0-100 km/h in just 3.0 seconds and has a Fiorano lap time of 1'23"5.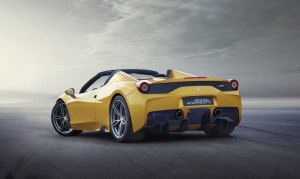 Veyron on finishing straight
Bugatti showcased the sixth and final model of its Edition "Les Légendes de Bugatti" at the Volkswagen Group Night on the eve of the Paris Motor Show, Mondial de l' Automobile Paris. It will be the European premiere of the model, dedicated to Ettore Bugatti, founder and patron of the brand. The final Legend "Ettore Bugatti" was unveiled at the Monterey Car Week in California just a few weeks ago.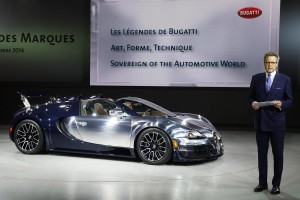 "The Legends edition is an impressive part of the Veyron´s success story. Now the car has reached the finishing straight. Fewer than 20 cars are available for customers," said Wolfgang Dürheimer, President of Bugatti Automobiles S.A.S.
The world's most powerful, fastest and most expensive production super sports car is limited to 450 units in total – 300 coupes and 150 roadsters. After all the orders are fulfilled, Bugatti will start the next chapter, aiming to rule the roost yet again.
Paris Motor Show: Ferrari and Bugatti showcase sparkling pride
was last modified:
February 22nd, 2016
by