Reigning champion Abdulaziz AlFaisal has won both the Round 3 and Round 4 of the Porsche GT3 Cup Challenge Middle East at the Yas Marina Circuit with a dominant performance against a strong 16-car grid that is one of the most formidable in the history of the series.
Round 3: 1st Place: Saudi's AlFaisal, 2nd Place: UAE's Al-Azhari, 3rd Place: Kuwait's Zaid Ashkanani
Round 4: 1st Place: AlFaisal, 2nd Place: Schmid, 3rd Place: Al Thani
[Point tally at the end of the story.]
December 7, 2012:  The game of winning in doubles in the Porsche GT3 Cup continued at Yas Marina. If it were Clemens Schmid in Bahrain, this time it was Al Faisal, racing for the Saudi Falcons. AlFaisal produced a faultless race to take maximum points on the North Corkscrew track, while UAE's Karim Al-Azhari finished second in Round 3 and teenage sensation Zaid Ashkanani from Kuwait lived up to expectation with a third.
The experience and expertise of a two-time series champion, AlFaisal pushed aside home favourite Karim Al-Azhari of Al Nabooda Racing in the opening laps on the tight circuit.
Clemens Schmid, the current championship leader, set forth in hot pursuit but the race ended in disappointment for the young Austrian, when his gearbox linkage failed in Lap 20. Al Faisal's lead in Round 3 was 7.995 seconds over Al-Azhari and with the quickest lap-time of the round, 55.856 seconds.
Schmid makes a come back in Round 4
After securing pole position in Round 4 (one place ahead of Round 3 start), AlFaisal, the reigning champion this time fought off challenges from Al Nabooda Racing Clemens Schmid, who made a comeback after his forced retirement in Round 3 to finish second. Qatar's Abdul Rahman Al Thani was to arrive third while AlFaisal underlined his victory with an even more emphatic margin of 11.148 seconds.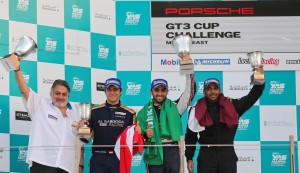 The Porsche GT3 Cup Challenge Overall Driver Standings after Round 4: 1st Abdulaziz AlFaisal (94 points) 2nd Karim Al-Azhari (82 points), 3rd Clemens Schmid (78 points). Dubai's Al Nabooda Racing lead the team title.
Round 5 and 6 will be held next weekend (13th and 14th Dec) at the Dubai Autodrome.
Supplied story and visuals. Edited by Sudeep Koshy.
Porsche GT3 Cup: Double win for Al Faisal at Yas
was last modified:
February 22nd, 2016
by