99 dizzying turns. 999 daunting steps. The sound of it is that of a once-in-a-lifetime pilgrimage that absolves you of all sins and assures you a place in heaven. As for the Range Rover Sport Plug-in Hybrid, it sure did absolve the SUV from any aspersions of being a tame, eco-conscious version and got itself a place at the pinnacle of Heaven's Gate.
Heaven's Gate is a natural rock arch and one of China's most famous landmarks with a trail of 999 steps leading up to the summit. The performance SUV is the first vehicle to climb this 'stairway to heaven'. Not that it is surprising. Why would an SUV ever want to climb stairs other than at a capability demo like Range Rover has at their drive experience centres? (I've driven a Defender up the stairs in their Coventry facility.) However, now that someone thought of this 'weirdness' and got a bold, red Range Rover Sport to do it too, the sight looks good and the sequence quite delectable to car enthusiasts, the speed and determination with which the mid-size SUV rushes up the persistently precarious 45º slope.
Watch the adventurous ascent here: https://youtu.be/5kc55wEmEbc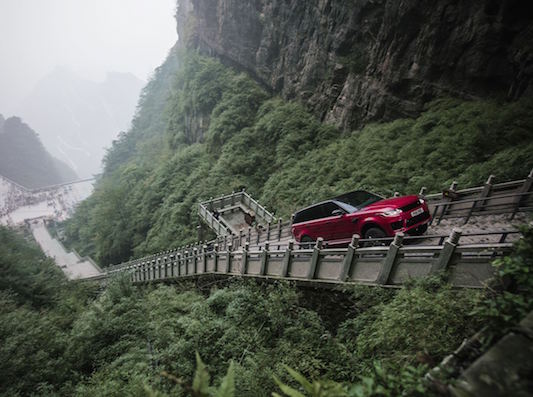 For the Range Rover Sport, the challenge began at the bottom of the twisty 11.3 km Tianmen Mountain Road, with its 99 twists and turns wind up the mountain like a white dragon. The road itself is known as the Dragon Road. At the end of that stretch, the showroom standard Range Rover Sport had its Terrain Response optimised for the climb up the stairs and sported off-roading tyres. The Plug-in Hybrid was driven by constant torque from the word 'go' and had its all-terrain credentials vindicated at the end of the ordeal. Phil Jones, Land Rover Experience expert, said: "This was the hardest Range Rover Sport challenge I've ever been involved with because, until we reached the top, we couldn't categorically say we would succeed."
The Range Rover Sport was piloted by Le Mans class-winner and Panasonic Jaguar Racing reserve and test driver Ho-Pin Tung. "I've experienced Formula E, Formula 1 and won at the 24 Hours of Le Mans but this was without doubt one of the most demanding driving challenges I've ever faced."
Before the Dragon Challenge the Range Rover Sport achieved a record-setting hill-climb at Pikes Peak, USA, a record crossing of the 'Empty Quarter' desert in the Arabian Peninsula and a 2,170m descent of the legendary Inferno downhill course in Mürren, Switzerland. Weird challenges are not new to the Sport and it only gets better with each new one!
Range Rover Sport ascends to Heaven's Gate
was last modified:
February 15th, 2018
by