There are thousands of motorbikes plying our roads with much-awaited food, important envelopes and other everyday errands. Their safety as well as other using the road is a concern when considering some statistics that Dubai Police revealed.
Disturbing statistics: A total of 276 motorbike related incidents happened in 2016 including 16 fatalities. Motorcyclists were involved in 824 traffic offences in 2016, and 786 bikes were seized. Most of these involved professional delivery riders. The majority of motorcycle collisions with other vehicles were reported to be caused by lack of attention or awareness on the part of the driver of the other vehicle.
Fardeen Sara, General Manager – Sales at Al-Futtaim Honda said, "These riders have very little protection around them – simply because there is less steel to protect them. Also, motorcycle riders might be impacted by sudden changes in weather and gusts of wind more than other drivers.
Arif Abdulkarim Almalik, Director of Drivers Training and Qualification at RTA's Licensing Agency said, "We at RTA are regularly analyzing and improving the training curriculum and updating the processes for obtaining a motorcycle driving license.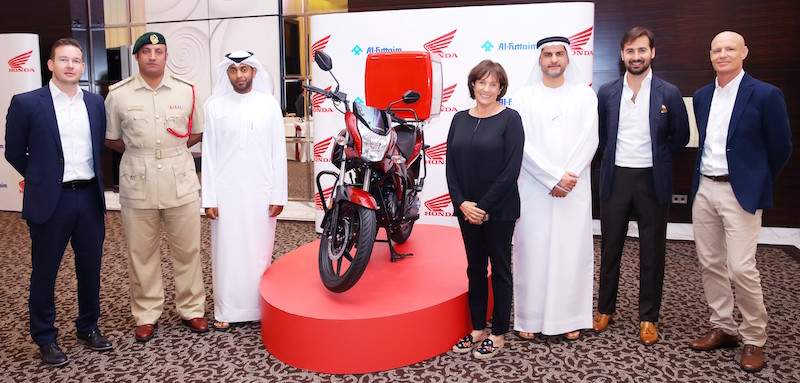 AL-FUTTAIM HONDA'S TOP SAFETY TIPS WHILE RIDING A BIKE (As compiled by RoadSafetyUAE, who were co-organisers of the programme) – HOW TO DO IT RIGHT!
As a motorcycle driver:
Display a defensive driving style!
Make sure you always wear your helmet
Wear proper clothing, including proper fully closed shoes
Wear proper protecting gloves
Make sure your bike is properly licensed and registered
Make sure your motorcycle is maintained perfectly
Lights and indicators must work 100% since motorcycles are less visible than cars
Make sure your passenger is properly dressed and follows proper decorum of bike travel
As a car driver:
Anticipate the greater vulnerability of motorcycle drivers due to the conditions of weather, road, wind, light
Be extra careful close to a motorbike in curves, on interchanges and acceleration lanes
Respect the often-weak performance and limited acceleration, especially at green lights
WATCH OUT FOR THESE!
As a motorcycle driver:
Don't sneak between cars
Don't ride on walkways
At red lights don't try to get in front and lead the waiting vehicles
Don't take shortcuts
Leave enough space to other vehicles on the road
As a car driver:
Don't be too close to motorcycles when you accelerate (off green lights)
Don't be too close in curves and in difficult road, weather, wind and light conditions
Especially for quad bikes (in the desert):
Make sure you ride a registered and well-maintained vehicle
Make sure you hold the required driver's license
Safer roads for Motorbikes!
was last modified:
December 6th, 2017
by