Both are great German brands. Both brands are socially responsible. Both stop at nothing short of excellence. At this year's World Future Energy Summit in Abu Dhabi, Siemens and Masdar Institute signed an agreement for solar technology development in the Middle East. Volkswagen will launch its "Think Blue" campaign in the Middle East. "Think Blue" embodies Volkswagen's goal of creating environmentally friendly products and solutions, and encourages being more responsible on the road, and more environmentally conscious in everyday life.  And now, Siemens and Volkswagen have created a partnership in the Middle East that will provide mobility solutions for employees that help further drive environmental awareness and behavioural change to help shape the future of mobility in the UAE.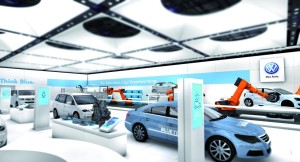 Through this collaboration, Siemens and Volkswagen intend to gradually upgrade Siemens' entire car fleet across the GCC to be more environmentally friendly. The first phase will see an initial twelve standard and hybrid Volkswagen Touareg models handed over to Siemens for their use in the UAE.
Given both companies' commitment to innovation, the environment, responsible corporate behaviour and value for its customers, this effort to reduce CO2 emissions also includes actions to educate employees on efficient driving skills to reduce fuel usage and get more economical benefit from the vehicles. Siemens' Global aim is to bring down CO2 emissions by 300 million tonnes and the economic savings that accompany this makes it a smart thing from a business perspective as well. The Siemens and Volkswagen collaboration is also in line with the UAE government's own efforts to promote environmentally friendly car fleets.
Siemens and Volkswagen team up for environment consciousness
was last modified:
February 23rd, 2016
by