The Ford Edge has been rebuilt with a more athletic shape, more faces to the frontal polygon and two totally new Ecoboost® engines under its hood. 'The all-new Ford Edge offers a fantastic driving experience, but the key thing that sets it apart from its competition is its technology." says Sue Nigoghossian, communications lead for Ford Middle East and North Africa. Ford's Press Release is replete with jargons and claims that are reassuring whether you fully understand them or not. The impact on me, for instance, promptly compelled me to enlist it among priority test cars this autumn.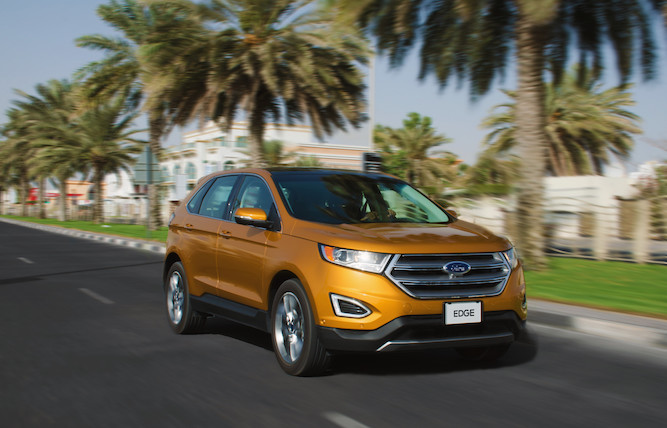 Such is the importance that Ford lays on technological superiority that Faisal Al Saif, a popular Saudi Arabian technology vlogger and TV presenter was called in to "unbox" the new Ford Edge, mimicking how technology is unwrapped on the internet. As he demystified the box measuring 5 metres long, 2.3 metres high and 2.3 metres wide, Faisal was the first in the region to be impressed by the front-facing 180 degree split view camera, the hands-free liftgate, and Active Noise Control system on Ford's flagship Crossover Utility Vehicle. The all-new Edge is also the first Ford to be fitted with adaptive steering technology.
Building on popularity
When launched in late 2006, Edge was quick to charm the crossover hunters with its mid-size sedan based platform offering more ride comfort and smoother driving dynamics than regular sport utility vehicles.
Last year, the company sold a record 1.2 million utility vehicles in markets across the globe – up 38 percent from 2012. "With the all-new model joining our popular SUV lineup, we are building on that success and the emotional appeal of the vehicle by offering more of the technology our customers want in a package that meets the highest expectations for quality and craftsmanship." said Kalyana Sivagnanam, Marketing, Sales and Services Vice President, Ford Middle East and Africa.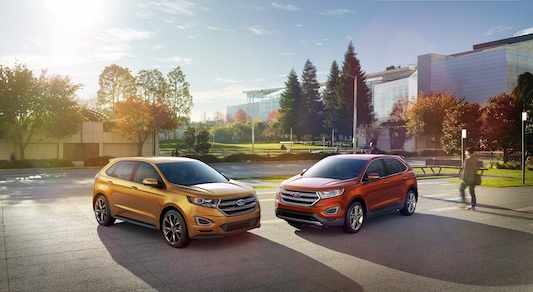 All-new body and suspension
The front-wheel-drive Edge retains a MacPherson-type front suspension, but introduces a sophisticated integral-link independent rear with coil springs and a 23-millimeter antiroll bar. The advanced new system has been tuned to deliver a more dynamic, engaging ride by absorbing noise and road imperfections.
Thanks in part to the use of more high-strength steels, compared with the 2014 model, the new Edge shows increased stiffness, by 26 percent when reacting to bending forces and by 16 percent against twisting forces. This means less noise, vibration and harshness.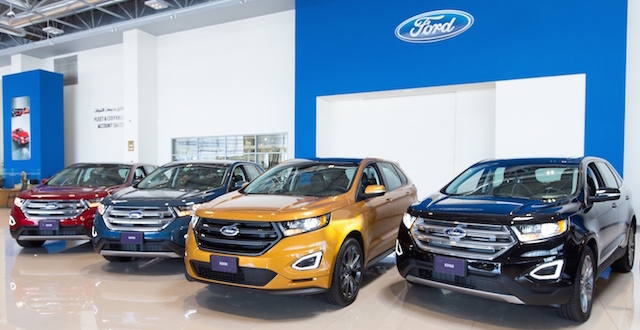 A choice of three engines
Both the Ecoboost® engines are new. The twin-scroll 2.0-liter EcoBoost® four-cylinder and the advanced 2.7-liter EcoBoost V6 on the Sport models. A naturally aspirated 3.5-liter V6 engine is also available, just in case. All are mated to a six-speed automatic transmission. The 2.0 liter EcoBoost, offering 250 hp and 378 Nm of torque, is significantly improved over the previous 2.0-liter EcoBoost.
The twin-scroll design for optimized camshaft timing make for better engine performance and reduced turbo lag. Lighter components and a new, high-pressure direct-injection fuel system for finer fuel spray translate to better fuel economy as well. (Compression ratio of 9.7:1, up from 9.3:1)
Ford proudly says that the 2.7-liter twin-turbocharged V6 EcoBoost engine in the top-of-the-line Edge Sport is one of the world's most advanced. The strength of the compacted graphite iron cylinder block it uses allows the 2.7-liter EcoBoost engine to produce 335 hp and 542 Nm, more like a mid-range V8.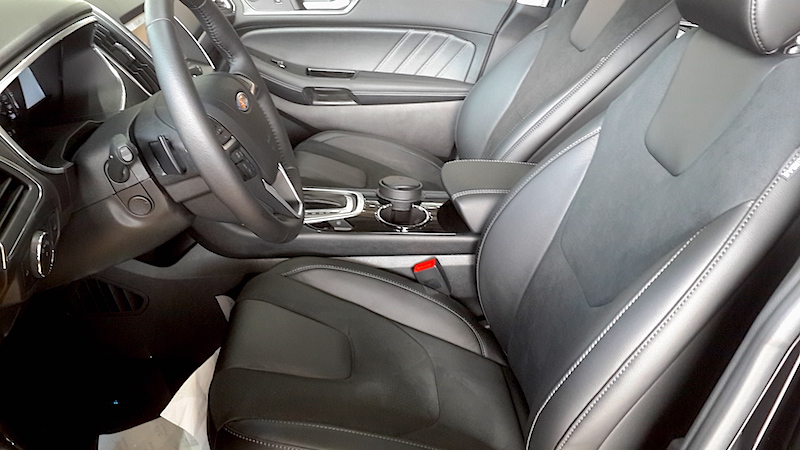 Transmissions and paddleshift
All Ford Edge models are driven by a Ford's SelectShift® six-speed automatic transmission and offer paddle shift controls. There is a Sport mode for a spirited, fast-paced burst. All-wheel-drive is available full-time on demand – there are no knobs or switches to activate it. An electronically controlled clutch manages the ratio of power between the front and rear axles, quicker than the blink of an eye.
Bigger by an inch
The new Edge is just about the same size as the previous one, slightly longer and taller with an inch added to the wheelbase (112.2 inches). Legroom in the first and second row of the new Edge has increased by 1.9 inches and 1.0 inch respectively, and headroom by an inch throughout. There is 39.2 cubic feet of space behind the second row – 7.0 cubic feet more than the previous model.
Thinner and more supportive seats add to the interiors spaciousness. Open and closed storages in the cabin are plenty and the new Edge still has one of the largest sunroofs – Ford's Panoramic Vista Roof, 47.7 inches long!
Quiet comfort
The Press Release from Ford waxes eloquent when it comes to the subject of quietness. The all-new Edge proved quieter by a sone (a unit) in wind tunnel tests, due to improvements in body sealing, sound insulation, and quieter powertrains that are better isolated from the cabin. While acoustic windshield glass is standard, Titanium models even have acoustic glass on driver and passenger side doors.
Edge Sport uses Active Noise Cancellation technology similar to that of luxury and sport cars, in order to manage and enhance the sound of its powerful 2.7-liter EcoBoost engine. The 20-inch tires available on Sport and Titanium trim levels are a full 2 decibels quieter – surprisingly reducing unpleasant road noises often associated with larger wheels.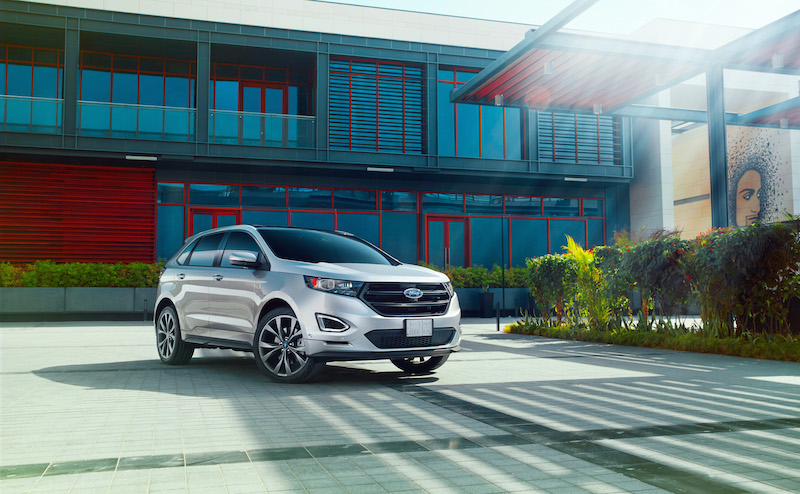 Key technology features in the all-new Ford Edge

Adaptive cruise control and collision warning with brake support: Uses radar to detect and move according to vehicles directly ahead
Air curtain: Creates a curtain of air alongside the vehicle using smart duct work, improving aerodynamics at high speed
Blind Spot Information System: BLIS® uses radar to warn about a motorist in the driver's blind spot
Cameras: New 180-degree front camera with washer featured for first time on a Ford vehicle; standard rear camera
Cross-traffic alert: Warns drivers about oncoming traffic when backing out of parking
Enhanced active park assist: Works for parallel and perpendicular parking
Forward and reverse sensing systems with audible alerts
Hands-free liftgate is activated by moving a leg below the rear bumper to unlock and raise liftgate
Lane-keeping system: Steers vehicle back into its lane if driver drifts out
Side parking sensors: System uses sensors and algorithms that measure speed and steering wheel angle to warn drivers of obstacles on either side of the vehicle during parking or low-speed maneuvers
SYNC® with MyFord Touch®: Ford's cabin communication system standard on Edge Sport and Titanium series
Safety technologies available on the new Edge
Active glove box knee airbag: Advanced new design using an inflator helps glove box front to cushion front seat passenger in a crash.
AdvanceTrac® with Roll Stability Control™: Uses sensors to measure the roll parameters and adjust engine torque and brake pressure at all four wheels
Curve Control: Uses the same sensors to detect the motion dynamics and steering wheel angle to help drivers trace a sharper curve
Inflatable rear safety belts: A safety belt that doubles up as an airbag in frontal crashes by distributing crash force energy across five times more of an occupant's torso than a traditional safety belt. Inflatable belts are available for second-row outboard seating positions.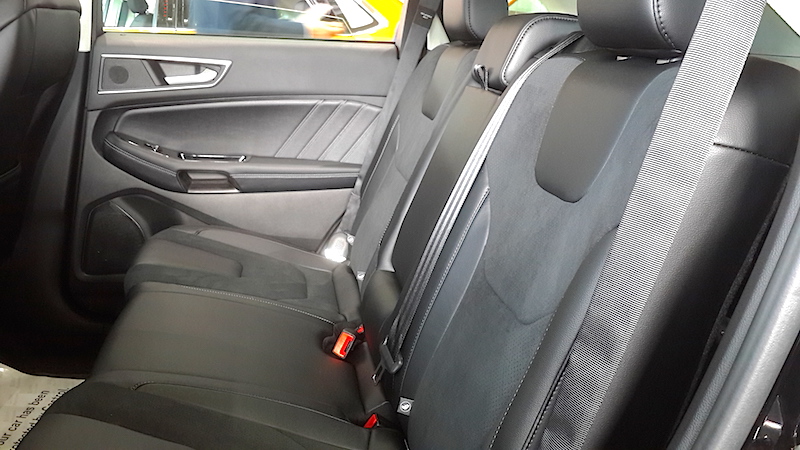 The all-new 2016 Ford Edge is now available at Al Tayer Motors and Premier Motors in the UAE, in four trim levels. These include SE, SEL, Sport and – for the first time – a top-of-the-line Titanium series. Prices start at AED 110,000 and go up to AED 210,000. You can buy a showroom-bound 2015 Lincoln MKX for less. But then, the Ford Edge in its suede – leather interiors doesn't look any less desirable!
The all-new Ford 'Cutting' Edge 2016: Overview
was last modified:
September 27th, 2016
by