Someone I know is already getting ready to sell her car. She's caught the bug. And she could be one of many who caught the highly infectious bug that has survived for decades now despite a total clip on the contagion for a couple of years. Why, even I should be thrilled the bug is back, the object of umpteen clever advertisements of yesteryears, almost tempting me to book another parking slot in my lot! And Volkswagen Middle East is giving not one but three reasons to succumb to the bug – S, SE and SEL versions of the new Beetle.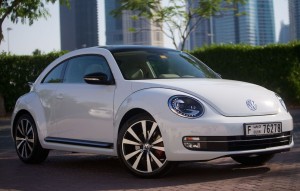 Volkswagen calls it a reinterpretation of the original design, which made its debut over seven decades ago, but the igloo roof or the stooping bonnet aren't going anywhere nor are those large circles of light in front, the flared wings and the distinctively arched fenders though somewhat more muscular in its new version justified by a more powerful engine – a Beetle wouldn't be a Beetle without those idiosyncrasies! That this is only the third generation in these 70 years is proof enough.
"We expect the Beetle, with its modern, sporty features, to be a big hit. The new model is a step-change from its predecessor with a powerful new engine." Thomas Milz, Managing Director, Volkswagen Middle East, said.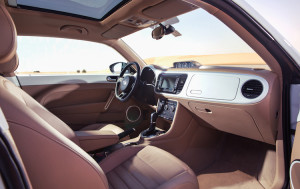 The Beetle is honoured by a 2.0-litre turbocharged four-cylinder engine that produces 210HP, a 6-speed dual-clutch gearbox (DSG) and a top speed of 227 km/h. The wheels run up to 19 inches.
However, the new Beetle's proportions are entirely different from its predecessor's – 1,808 mm wide (84 mm wider), 1,486 mm tall (12 mm lower) and 4,278 mm long (152 mm longer)
With a starting price of only USD 27,196, (That's a hundred thousand dirhams with a full tank free) the new Beetle will be available in a range of styles and colours: solid, metallic, pearl and two tone sunroof (with black ceiling) shades and a range of special colours including Denim Blue, Saturn Yellow and Tornado Red.
The Beetle S is the entry level model and features a multi-function leather wrapped steering wheel; Fender® Audio System with eight speakers (including dual tuner); "Climatronic" with dual zone climate control, and parking distance control that provides acoustic warning signals for the front and rear.
The Beetle SE, has a number of distinguishing features including 18-inch alloy "Twister" wheels; a multi-function leather-wrapped steering wheel with gear shift; a transparent tilt/slide sunroof, which has 80 per cent more glass area than its predecessor and insulates 99 per cent of UV radiation and 92 per cent of heat energy; bi-xenon headlights including 15 LEDs.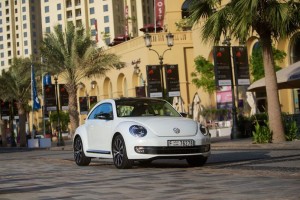 The top line model, Beetle SEL, offers the features of the S and SEL models but comes with 19-inch alloy "Tornado" wheels; a keyless locking and starting system and the RNS 510 radio navigation system. The area you sit on the seat and the inner sides of side bolsters are wrapped in "Vienna" leather. You will also get a 6.5-inch touchscreen, DVD player, voice control, SD card slot, 30 Gigabyte hard drive and a mobile device interface with ipod/iphone adapter cable.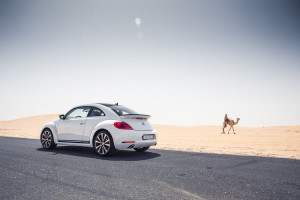 You can buy the new generation Beetle from June 2014 at Volkswagen dealerships across Bahrain, Kuwait, Oman, Qatar and the United Arab Emirates.
Facts overview:
Engine: Four-cylinder, 2.0l TSI (turbo stratified injection)
Power: 155 kW / 210HP
Max. Torque: 280Nm
Gearboxes: 6-speed DSG
Top speed: 227km/h
Acceleration 0-100:7.3 sec
Fuel consumption combined: 7.6l/100km
CO2 emissions: 176 g/km
The new bug in the Middle East in three variants
was last modified:
February 22nd, 2016
by