New customers of Toyota in the UAE – entry level or top end – will get a navigation option. What makes it special is that it's not just about maps, and also that you can simply pocket it the end of your drive. You can even use it on the Metro or even in a friend's car, if you are participating in the 'save fuel' day. Because, the new base device is nothing but your smart phone!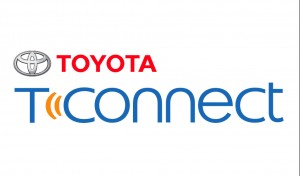 Al Futtaim Motors, the exclusive distributor of Toyota in the UAE, has launched T-Connect, an interactive new telematics service that works with the support of a dedicated call centre. UAE becomes only the third country in the world, after Japan and Thailand, to implement the first phase of Toyota's next generation telematics. Whether you are using an iPhone or any Android phone, T-Connect gives instant voice-guided navigation, directory information, off-road tracking services and other handy features.
How does T-Connect work?
The simple process starts by making a call to the dedicated Dubai-based bi-lingual call centre. The operators locate you and quickly enough a voice guided interactive map pops up in your smart phone screen. The maps provide a choice of five different routes including the shortest, the best and a toll-free route.
Currently, navigation services are fitted only on approximately 12% of Toyota cars. But now, whether you are an entry level Yaris customer or a top end Land Cruiser buyer, you will be able to enjoy the same convenience of navigation technology, mobility and other functions of the T-connect application.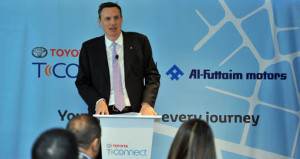 Customising the application for the UAE, Toyota has incorporated additional features relevant to this terrain such as the off-road tracking service that identifies where the off-roaders are, helping them retrace the route they took. "Through T-Connect, we will establish a seamless contact point with Toyota customers, at all times, so that they feel safer and more secure while on the move," said Jon Williams, Managing Director Al-Futtaim Motors during the launch.
Other handy features include 'Spot Search' for city landmarks and My Spot, which stores favourite and frequent locations in one file, as well as Prayer time notification and the Qibla compass. The T-Connect Inbox also allows Al-Futtaim Motors' customers to receive the latest Toyota updates, offers and promotions (A little bit of promotional stuff to put up with for a brilliant piece of tech assistance!)
DriveME test: How good is T-Connect?
Testing it out first hand, the most obvious advantages was that T-Connect just saved you from the clutch of spelling errors and other similar uncertainties. Even if you were dyslexic, you could simply tell the operators where you wanted to go and leave the headache of finding the right map to them.
It doesn't have to be a Toyota cabin is a big advantage, but not as big as the fact that it doesn't have to be any car cabin at all. Buses, trams, trains, you can use the T-connect anywhere.  You don't need a data package – works brilliantly for me. Again, many navigation systems refuse to receive inputs on the move, for safety reasons of course, but making a phone call on the drive and asking for your destination makes it perhaps the most convenient and safest navigation 'search' you could think of.
Who will benefit from T-Connect?
Based in Dubai, the 24×7 bi-lingual call centre intends to eventually cover the all GCC countries as well as Jordan and Lebanon. T-Connect is available for all new Toyota customers free of charge for the first year. So, what about owners of older Toyota vehicles and other cars? After all, the application is smart-phone based, not model based. Well, for anyone who needs it, the application is available at the Apple Store and the Android Market Place.
Drivers find a solution: I find my answer.
Recently, while impressed by the uplifting design and powerful new engine of the eleventh generation Corolla, and the convenience of the new Yaris sedan, the question that lingered in my mind was 'why isn't a navigation option available even in the top end variant'. Now, as I spoke to the Al Futtaim T-connect call centre and asked for my new destination map, the answer loomed large. Toyota has made up for that absence, big time!
Toyota launches T-Connect in UAE: Navigation map on call
was last modified:
February 22nd, 2016
by