If you've always wanted to conquer the dunes and feel the wheels wrestle with the loose sand, but didn't think you were equipped to handle it, here is your chance to rule 'dunedom'. Al Futtaim Motors has launched the Toyota Off-road Safety Program – the first initiative of its kind in the UAE aimed at raising awareness on driving safety on off-road and desert terrain.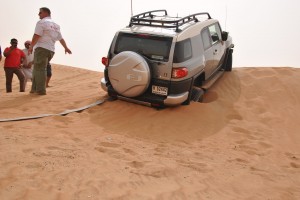 The weekend program consists of 5-hour sessions in the morning and afternoon, every Friday and Saturday. Participants can expect lessons on the best use of transmission and 4WD, recommended driver positioning and safety rules, acceleration techniques, braking and cornering in sand, as well as slope safety and danger guidelines.
The experience allows participants to compare their vehicles' performance on road and off-road and get a hands-on demonstration of the car's centre of gravity. The session also tackles basic off-road recovery and usage of different rescue equipment, in addition to desert etiquette and environmental ethics.
"We know how intimate the relationship between the UAE people and their land is. But we also know that not everybody has enough knowledge and skills to explore its toughest terrains without risk. We aim at compiling the best desert driving tips and demonstrations in the most professional yet fun atmosphere," said Simon Frith, Managing Director, Al-Futtaim Motors.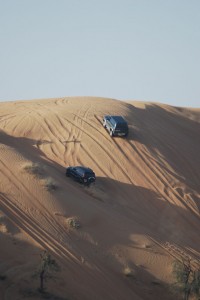 How to participate: Now comes the best part – the sessions are for FREE! Only clause: you should be the owner of a Sequoia, Land Cruiser, Prado, FJ Cruiser, Fortuner or RAV4 – fair point! Al Futtaim Motor will reach out to its customers through invitations and those wanting to participate should report at the Dubai Festival City Toyota showroom at 8.00am for the morning session OR at 12.30 for the afternoon session.
You can even bring family or friends – but not your toddler coz entry is restricted to those above 12 years of age. The programme is run by a team of professional desert driving marshals, backed up by a rescue team.
Toyota marshals Off-road Program for adventure-seekers
was last modified:
February 22nd, 2016
by