There are two areas in which plenty of energy – pun intended – is right now being focused in automotive technology. One is the autonomous driving concepts pursued by Volkswagen and Google and somewhere along those lines, the piloted driving experiments by Audi that recently did a 900 km demonstration trip to Vegas. The other area is of course alternative fuel for vehicles.
Nissan leaf recently crossed a million km, a major landmark for electric vehicles. The Leaf is available here and  couple of Fisker and Tesla cars were also seen during the Motor Festival last month, looking mighty good. While electric vehicles that run on battery, or hybrids that use petrol engines that power electric motors in conjunction with a battery, are rather common now, the uncommon kind is the Fuel Cell Vehicles (FCV). In fact 'How Stuff Works" mention that it could be a while before Hydrogen powered FCVs hit the roads. As steam is the exhaust of a Hydrogen Fuel Cell, it can classify as a zero-emission vehicle.
How is Electric cars different from Hydrogen Cell cars – Take a detour to http://www.howstuffworks.com/electric-cars-vs-hydrogen-fuel-cell-cars.htm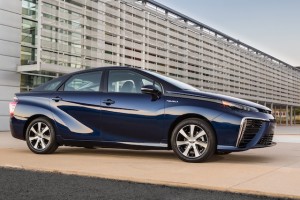 Now, anyone who said hydrogen fuel vehicles (FCV) will take a while to hit the roads can eat their words. Toyota is making it possible in 2015. Mirai was showcased to the world in Japan on December 15. The FCV will land on Europe & USA in late 2015.
The disadvantages of an FCV are pointed out to be performance that is not on par with similar fuel input from a gasoline engine. The Toyota Mirai is a four-door, mid-size sedan with performance that fully competes with traditional internal combustion engines, Toyota claims, on top of achieving superior environmental performance – because all it lets out is a hot sigh!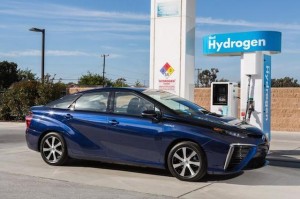 The groundbreaking fuel cell electric vehicle re-fuels in between 3 to 5 min depending on Hydrogen pressure and ambient temperature, and travels up to 300 miles (480 km) on a full tank. As Japan, US and Europe have the infrastructure to refuel, the Mirai is being launched there this year. That also explains why we will have to wait a lot longer.
Technology behind the Mirai
The Mirai uses the Toyota Fuel Cell System (TFCS), which features both fuel cell technology and hybrid technology, and includes Toyota's new proprietary FC Stack and high-pressure hydrogen tanks. Hydrogen can be generated from water using natural renewable energy sources like solar and wind power. It can even be produced from man-made byproducts such as sewage sludge. It is relatively easy to store and transport. FCVs are able to generate their own electricity from hydrogen, giving us a glimpse of a future hydrogen-based society.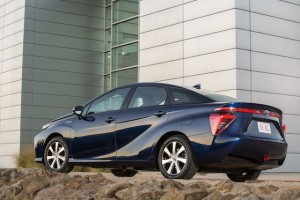 Toyota has in fact anticipated the future by at least a few months if not years, by making Mirai commercially available now. The low centre of gravity should add to the stability and the Toyota says the car will be quietly powerful. Even as the car looks like a Corolla starring in a Cameron movie, the Mirai looks rather cool, and I thought it has a nice name for the first Hydrogen Fuel Cell powered car to go on sale. So I wanted to know what it meant. It means 'The Future' in Japanese – what else?
Toyota 'Mirai' makes hydrogen cell cars an early reality
was last modified:
February 23rd, 2016
by