Yas Marina Circuit offers you exciting ways to get to know the celebrated racing destination this summer – whether you wish to do it by foot, squatting or sideways.
Whizz… went this car past me before slipping in and out of lanes and spaces barely enough to keep its both bumpers from being bumped off. "The highway is not the place for your bravado…" I wanted to shout after him, sleeves rolled up, windows rolled down. But that would be an offence by itself. So, I completed my unuttered sentence under my breath, like a true gentleman: "…Go karting fella!"
To be precise, go unwind at the kart zone at Yas Marina. That's the place for excitement, exhilaration, challenges and learning for anyone who loves driving on the edge. The good thing about the Yas track is that it combines a good deal of challenging bends with a general layout that is friendly to beginners as well.
Regular price: Adults, AED 110 and Under-8 enthusiasts, AED 55 for 15 minutes of karting fun!
Summer offer: @AED 220 for 3 adult sessions and AED 110 for 3 kid's sessions, this is a really good deal! Valid till: August 31st
Spread out in front of the Racing Centre, the 800 m circuit packs the traits of an indoor track that favours flat out speed dynamics. As the marshals prepare me for the race, checking my seating stretch, they tell me that this track is packed with the maximum number of challenging twists and turns among similar tracks. With a little experience, one could learn to tackle the bends by just balancing speed and steering weight!
These karts are 'lean and mean machines' that run on a 6 – 7 bhp engine, which is good for a maximum of 110 kmph but optimized for the track at 60 kmph. The steering is direct with proportionate turn to the manual input. This not only helps in balancing at the bends but also improves one's sense of balance and feedback. So, go karting is more than just fun!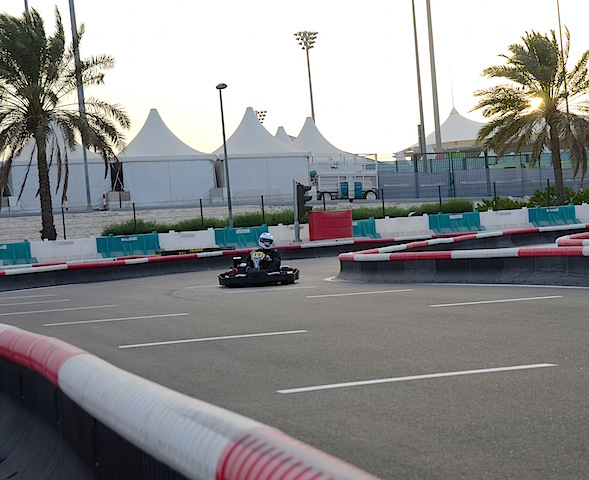 Do you need a license?
You don't need a license for karting – which is why it is open for aspiring racers who are above 8 years old and more than 130 cm tall. The children should be accompanied by their guardians. Their karts are smaller and are half as fast. Yas Marina has a racing school but no karting school yet, but I could see several families with children; many of them regulars.
The track is lined with hard plastic barriers that are slanting and not blunt – they are expensive and safe, Sami tells me. Four marshalls man the track at various points. In the initial briefing, we are told of the dos and don'ts as well as the three flags to watch out for. Sami warns us of the exit penalty if we don't behave ourselves and play foul.
This is not exactly a 'bumper car' ride – you are expected to have got over that!
Hygiene is another aspect the management takes care of – Sami tells me that the sweated out race suits are sent out to the laundry right away and helmets are saved from sweat using the disposable head-covers.
The Karting Circuit offers an Arrive & Drive facility open to all and also facilitates Corporate or Group Events, which may be booked with the call centre in advance. The Arrive & Drive customer can just land up, register, buy a session and go karting! The gear is provided by the Centre: just remember to wear covered shoes.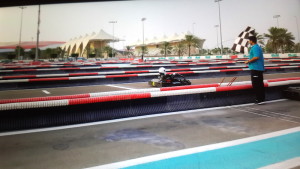 The Group events vary from tailor-made sessions for 6 – 9 people, to endurance challenges that last up to 3-hours! The Centre also arranges for refreshments and conducts a sort of podium round up with a trophy to take home. As for me, the little printout I got at the end of the session recording my number of laps, maximum speed and best lap timing was my trophy for the day, till another time helps me better my best.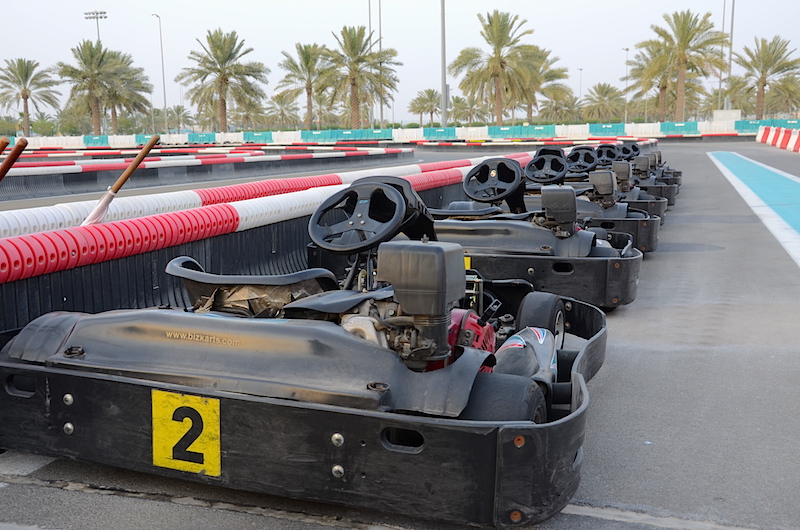 Experiences at Yas Marina Circuit
Venue Tour 2-for-1 Tour of the Grand Prix Circuit BUY ONE GET ONE FREE @AED 120 Time: Tuesday to Saturday (Sunday and Monday not available)10 am – 12 noon; 2 pm – 4 pm
Double the Drift! Drift Taxi ExperienceBUY ONE GET ONE FREE @AED 330 Time: Tuesday, Thursday and Saturday, 5 pm onwards
Yas KartZone Special Arrive & DriveBUY TWO GET ONE FREEAdults: AED 110 Kids: AED 55 Time: 2 pm – 10 pm daily For more information, www.yasmarinacircuit.com or call 02 659 9800
Twist. Turn. Tick. Tock. I go karting at Yas!
was last modified:
December 31st, 2016
by