The "people's car" maker is getting up close and familiar with people of Dubai and elsewhere in the Middle East. Soon after the public service campaign "Desert Clean Up", the Volkswagen Road show lands in Dubai.
Volkswagen Middle East, in cooperation with Al Nabooda Automobiles, has brought their highly engaging cross-country GCC road show to its final leg in Dubai.
Fresh from a hugely successful tour of Oman and other GCC nations in 2011 – during which more than 3092 test drives were taken by members of the public, the Road Show finished its first stint at the Burj steps this weekend and will continue for two more.
The Dubai event offers the public an opportunity to test drive the wide range of Volkswagen models including the flagship Touareg, the recently launched all-new Jetta and the legendary Golf GTI and Golf R.
The UAE is the final leg of an ambitious six-nation, 13-city tour, which successfully started last year in Saudi Arabia and has visited Kuwait, Qatar, Bahrain and Oman before landing in Dubai. Al Naboodah plans state-of-the-art brand-exclusive facilities for Volkswagen in Sharjah and Fujairah, later this year.
Volkswagen "Clean the Desert" Campaign hits a tonne
A social responsibility initiative Siemens and Volkswagen, two German giants and Rotana, the leading hotel management company in Middle East and Africa to clean the desert garnered the support of 260 volunteers, who managed to free the sands of 1000kg of litter. The public awareness campaign focused on the littering problem in the desert and the effects poor disposal of trash has on local wildlife.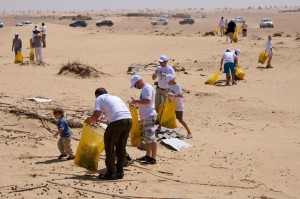 On Saturday 17 March, the volunteers gathered together to collect 1000 kg of trash during the one-day event.
[Car models featured are file photos from the DIMS]
Volkswagen Dubai Roadshow and Desert Clean up: Closer to people
was last modified:
February 22nd, 2016
by