For those who swear by the iPads and iPhones, Volvo Car Group has good news. Volvo and Apple Inc. announced in Geneva that they are joining forces to bring their familiar operating system into the Volvo cabin. Called Apple CarPlay, the new service brings all the features and services familiar to iPad, iPhone or iPod users via Volvo's large centre console touch screen display. The first Volvo to offer Apple CarPlay will be the all-new XC90.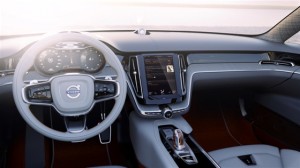 Volvo has long-term plans to succeed and it's been showing off recently. Even as the Volvo Car Group office for the region has been shifted to Turkey, it will continue to focus on Middle East and North Africa with the same vigour as seen in the launch of the V40, which by the way is picking up well. The brand's acceptance has only improved, as I had sort of predicted in my review of the family crossover, the XC60 has become a volume seller for Volvo, accounting for more than one-third of the sales.
Emre Karaer, the General Manager of Volvo Car Group Middle East and North Africa commented, "we predict a 20% growth in the region over the course of the year. We are very excited to bring the highly anticipated global event – the Volvo Ocean Race – to Abu Dhabi at the end of the year."  Compared to 2012, three markets improved remarkably in sales – United Arab Emirates grew by 11%, while Lebanon doubled and Egypt performed encouragingly.
Talking global, Volvo Car Group has reported a full-year operating profit of almost 300 million USD for 2013. With the introduction of interior design features such as Apple CarPlay, the remodel of the XC90 and the Concept Estate, growth is set to be continuous. Hakan Samuelsson, President and CEO announced "Volvo Car Group has turned around 90 million USD already." Samuelsson expects to sell at least 5% more cars than the 427,840 sold in 2013.
From the end of 2013 till now, Volvo has introduced three concepts that is a commentary on the brand's new design language, the latest of which is the Volvo Concept Estate. Revealed in Detroit, the Concept XC Coupe was awarded the title "Best Concept Car" at the 2014 EyesON Design Awards at the 2014 Detroit Motor Show, and the award for "Best use of Color, Graphics and Materials". Like the similarly highly-acclaimed and award-winning Volvo Concept Coupé, the Concept XC Coupé demonstrates the design possibilities of Volvo Cars' new Scalable Product Architecture (SPA) that will underpin most cars from Volvo Cars in the future, starting with the all-new Volvo XC90 that premieres later this year.
Volvo has exciting stuff for 2014
was last modified:
February 22nd, 2016
by