Land Rover unveils a collector's edition titled Defender Works to celebrate 70th anniversary of the off-road brand, featuring a 5.0 L V8 engine and an 8-speed transmission.
The prototypal, charming-as-a-legend, basic-as-a-bicycle Defender that is dragged by a 2.2L four cylinder diesel plant on steady fours hasn't moved to a blindspot in our memory. So it is easy to see this isn't quite the same. The anniversary edition launched to mark '70 years of Land Rover' in 2018 is a 5.0L petrol-driven Defender with eight roaring barrels and a 400 hp output – a paradigm shift from the original that took over 15 seconds to touch 100 kmph, the 'Defender Works' reaches from 0 to 60 miles per hour in 5.6 seconds. This is the most powerful and fastest Defender in history and the first time in twenty years a V8 engine is fitted under its hood. This collector's edition will be restricted to 150 examples badged '70th anniversary'.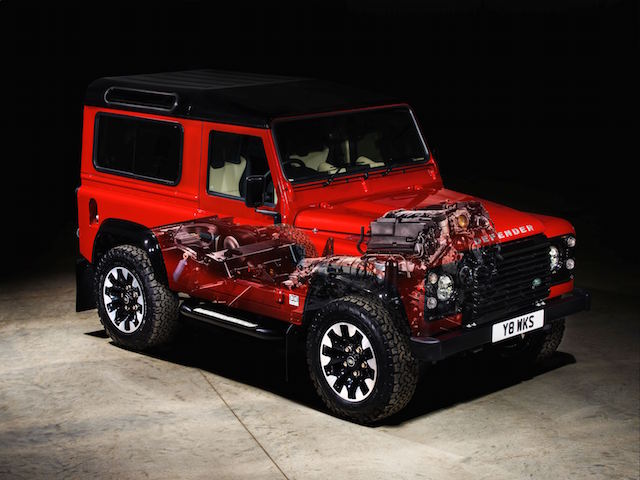 A collector's edition – recreated for the enthusiast
The V8 engine pays homage to the early powerhouses like the Series III Stage 1 V8 from 1979 and subsequent Defenders including the 50th Anniversary Edition. The 5.0-litre naturally-aspirated V8 powertrain generates 400 hp (405PS) and 515 Nm of torque (the standard Defender delivered 122PS and 360 Nm). Accelerating from standstill to 60 miles per hour in 5.6 sec, the new Defender Works can attain a top speed of 106mph (170 kmph). The powertrain is completed by an 8-speed ZF automatic transmission with sport mode, uprated brakes as well as springs, dampers and anti-roll bars. The capability will be signed off by 18-inch diamond-turned Sawtooth alloy wheels and 265/65 R18 all-terrain tyres.
Was it long time coming?
Tim Hannig, Jaguar Land Rover Classic Director, observes that "The idea of reintroducing a V8 Defender was something we were discussing as far back as 2014, when we were still building the Defender in Solihull. We knew the demand was there for a powerful and fast Defender; the Land Rover authenticity is the ultimate finishing touch for discerning clients purchasing these collector's edition Defenders."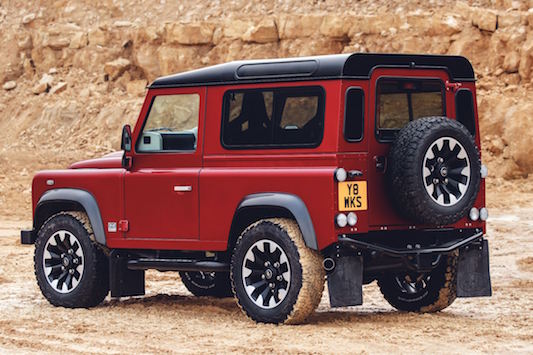 Defender Works – Inside out
Besides new bi-LED headlamps, the exteriors are made even more striking in eight standard body colours finished with machined aluminium door handles, fuel filler cap and Defender bonnet lettering. Inside, full Windsor leather trim and Recaro sports seats and Land Rover Classic's own Classic Infotainment System add to the charm.
Both 90 and 110 wheelbase Defender Works V8 derivatives may be bought directly from Land Rover Classic – prices start from £150,000 for a 90 in the UK. Which is over 763,600 in dirhams. Also coming up are high-performance upgrades inspired by Defender Works V8 including power upgrades for the TDCi diesel engine, fast-road suspension and braking kits. Land Rover has made it clear, to enthusiasts' relief, that it intends to continue the Defender lineage.
While we wait for the all new Defender…
was last modified:
January 20th, 2018
by